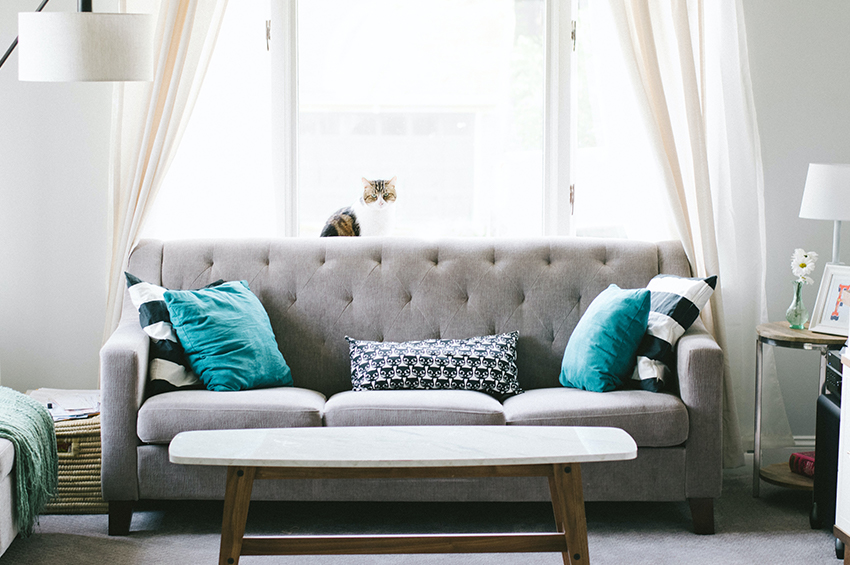 What Window Treatments Are the Most Energy Efficient?
Window coverings offer more than just light filtration, privacy, and decoration. They can also boost a home's energy efficiency, meaning it won't need to use as much electricity, gas, or solar power to stay comfortably warm and cool.
Keep reading to learn more about how this works, along with a rundown of today's best energy-saving window treatments.
How Window Treatments Improve Energy Efficiency
Foam and cellulose are used to insulate walls and ceilings. They help your home stay climate-controlled throughout the year by preventing hot and cold air from entering and escaping. While these materials are important, window insulation is crucial too.
According to the U.S. Department of Energy, roughly 30% of a house's energy is lost through the windows. What's more, about three-quarters of the sunlight that shines onto window panes turns into heat.
Window treatments not only provide essential insulation but also block light when you're trying to cool your home in the summer. This means your HVAC system won't have to work as hard to keep your home at a comfortable temperature.
Hunter Douglas Energy-Efficient Window Coverings
Nearly any type of window treatment will help your home preserve energy. Simply adding a layer of fabric, wood, or plastic can prevent heat loss in the winter and help keep cold air in during the summer. However, some materials and styles perform better than others.
The Attachments Energy Rating Council (AERC) offers independent, third-party information on the performance of different attachments. Our manufacturing partner Hunter Douglas was the first company to receive the certification for its interior window treatments.
Some of the best AERC-rated products include room-darkening cellular shades, honeycomb shades, screen shades, and light-filtering cellular rollers. Here's what to know:
Room-Darkening Cellular Shades
The Sonnette Shades from Hunter Douglas feature unique cellular construction to provide an energy-efficient layer of insulation. They also offer a room-darkening effect to prevent sunlight from overheating your home in the warmer months.
Sunlight-Deflecting Honeycomb Shades
Duette Honeycomb Shades are designed to boost a home's energy efficiency year-round in both warm and cold climates. They're engineered with distinct pockets that provide insulation by trapping air while calling on LightLock technology to absorb and deflect nearly all incoming sunlight.
Are Custom Window Treatments Worth the Money? Read our blog for insight.
Screen Shades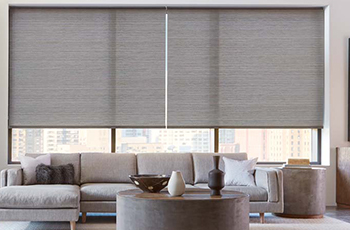 Depending on the type of fabric, Hunter Douglas Designer Screen Shades can
block 86% to 99% of the sun's rays. In addition to keeping heat out, this UV protection helps prevent your furniture and artwork from fading. The Empire and Umbria lines, in particular, offer enhanced insulation to cut down on your energy usage without blocking outdoor light entirely.
Did you know area rugs and carpets offer insulating benefits as well? Floor Factors carries a broad range of materials, with customization options available.
Light-Filtering Cellular Roller Shades
The Sonnette Cellular collection is also available in light-filtering shades for those who want the energy-saving benefits of honeycomb treatments but don't necessarily need full privacy or a room-darkening effect. These are among the best window coverings to keep cold out, thanks to the double-layered insulation.
Here are 10 Window Treatment Trends we're loving in 2022.
Curtains with White Backings
Most opaque curtains add a layer of insulation and minimize heat loss. However, the Department of Energy recommends fabric panels with white backings for optimal energy efficiency, as the light color helps repel sunlight. Lots of folks hang drapes over their blinds or shades to cover all the bases.
Read our blog for tips on choosing The Best Window Treatments for Your Home.
Best Energy-Efficient Window Treatments for Your Portland Home
Floor Factors works exclusively with Hunter Douglas to offer the best window coverings on the market. From blinds and drapes to shutters and shades, our locally owned company carries many types—and our in-house design consultants are always ready to assist with customizations.
As a one-stop-shop renovation destination, we're also the premier resource for floor-covering products, countertops, and cabinets in Portland, Oregon. When you order from us, our experienced team can assist with installation.
Stop by our showroom in the Pearl District, or fill out our online form for a free estimate.