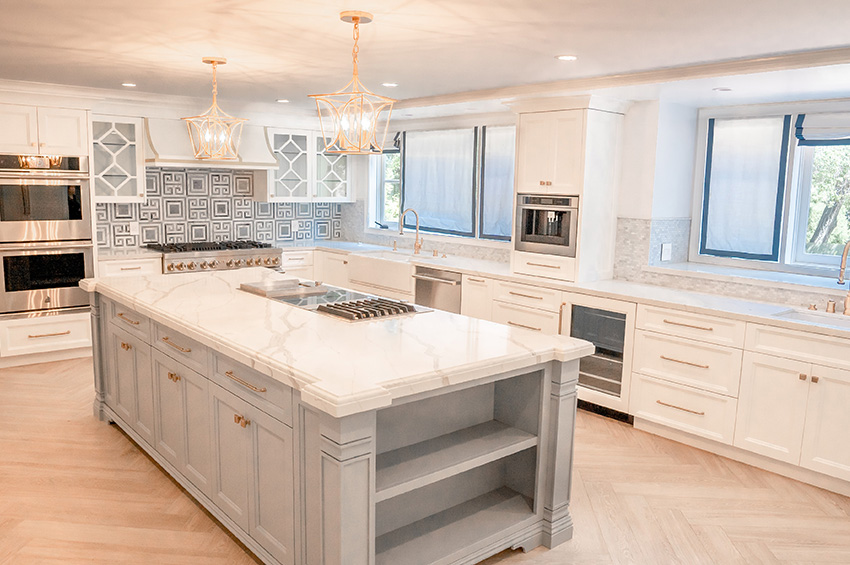 2021 Kitchen Design Trends Embrace Solid Surface Countertops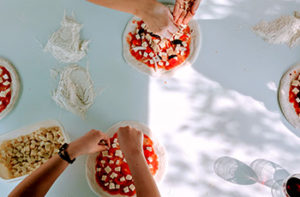 As a place where you spend a substantial amount of time with your loved ones, the design of your kitchen is crucial. You want it to be both aesthetically appealing and functional. Choosing the right countertops is one way to bring your design vision to life as well as create a kitchen that suits your lifestyle. New countertop trends can help you achieve the perfect vibe. Here's what you can expect to see for kitchen counters in 2021.
What Is the Newest Trend In Kitchen Countertops?
Solid surface is the latest trend in kitchen counters. You've seen them in people's homes and in catalogs, but what are solid surface countertops, exactly? Whether you've heard the buzz or not, this cutting-edge material is definitely worth checking out.
As a non-porous, homogeneous product, solid surface countertops are:
Antimicrobial

Easy to maintain

Heat-resistant

Highly durable

Moisture- and stain-resistant

Resistant to scratches and dents

Solid all the way through

Sturdier than multi-layer countertop materials
Solid surface is at the front and center of trending kitchen countertops. The gorgeous material offers a timeless look. The different types of solid surface countertops include quartz and acrylic, both of which can be custom-designed to make a statement that'll stand the test of time.
Quartz Solid Surface Countertops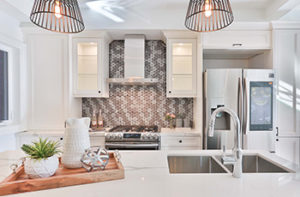 Quartz countertops are made out of ground quartz and some plastic resin. Since they can be manufactured to look just like high-end granite, stone, and marble at a more affordable price point, quartz solid surface counters are a top pick among homeowners. Plus, since the material is non-porous, you don't have to worry about stains, and you never have to reseal them.
Standout kitchen design trends for 2021 include marble-like quartz counters in white, gray, and other light, cool-toned hues. You can also expect to see materials resembling natural stone in medium and deeper shades of gray.
Acrylic Solid Surface Countertops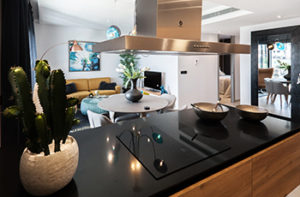 Non-porous acrylic solid surface counters have many of the same characteristics and benefits of quartz countertops, except they're a solid resin (acrylic) product. You can get virtually any color or design, including the noteworthy minimalist styles of 2021.
In the world of interior design, opaque acrylic kitchen countertops in simple, solid hues are becoming more popular. We're talking shiny white, striking navy blue, solid black, creamy taupe, and pale gray. One of the best things about the minimalist trend is that it's highly versatile. You can keep it simple now, and if you want to add some character to your kitchen down the road, you can always accent it with other design elements.
Where to Buy Kitchen Countertops & Materials in Portland
Floor Factors is your one-stop-shop resource for your next residential renovation. If you're looking for countertops, flooring, or window treatments we have your kitchen remodel covered!
Floor Factors partners with the best manufacturers and fabricators to provide our clients with top-notch materials for their homes.
Floor Factors Celebrates 40 Years of Serving the Portland Metro Area
Our locally-owned Portland flooring company is committed to superior customer service and support at every stage. For the last 40 years, we've had the honor of being Portland's go-to flooring store of choice. We'd like to thank our community for their support and we look forward to continuing to serve you!
We're proud to provide in-house design consulting, free estimates, custom orders, and the highest-quality products to our clients.
Get in touch with us to learn more about how we can help you with your next project.