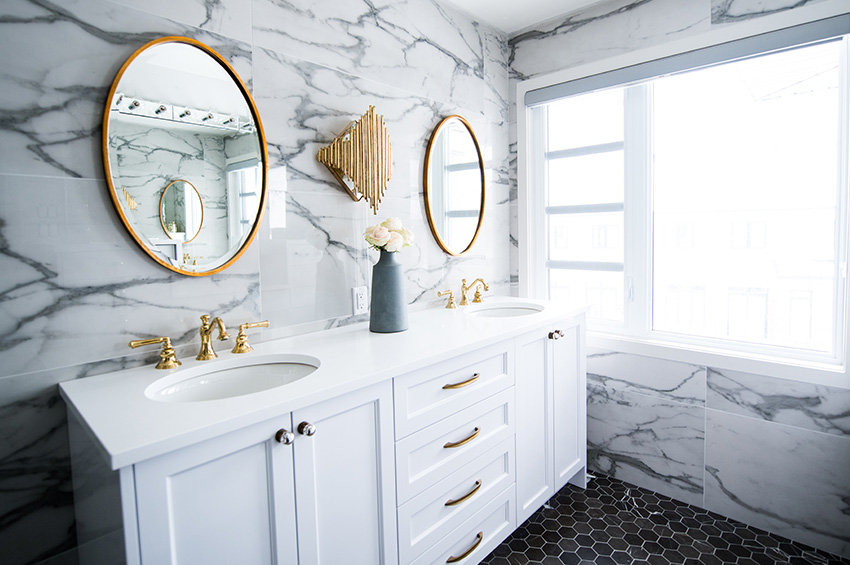 Homeowner's Guide to Choosing Countertops for Kitchens & Baths
Whether you're building a house from the ground up, renovating a space you just moved into, or are remodeling your existing home, countertops are an essential piece of the equation. If you're like many homeowners, you might not be sure where to begin when selecting a countertop material.
So, what countertops are best for kitchens? And what about bathrooms? As a trusted resource for kitchen and bathroom renovations in Portland, Floor Factors is here to guide you in finding the right materials for your space.
What Is the Best Material for a Kitchen or Bathroom Countertop?
While flooring and cabinets hold a lot of weight in the overall aesthetic of kitchens and bathrooms, countertops are just as important. Is your interior design scheme contemporary, traditional, minimalist, industrial, rustic, or a unique mix of your own? Aside from the look of a material, you should also consider its durability, moisture-resistance, and maintenance requirements.
Whatever your vision and needs, the ideal counters are out there — it's just a matter of knowing your options. Here's a breakdown of what countertops are best for each room.
Kitchens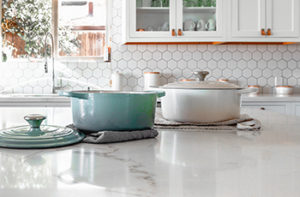 Quartz and acrylic solid-surface countertops have taken center stage in recent years. The engineered product is non-porous and seamless, which means they're water resistant and require very minimal maintenance compared to other counters. Also, solid-surface countertops are resistant to heat. This is great for kitchens, as hot pans can be set directly on the material. On top of that, solid-surface counters can be manufactured in virtually any color or made to look just like marble, stone, or granite. Lastly, fade-proof solid-surface countertops won't change color over time if your kitchen gets a lot of natural sunlight.
While solid-surface counters are having a moment, granite is still one of the top choices for home kitchens. The granular stone product comes in many hues with varying flecks of crystalline and other rock particles. Like solid-surface counters, granite is resistant to heat, and while it's not completely waterproof, it's a moisture-resistant material.
Other options include limestone, soapstone, and marble. These materials are softer than granite and higher maintenance than solid-surface countertops. Limestone, soapstone, and marble all require periodic resealing, which might not be practical in some kitchens.
Porcelain and stone tile can also be used for kitchen counters, as well as floors, sinks, and backsplashes. While tile grout is prone to staining and sometimes cracking, both materials are notably durable, long-lasting, and hold up under high temperatures.
Baths
Just like kitchen counters, bathroom countertops and vanities should be equipped for splashes, leaks, and an all-around damp environment. This is why a water-resistant material is essential. But don't worry — your bathroom counters can be functional and resilient while still enhancing your floors, cabinets, and the rest of your decor.
Granite and marble offer a chic and elegant look in bathrooms. They can get wet and hold up relatively well in high humidity, but the materials need to be sealed and resealed to prevent stains.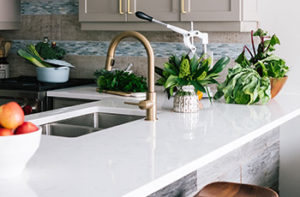 Porcelain and stone tiles are classic and extremely durable options for bathroom countertops — they can be installed in showers, tubs, and floors, too. Having said that, tile is somewhat high-maintenance as the grout lines are susceptible to staining and cracking.
Laminate is another popular choice for bathroom countertops. The budget-friendly material is available in many colors and finishes. Although laminate is resistant to water and stains, it's not as hard as other countertop products. Also, it doesn't hold up under heat, so curling irons and other hot tools may burn the material.
In terms of versatility and minimal maintenance, solid-surface countertops may be the best choice for bathrooms. Besides being heat-resistant, non-porous solid quartz and acrylic counters are naturally antimicrobial, meaning they repel bacteria, mold, and mildew.
Consider Floors & Cabinetry
When the time comes to choose countertops for your bathroom or kitchen, we recommend considering the other primary materials in the room, including the floors and cabinets. Your floors and counters don't need to be made from the same materials, and your cabinets don't need to be the same color.
Instead of finding perfect matches, select materials that complement one another. For example, dark and light shades can be used within one room. However, you may want to choose all cool tones so that the design looks cohesive and intentional. Ultimately, your choice of material will depend on many components, such as cost, use, and your personal taste.
Kitchen & Bathroom Remodeling Products in Portland
Floor Factors is a locally owned flooring company and renovation resource for homeowners, business owners, and contractors. The expansive inventory at our Portland flooring store includes more than just floor-covering materials. We offer custom cabinets, window treatments, and countertops, including solid-surface quartz and acrylic, natural stone, and ceramic tile.
As a one-stop solution for bathroom and kitchen remodels, Floor Factors can assist with design consulting and custom orders, as well as demolition and installation. Get in touch with us for a free estimate, or stop by our showroom in Portland's Pearl District to see the different countertop materials in person.