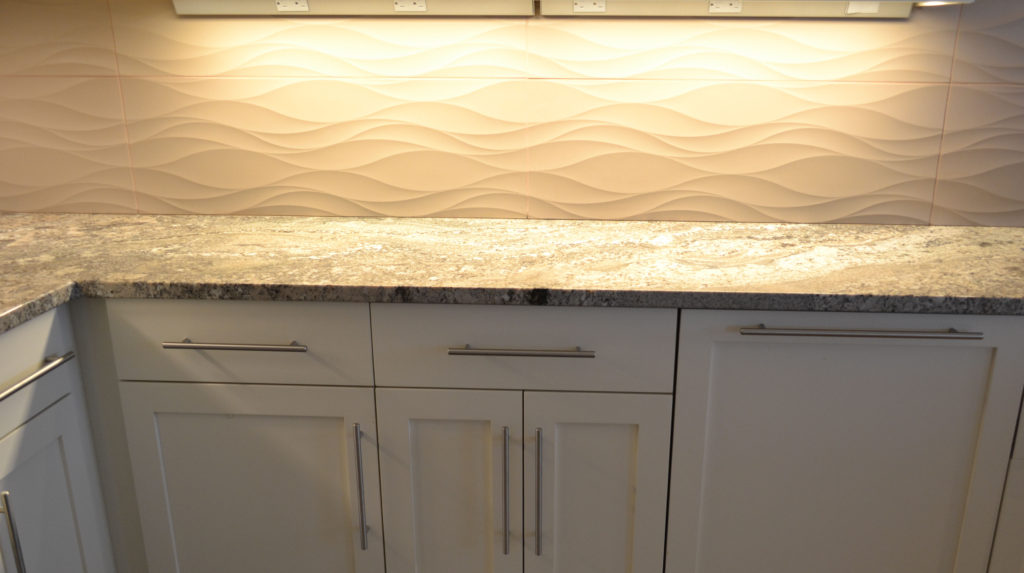 6 Benefits of Solid Surface Quartz Countertops
If you're planning to install new countertops in your kitchen, bathroom, office, lobby, or retail space, you may have heard some buzz about solid surface countertops. What are solid surface countertops all about?
The material is homogeneous, which means it is solid all the way through, unlike ceramic or laminate. The result is a sturdy, non-porous surface that holds up better after impact than other multi-layered countertop materials.
When it comes to solid surface counters, we are big fans of solid surface quartz countertops. Why? The advantages speak for themselves. Check out six benefits of quartz countertops below!
1. Non-porous Material
Some countertop materials, such as wood and ceramic tile, are porous. This means that they are easily stained and difficult to clean. On its own, ceramic is non-porous, but when it is installed in tile form, the grouted seams make the material more vulnerable to staining and cracking.
Stain resistant: Solid surface quartz countertops are entirely non-porous, so you won't need to worry about stains from spills.
Heat resistant: They are also heat-resistant, so you won't need to worry about setting hot pans, trays, or hair styling tools on quartz counters.
Bacteria resistant: Another advantage to non-porous countertops is that the material is naturally antimicrobial because bacteria, mildew, and mold are unable to penetrate the surface.
2. Elegant Appearance
Engineered quartz is currently the most popular solid surface countertop material on the market, and one of the primary reasons is its elegant appearance. The uniform countertop slabs will have no imperfections and, compared to other solid surface countertop materials such as acrylic, quartz offers the most convincing natural look.
3. Affordable
Solid surface quartz is an affordable countertop material that works well in homes as well as commercial spaces. A lot of restaurants use stainless steel countertops which are durable and sturdy, but many home and business owners are now considering solid surface as a budget-friendly alternative for kitchen counters.
4. Low-Maintenance
In addition to being stain-resistant, solid surface quartz countertops require almost no maintenance. The material does not need to be polished or resealed. The only maintenance required is wiping up spills, crumbs, dirt, dust, and built up residue.
5. Highly Durable
One of the major benefits of solid surface countertops is that the material is highly durable and can last for decades. Other countertop materials such as ceramic, laminate, and wood can dent and crack, and even more expensive countertop products such as granite, marble, and soapstone are prone to scratching. While it's possible to get minor scratches on quartz, they can be easily sanded down.
6. Resistant to Fading
Quartz is resistant to fading, so the color of your countertops will remain intact over time. With solid surface counters, you won't need to worry about a faded material impacting the color scheme of your interiors.
Stop By Our Showroom in Portland
Counters are a practical necessity for many rooms, but they also work to enhance the overall look of a space. Are you looking to create a contemporary, traditional, or eclectic aesthetic? No matter what you have in mind, we're confident that you'll be able to find it at Floor Factors.
We carry quartz and acrylic solid surface countertops as well as laminate, engineered marble, and granite. If you're not sure what type of countertops to get for your commercial or residential project, stop by our extensive showroom to see and feel each of the materials in person.
At Floor Factors, our in-house design consulting team can help you customize countertops that fit your unique vision and budget. Floor Factors is your one-stop-shop solution for all of your remodeling needs. In addition to a wide range of floor covering materials, we also offer countertops, cabinets, and window treatments. Contact us or stop by our showroom to find out more about the products and services we offer.