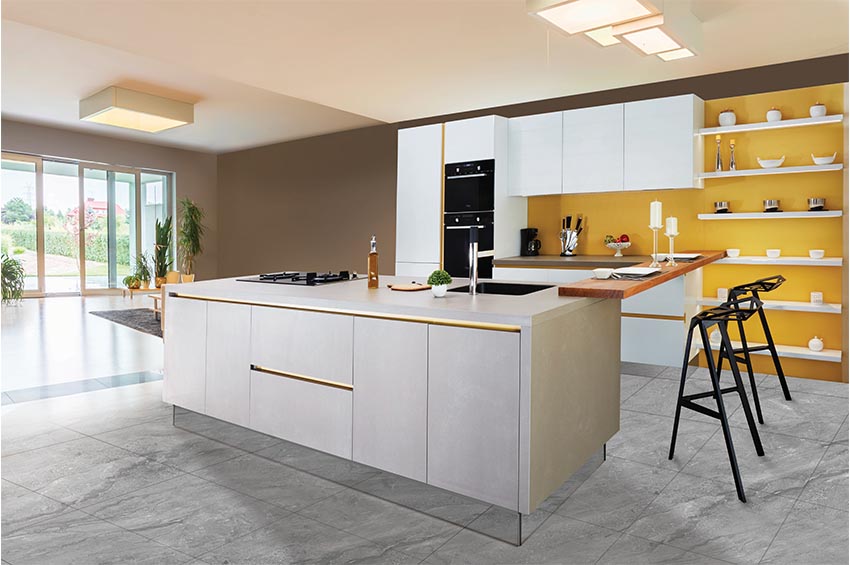 How Do You Match Kitchen Flooring with Countertops?
It's easy to get stuck on what flooring and countertop materials to choose for a kitchen remodel. If you're like many homeowners, you might be wondering if they should match.
Our Portland flooring experts are here to answer this question as well as offer tips on designing a cohesive space that fits your unique vision.
Do Floors Have to Match Countertops?
The short answer is no, kitchen floors don't have to match countertops. With the exception of certain stone and tile options, floors and counters are made of different materials. Therefore, even if you select the same color, they probably won't be an exact match. There's nothing wrong with choosing similar colors, but this is far from your only option.
So, relax and have some fun when planning your remodel!
We recommend researching materials, browsing kitchen design ideas online, exploring our gallery of completed projects, creating an inspiration board on Pinterest, and looking at samples in our showroom.
If you'd like additional guidance, an in-house design consultant at Floor Factors can provide personalized insight and lead you through each step of the selection process.
Don't let conventional design ideas hold you back! Here are 6 Kitchen Flooring Design Rules to Break in 2022.
4 Tips for Creating a Cohesive Kitchen Design
In the world of design, matching usually means two things look the same. Complementing, on the other hand, means one feature enhances the other—and that's what creating a cohesive-looking kitchen is all about.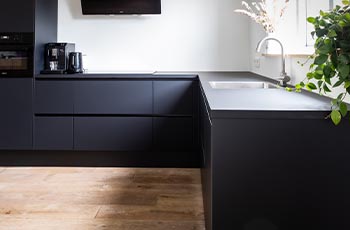 1) Contrast Light and Dark
Instead of seeking out the exact same color, consider a deliberate contrast of light and dark. For instance, polished concrete, gray stone, or even onyx counters will look stunning against pale oak wood flooring with a cool-toned finish.
Conversely, you can opt for light counters and dark floors. It could be off-white quartz countertops with slate tile flooring or ivory acrylic against mahogany hardwoods.
In addition to floor-covering products and countertop materials from the industry's top manufacturers, Floor Factors is proud to offer Hunter Douglas window treatments and custom kitchen cabinetry from Cutting Edge.
2) Use Multi-Tone Finishes
Another trick is to select a multi-tone finish that brings out the primary hue of the other material. For example, terrazzo counters feature sophisticated confetti-like flecks of color, including many of the natural browns seen in hardwood flooring.
Several of our floor-manufacturing partners also embrace the light and dark color variance of real lumber. As such, the multi-toned engineered planks from Allwood and the hardwoods from Shaw's Expressions collection pair beautifully with cream-colored acrylic or beige Formica counters.
Considering acrylic or quartz counters? Know These Solid Surface Countertop Basics Before You Buy.
3) Select 2 or 3 Colors
When incorporating multiple colors in your kitchen remodel, try to stick with two or three hues to avoid clashing or an overly busy look. There are a few ideas we really love. For example, white counters and white cabinets with cherry floors or wood cabinets and luxury vinyl faux wood flooring with contrasting countertops and a statement backsplash.
4) Master Monochrome
The key to designing a monochrome kitchen is selecting different shades, finishes, and textures to add interest and dimension.
For instance, a timeless all-white kitchen might feature white marble floors, gray-and-white checkered tiles, or beachy white-washed hardwoods. The counters might be marble, glossy white acrylic, or off-white quartz, and the cabinets might be painted white. You can also add contrast with darker drawer pulls and cabinet knobs, such as oiled bronze or matte black.
See our guide on How to Coordinate Kitchen Flooring, Cabinets, and Countertops for more tips.
Portland's Choice for the Best Flooring, Countertops & More
Floor Factors is Portland's one-stop-shop resource for all home remodeling materials. In addition to flooring, we carry window treatments, custom cabinets, and countertops.
Our knowledgeable team can assist with designing a custom order, and if you buy from us, we're happy to handle installation and demolition. Contact us for a free estimate, or stop by our locally owned Portland flooring store to see our products in person.