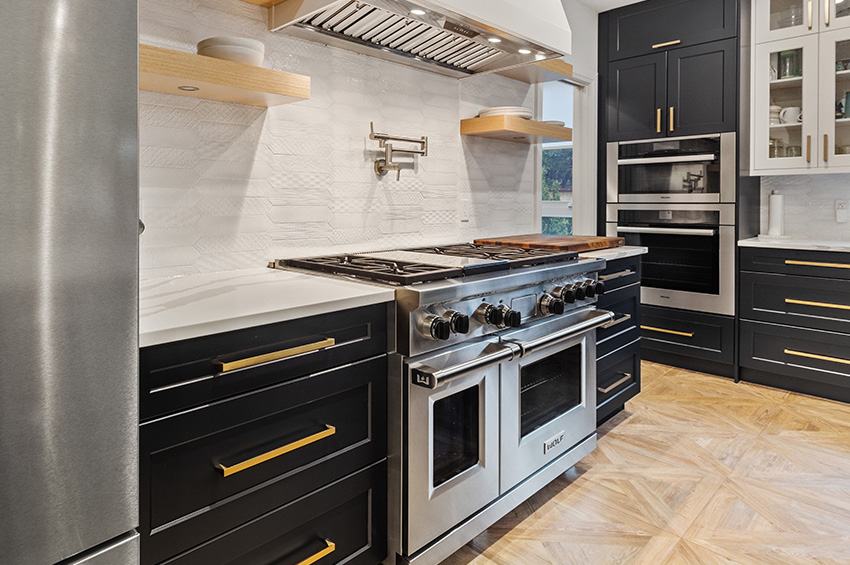 How to Coordinate Kitchen Flooring, Cabinets & Countertops
The three most critical design components of a kitchen renovation are the flooring, cabinetry, and countertops. Once you have these materials picked out, the space will come together—but be sure to take your time with the selection process.
If you're not sure how to coordinate your cabinets, countertops, and floors, you're in good hands. Find answers to frequently asked questions below, along with valuable tips, insight, and best practices from our Portland flooring and design experts.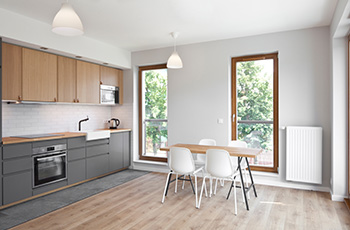 Should Kitchen Flooring Match Cabinets?
Lots of folks wonder if their flooring should match their cabinetry. These items don't have to be an exact match color-wise, but that doesn't mean any old finish will do. Instead of looking for products that match, select complementing options, meaning one enhances the other.
For a deeper dive into this topic, see our blog, Should Your Kitchen Cabinets Match Your Flooring?
What Flooring Looks Good with Dark Wood Cabinets?
If your sights are set on dark wood cabinets, you'll want to balance the deeper tones with lighter hues. This could be natural sandstone or limestone tile floors or even waterproof faux hardwoods.
Believe it or not, you can use multiple wood species in one space. For example, we love the look of dark maple cabinets with light oak floors—the more contrast, the better.
What Flooring Looks Good with Light Cabinets?
Whether they're a natural wood finish or painted in a solid hue, light cabinets are generally easier to match than darker cupboards. We like white cabinets with classic black-and-white tile floors. Off-white and ivory cabinets also pair well with white oak, birch, and bamboo planks. You can also contrast a paler hue with dark stone tiles or water-resistant faux mahogany planks.
Want more design inspiration? Check out these 5 Custom Wood Cabinet Ideas.
How Do You Coordinate Kitchen Cabinets and Floors?
When you coordinate your kitchen cabinets and floors, the finished design will look cohesive and intentional. This doesn't mean the colors, textures, and finishes won't match per se, but they should flatter one another. Here's what we recommend when selecting cabinetry and flooring.
Start with the Floors
Floor Factors carries an impressive selection of waterproof and water-resistant floor-covering products from Stanton, Ethereal, Hygge, Lagom, Quick-Step, and other top-rated manufacturers. We recommend choosing your kitchen floors first and going from there. With this essential design component picked out, you'll have a clearer idea of which cabinets and countertops to choose.
Choose 2 or 3 Hues
While the different components of your kitchen don't have to match, it's best to stick with two or three colors tops. Don't worry, though—with the right approach, your space will look anything but boring.
The key is to choose different shades and textures of the same hue and then opt for one or two contrasting colors. For instance, you might go with ivory cabinets, light oak flooring, a cream-colored backsplash, and brown quartz counters.
Texturize a Monochrome Scheme
On that note, it's definitely OK to choose only one color, as you can add dimension with varying textures and finishes. For example, you might opt for white painted cabinets with black knobs, white subway tile backsplash, white-washed faux hardwoods, and white speckled counters.
Contrast with Drawer Pulls, Cabinet Knobs, and Fixtures
Concerned about an all-white or all-gray kitchen being too plain? You can always create contrast with drawer pulls, cabinet knobs, faucets, exposed hardware, lighting, and other fixtures.
Lean Toward Timeless
Choosing timeless colors will give you the flexibility to change the look of your kitchen down the road without the need for another remodel. That said, it's not always easy to identify which finishes will hold up throughout the years.
When in doubt, we recommend a base of light-to-medium neutral colors, like white, off-white, beige, and gray. If you're going to include dark finishes, use them sparingly. For instance, you might go with pale-colored cupboards and counters and choose slate tile floors.
Looking for more expert insight? See our guide on Kitchen Remodeling Materials and Products.
Cabinets, Countertops, Flooring & More in Portland, Oregon
Here at Floor Factors, we're committed to supplying homeowners with everything they need to complete their next renovation. This includes custom cabinetry, flooring, solid-surface countertops, and window treatments for kitchens, bathrooms, and any other room in the home.
Our locally owned flooring store partners with the best manufacturers in the industry. If you're stuck on what colors or finishes to get, our in-house design consultants are at your service. When you buy custom or prefabricated products from us, we can also assist with demolition and installation.
Contact us for a free estimate, or stop by our massive showroom in Northwest Portland to see and feel our thousands of product samples in person.