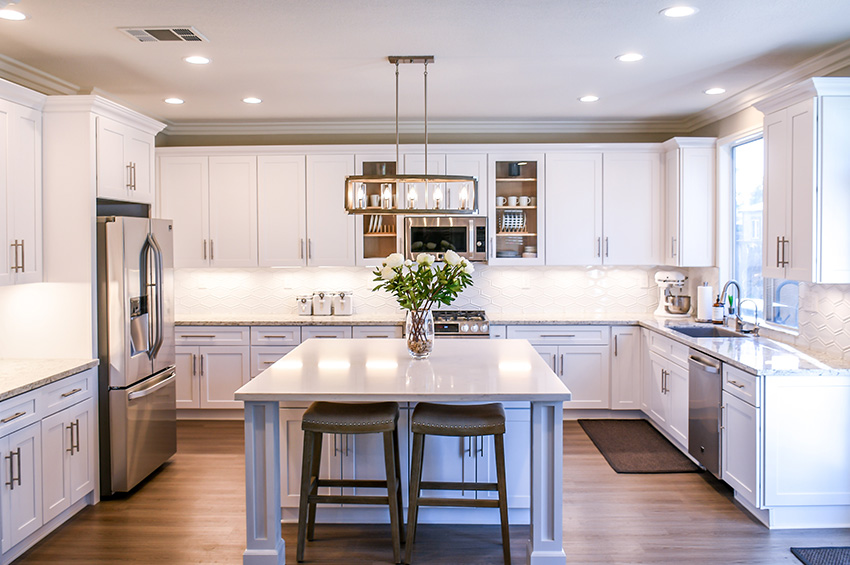 Should Your Kitchen Cabinets Match Your Flooring?
In recent years, the Portland housing market has had notably low inventory. As a result, more and more homeowners are remodeling their current residences instead of moving – and increasing their home's value along the way. For many, kitchens and bathrooms are at the top of the renovations list.
If you're planning a kitchen remodel, you've got a lot of choices to make! From wall paint and appliances to countertops and window coverings, selecting all the right materials is a major task. On that note, you might be wondering if your kitchen cabinets should match the flooring.
Mix, Don't Match!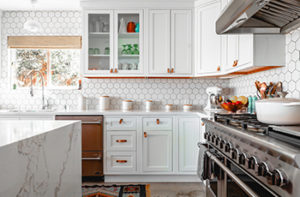 When it comes to floors and cabinetry in a kitchen, you might think you have to find materials that are an exact match. However, as interior design experts recommend, the idea is to mix complementing materials, not match them.
For example, if you're selecting hardwood flooring and want unpainted wood cabinets as well, they don't have to be the same color. Dark and light woods pair well together, as do painted cabinets and natural stone floors.
Coordinating Kitchen Cabinets and Flooring
Are you set on wood for both the floors and cabinetry in your kitchen? If so, you might be wondering, Should wood floors be lighter or darker than cabinets? Luckily, there is no right or wrong answer here.
Light-color hardwoods look excellent with dark wood cabinets, and vice versa. On the other hand, matching the colors isn't out of the question, either. For example, if you opt for white-tiled luxury vinyl flooring, you may want to get white painted cabinets. While the colors are the same, the materials are different, which will add just the right amount of contrast.
5 Steps to Selecting Flooring, Countertops & Cabinetry for Your Portland Home
For those starting fresh with all aspects of a kitchen, following these steps will be helpful when selecting materials:
Start with

countertops

, which are often the most expensive component of a kitchen remodel. Make sure you have a photo or a physical sample of the material before choosing anything else.

Next, pick out your flooring. We suggest coordinating the finish of your counters with your floors. If you're installing high-gloss countertops, get a shiny finish for your floors. If your counters are matte or satin, go for a muted flooring finish.

One option is to get countertops and floors in the same color and shade. You don't have to worry about an exact match because they won't be the same material.

Alternatively, you can get contrasting shades for your countertops and floors. Then match your cabinets to either of those colors.

With samples of both your chosen countertop and flooring materials, you're ready to select cabinets. Consider

custom cabinets

, as they will match your design vision perfectly.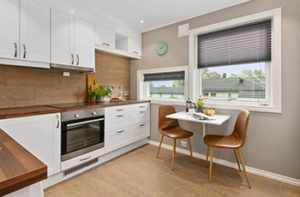 The main thing to keep in mind is to avoid clashing — you don't want to combine too many colors or patterns in one room. For instance, let's say your kitchen floors are black and white checked tiles and your cabinets are painted bright blue. You'll want to opt for neutral shades for your cabinets, window coverings, and backsplash.
Countertops are generally easier and less expensive to replace than floors. Also, they can be painted with a new color to change the look of your kitchen. For these reasons, we recommend going for neutral floors and counters that can evolve with the space.
Cabinets might be a better choice for a bold design or color. Better yet, opt for neutral tones for both your flooring and cabinetry and accent your kitchen with art or wall paint.
Floor Factors' Kitchen Remodeling & Flooring Materials
As a full-service residential and commercial renovation resource, Floor Factors is a one-stop-shop destination for all your kitchen needs. In addition to a wide range of floor-covering materials and custom cabinets, our locally owned Portland flooring store has a massive inventory of countertops and window coverings.
Floor Factors specializes in kitchen and bathroom remodels, but our high-quality products can be installed in any room of your home. To see and feel the materials for yourself, we welcome you to visit our expansive showroom conveniently located in the Pearl District.
Want to get started today? Contact us or request a free estimate.