Kitchen Remodeling Products from Floor Factors in Portland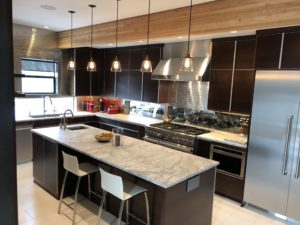 Kitchens are always the activity hub of the home, from cooking with family and friends to dinner parties and playing board games with the kids. At Floor Factors, we understand the importance of designing a kitchen that meets all of your needs. As a full-service supplier, we are pleased to offer everything you need to build or renovate your kitchen.
Whether you're starting from scratch with a kitchen build or are planning to redesign your space, we are here to help you through every step of the process. From custom kitchen cabinets and countertops to flooring and window treatments, Floor Factors is your one-stop-shop for all your kitchen remodeling supplies in Portland.
Kitchen Build & Renovation Supplies
As a locally owned company with in-house design consultants, Floor Factors is here to help you select the best products for your kitchen. With our assistance, you'll be able to design your space from the floor up. Visit Floor Factors and view options for kitchen cabinets, countertops, flooring, and window treatments all in one place.
We believe it's better to shop for materials in person than online. Not only do you receive assistance from our knowledgeable team, but you don't incur the headaches that come with navigating big box stores! In our showroom you're able to see and feel all of our products and speak to one of our in-house design consultants to get started with your project.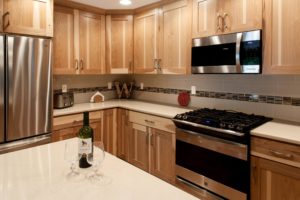 If you're in the market for the perfect kitchen cabinets for your home or commercial space, we have you covered. We partner with Cutting Edge Custom Cabinets to offer our customers a one-stop solution for their entire kitchen renovation. With virtually endless colors, sizes, and styles to choose from, the high-quality custom kitchen cabinets from Cutting Edge can be designed exactly to your liking.
We carry one of the most extensive selections of flooring options for kitchens in the Portland metro area. Whether you're looking for classic designs or contemporary styles for your space, we have all the flooring materials you can imagine. From hardwood, cork, and stone to laminate, luxury vinyl, and linoleum, you'll be able to find the type of kitchen flooring you have in mind.
Kitchen Countertops
Our countertops and materials are available in a wide variety of colors, designs, and finishes including granite, engineered marble, laminate, acrylic, and quartz. We partner with the top local and worldwide manufacturers to provide our customers with the best possible products. We specialize in manufactured non-porous hard-surface countertops that mimic the look of granite, stone, or marble. Our kitchen countertops are entirely customizable and can be used in both commercial and residential kitchens.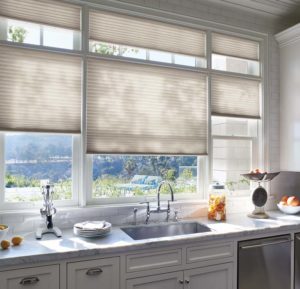 We have an impressive selection of kitchen window treatments including blinds, shades, and other window covering solutions. At Floor Factors, you can get custom sheer and semi-sheer blinds in horizontal or vertical designs. We work directly with Hunter Douglas, one of the most trusted manufacturers of window treatments in the U.S.
Speak With Our In-House Design Consultants
Have questions? Need some guidance on your remodel? Stop by our showroom in Portland's Pearl District to speak with one of our in-house design consultants. They can help you choose materials to fit your unique style and needs.
Whether you need cabinets, countertops, flooring, or window coverings, Floor Factors is your one-stop-shop for commercial and residential kitchen remodeling supplies in Portland. In addition to the custom materials needed to create the kitchen of your dreams, we offer additional services as well, such as demolition and installation.
Contact us today for a free estimate or stop by our extensive showroom in Portland's Pearl District for inspiration!