Bathroom Remodeling Products from Floor Factors in Portland
At Floor Factors, we understand how important it is to design a bathroom that adheres to your unique needs and style, for both residential and commercial spaces. This is why we offer the myriad products you'll need for your remodel or new construction project.
No matter what your plans are, Floor Factors has all the bathroom build materials you need for your home or office, from custom bathroom countertops and cabinets to flooring and window coverings. We're Portland's choice for one-stop-shopping and our vast showroom provides our clients with a hands-on experience!
Bathroom Build & Renovation Supplies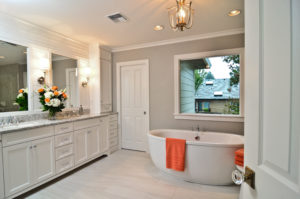 Floor Factors is a locally owned company with in-house design consultants. This means we can assist you in selecting the ideal products and materials for your residential or commercial space to help you design the perfect bathroom. With the help of our knowledgeable team, you'll be able to create your ideal space from the floor up.
To check out the full range of options we carry for bathroom flooring, cabinets, countertops, and windows, stop by our showroom in Portland's Pearl District. At Floor Factors, we believe in the benefit of shopping for bathroom remodeling build and renovation supplies in person rather than online. When you browse our extensive showroom, you'll be able to see and feel all of our bathroom renovation materials and collaborate with one of our experienced in-house design consultants to get the ball rolling on your project.
Floor Factors has one of the best and most extensive selections of bathroom flooring options in the Northwest. We offer options that will work in both residential and commercial spaces including stone, tile, laminate, linoleum, and luxury vinyl tile. Are you in the market for modern, classic, or trendy bathroom flooring materials? You can find the highest quality solutions from top manufacturers at Floor Factors to create your unique vision. Keep in mind, stone and tile are also materials that can be used for shower walls, tubs, and backsplashes!
If you're redesigning the bathroom in an older home or building a new one from the ground up, you'll need cabinetry. Floor Factors has you covered with custom bathroom cabinets for your home or office. We have partnered with Cutting Edge Custom Cabinets to offer our customers the highest quality products available in a variety of designs, from traditional to modern. Cutting Edge manufactures cabinets in countless styles, colors, and sizes, and they can create an option that fits your specific space and vision.
Floor Factors offers bathroom countertops and materials in an extensive selection of designs, colors, and finishes including laminate, engineered marble, tile, granite, acrylic, and quartz. In order to offer the best possible products for our customers' bathroom builds and renovations, we partner with some of the top countertop manufacturers. Floor Factors specializes in manufactured non-porous hard-surface bathroom countertops that offer a look similar to stone, marble, or granite. Similar to flooring, you'll want to choose a bathroom countertop material that is specific to your needs. Our bathroom countertops are completely customizable and can be installed in both residential and commercial spaces.
We carry a significant variety of window treatments including shades, blinds, and other window covering solutions in both vertical and horizontal designs. You can customize your bathroom window coverings to match the aesthetic of the rest of the room and choose materials that offer plenty of privacy. Floor Factors works directly with Hunter Douglas, one of the most respected manufacturers of custom window treatments, to provide you with high-quality options for your bathrooms as well as the rest of your home or commercial space.
Speak With Our In-House Design Consultants
Floor Factors is your one-stop-shopping solution for any remodel. Whether you're looking for bathroom flooring, cabinets, countertops, window coverings, we have everything you need for your next project. In addition to providing a vast selection of products, we also have in-house design consultants and can help with demolition, delivery, and installation.
Contact us for a free estimate or visit our extensive showroom in Portland to begin choosing bathroom materials for your space.