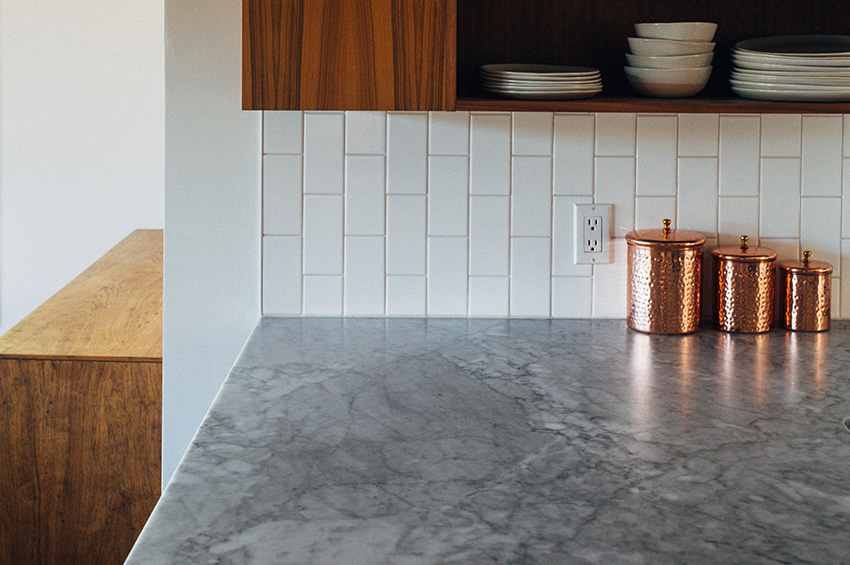 Know These Solid Surface Countertop Basics Before You Buy
When the time comes to install counters in a kitchen or bathroom, many homeowners may choose materials based on appearance. Although aesthetics are a top priority, there are many other factors to take into consideration, including resilience, longevity, and maintenance requirements.
Solid surface countertops are not only visually pleasing, but also impressive in several other respects. To help you make the best decision for your space, the home remodeling material pros at Floor Factors created this guide to solid surface countertops materials. We'll cover the benefits, material variations, and all other solid surface countertop basics to know before you buy.
What Are Solid Surface Counters?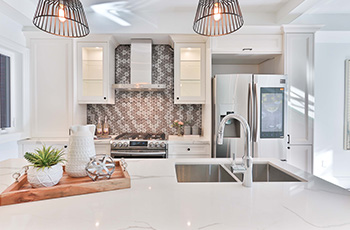 First off, solid surface countertops are a manufactured product made up of a combination of polyester, acrylic, epoxy, and some natural minerals. They're often fabricated to resemble the look of real granite, stone, and marble, but unlike these natural materials, solid surface counters are non-porous. Also, the material is solid all the way through, which makes it exceptionally sturdy.
So, what is the best solid surface countertop? Your two main options are quartz and acrylic. Both have many advantages and look beautiful in kitchens and bathrooms. Here's what you should know.
Solid Surface Quartz
Engineered quartz countertops are a top-selling choice for both residential and commercial use. Solid surface quartz counters are made up of polyester, ground quartz, and some plastic resin. The finished product is striking. Many people choose quartz because it can be made to look just like granite countertops.
Solid Surface Acrylic
Another option is an acrylic solid surface counter. The product is primarily acrylic, but it sometimes contains epoxy and small amounts of other materials. The main difference between quartz and acrylic countertops is that while quartz typically mimics natural materials, acrylic counters come in a broad range of colors and designs.
7 Benefits of Solid Surface Counters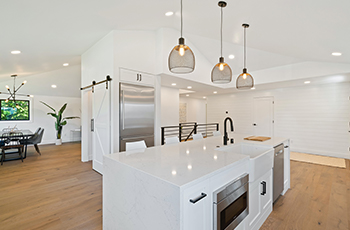 Due to the long list of benefits, a lot of homeowners have been choosing solid surface counters over granite, tile, natural stone, laminate, and other materials. Both quartz and acrylic are resistant to heat, moisture, and stains. They're also antimicrobial, low-maintenance, resilient, and affordable.
Heat-resistant: The consistently solid material is resistant to heat. This means you can set hot trays, pans, and hair styling tools on your counters without burning or discoloring the material.
Moisture-resistant: Since solid surface counters are non-porous, water and other liquids can't seep into the material, which makes them ideal for kitchens and bathrooms.
Stain-resistant: Similarly, the non-porous characteristic means spills can't penetrate the material. As a result, your counters are less likely to stain.
Antimicrobial: Another benefit of having non-porous counters is that the material is naturally antimicrobial. This means it's resistant to bacteria, mold, and mildew, which also can't penetrate the surface.
Low-maintenance: Aside from being resistant to stains, solid surface countertops require very minimal maintenance because they never need to be resealed or polished. All you'll need to do is regularly wipe up liquids, dirt, dust, and crumbs.
Resilient: Solid surface counters are exceptionally resilient. They can last for decades without cracking, and any minor scratches are easy to sand down.
Affordable: If you're in the market for high-quality counters but don't want to spend a fortune, solid surface is an excellent choice. They're more budget-friendly than many natural countertop materials and provide a comparable appearance.
Where to Buy Solid Surface Countertops in Portland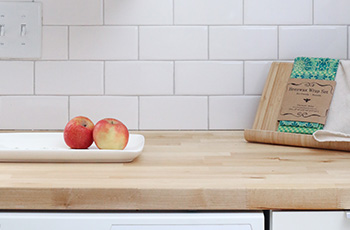 Whether you're picking out the finishes in a brand-new home or are remodeling the house you currently live in, Floor Factors has all the kitchen and bathroom countertop materials you need. We carry quartz and acrylic solid surface counters at our Portland store, as well as flooring, cabinetry, and window treatments.
We're conveniently located in Portland's Pearl District and are here to help you with every step of your renovation. From in-house design consulting and free estimates to demolition and expert installation, we do it all.
Contact us at Floor Factors for a free quote or to learn more about the products and services we offer.