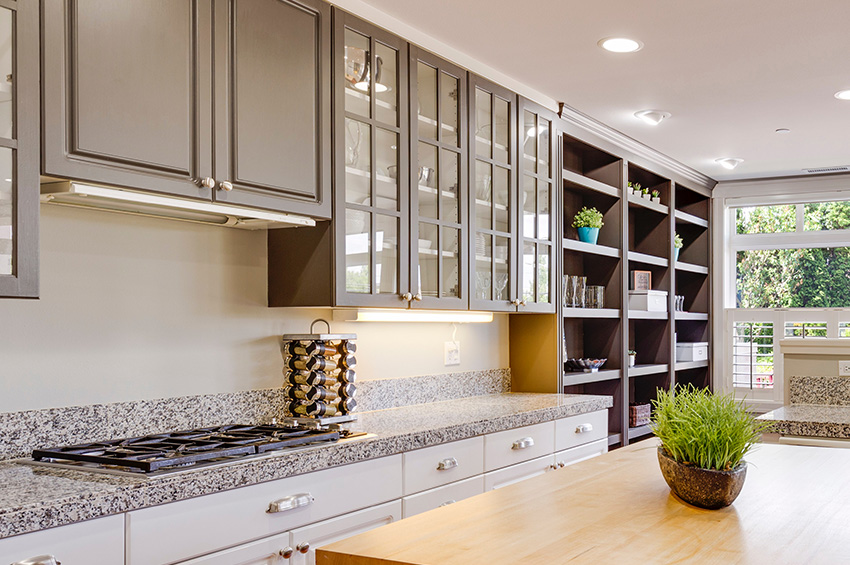 5 Custom Wood Cabinet Ideas for Your Portland Home
While there are many factors at play in kitchen design, including counters, floors, and appliances. However, cabinets are a major component. Not only do cabinets provide storage for all your cookware and dishes, but they also set the tone for the overall design.
Whether you're remodeling your current kitchen or designing a new home, cabinetry is a substantial investment, so you'll want to make sure you select a style that will complement your space for years to come.
Floor Factors is your resource for custom cabinets in Portland. To offer our customers top-of-the-line cabinetry for their residential and commercial spaces, we've partnered with Cutting Edge Custom Cabinets.
Tip from our pros: You don't have to match your flooring and cabinets!
Are you wondering how to choose a custom wood cabinet style for your kitchen? The residential remodeling experts at Floor Factors have you covered. These five custom cabinet ideas for your home will give you the inspiration you need to conceptualize the kitchen of your dreams.
1. Classic Natural Wood Cabinetry
Natural wood is beautiful on its own, so who says you have to paint it? Similar to hardwood floors, many people prefer the natural grains and organic patterns of real wood. Instead of getting painted cabinets for your kitchen, consider unfinished wood. The material can be finished with a matte or glossy sealant or left unfinished. For a minimalist, versatile look for your cabinet doors and drawers, we suggest a solid slab design.
2. Knotted Wood Cabinets
For natural wood cabinetry that's a little more rustic style with knotted wood is a great option. The knottiest types of wood are typically alder, pine, hickory, red oak, and maple. The natural knotted detail and dramatic grain patterns can provide a country-chic or log cabin appeal. Since knotty wood is relatively soft, it's best to finish it with a stain or glaze.
3. Neutral Painted Cabinets
If you're leaning toward painted wood cabinetry, neutral colors such as light gray, off-white, beige, taupe, and charcoal are excellent picks. For a strikingly bold yet still neutral look, you might consider black or navy blue. Just bear in mind that if you go with a dark paint color for your cabinets, you'll want to balance it out with lighter floors. Neutral colors are more than versatile. They're elegant, welcoming, and pleasantly mellow. With neutral painted cabinets, virtually any drawer and door design will work. We suggest inset panel doors or shaker cabinets.
4. Classic White Cabinets
Another neutral paint color for cabinets is white. White cabinets are in a category of their own because white kitchens are truly timeless. The crisp, clean color will pop among your floors, counters, and appliances while complementing them at the same time. White painted wood cabinetry also has a fresh, energizing feel you'll appreciate for years. For plain white cabinets, we love the sophisticated look of applied molding door and drawer designs.
5. Whitewashed or Gray-Washed Wood Cabinets
If you can't choose between natural wood and painted cabinets, whitewashed or gray-washed cabinetry is the best of both worlds. With a cool-toned, semi-transparent white or gray stain, your wood cabinets will have a light, modern appearance. In most cases, whitewashed and gray-washed cabinets have a matte finish. For this contemporary idea, we recommend solid slab or shaker cabinets.
Custom Cabinets in Portland from Floor Factors
If you're ready to get new cabinets for your kitchen, Floor Factors is here to help. To make things easy on you, we've partnered with the cabinetry pros at Cutting Edge Custom Cabinets. Consider us your one-stop-shop destination for all your renovation needs.
Our services include:
In-house design consulting

Assistance with custom orders

Demolition

Installation
Aside from cabinets, Floor Factors also offers residential and commercial counters, window treatments, and of course, flooring. We specialize in kitchens and bathrooms and have everything you need to get started with your next project.
For more information about custom cabinets, contact us today and schedule a personal appointment.