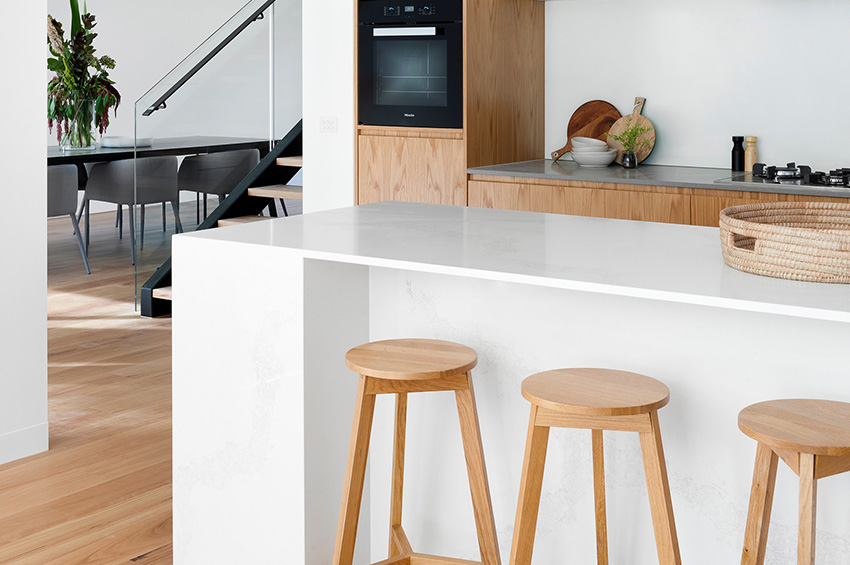 Break These 6 Kitchen Flooring & Design Rules in 2022
From cooking and doing dishes to hosting friends and gathering with family, the average person spends a substantial portion of their day in the kitchen. As such, there's something to be said about taking your time when designing the heart of the home.
So, what are the rules for designing a kitchen? Our Portland flooring experts are happy to report that there aren't really any!
You're wise to give each component careful thought, but that doesn't mean you have to play it totally safe. Like wearing white after Labor Day, many conventional interior design guidelines are no longer considered hard and fast rules.
Don't Let These Kitchen Design Guidelines Hold You Back!
Unleash your inner interior designer and embrace your creative spirit! Sure, design rules can be helpful, as they provide direction. However, if you have something else in mind, don't let anything hold you back. Here are a few rules you definitely don't need to follow.
Rule to Break: Choose Neutrals
Choosing a color scheme is one of the most important decisions you'll make when remodeling a kitchen. People often suggest neutrals, citing white, ivory, gray, and natural wood finishes as "safe" or "timeless" choices.
Not thrilled about these basic hues? No problem. We appreciate when kitchen renovations go off the beaten path. For example, get creative with kitchen cabinets! Homeowners can choose gorgeous custom cabinets in bold shades like forest green, navy blue, seafoam, and mauve. Moody color schemes featuring black and charcoal are having a moment too.
Rule to Break: No Hardwoods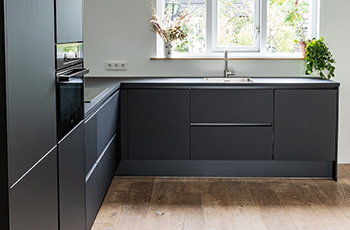 Hardwood flooring has historically not been recommended for kitchens because it's susceptible to moisture damage. However, modern innovations have made getting a wood-like flooring look possible. Today's cork, vinyl, and laminate are available in wood-like planks that look and feel astonishingly like the real deal.
What's the Best Floor Covering for a Kitchen?
The most critical factor of kitchen flooring is that it's water-resistant—if not entirely waterproof—as splashes, spills, and leaks are all but inevitable. With this in mind, the best options include luxury vinyl, laminate, cork, linoleum, porcelain, and natural stone tile.
Floor Factors is proud to offer Quick-Step waterproof laminate and Prodigy HDR Plus luxury vinyl from Shaw Floors. We also carry decorative waterproof flooring from Stanton, along with standout products from other top-rated manufacturers. Whichever material you choose, you can count on new kitchen flooring for a return on investment.
Want more ideas? Check out these 4 Trendy and Affordable Kitchen Flooring Materials.
Rule to Break: Go Rug-Free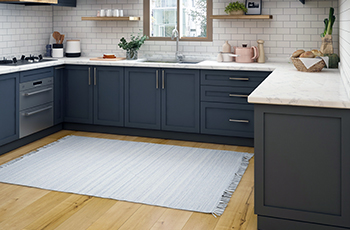 On a similar note, your first instinct might be to keep a rug out of this messy, moisture-prone zone. Spills and crumbs notwithstanding, many interior designers actually recommend it, as rugs offer insulation while tying together various finishes and decorative accents.
Some area rugs are better suited for the kitchen than others, though. Opt for a flatter weave and a material that's easy to vacuum, such as braided jute, woven sisal, or synthetic twill.
See our guide on The Best Area Rugs for Kitchens for ideas and inspiration.
Rule to Break: Opaque Cabinetry
Opaque cabinetry was the name of the game for kitchen remodels over the past couple of decades, but glass doors are having a comeback. The style is traditional and elegant with a hint of farmhouse charm. If you like this look, you might consider installing a couple of floating shelves in place of one set of cabinets.
Rule to Break: Matching Island Countertop
Many new and recently renovated kitchens feature islands. Like living room furniture sets, the rule used to be that the island countertop should match the rest of the counters. Today's designs, however, often use multiple complementing finishes to create visual interest.
Rule to Break: No White Counters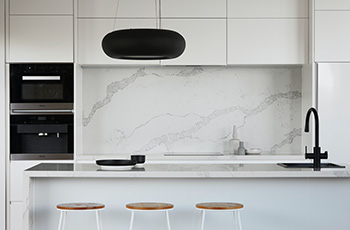 While real marble and other pale-colored countertops have a reputation for being tricky to maintain, solid surface quartz and acrylic have changed the game. Available in a broad range of shades and designs that mimic authentic stone, the non-porous material is resistant to stains and never needs to be resealed.
Learn more about this all-star renovation product in our blog, Kitchen Design Trends Embrace Solid Surface Countertops.
Portland's One-Stop-Shop Kitchen Renovation Resource
Here at Floor Factors, we streamline the renovation process with a comprehensive inventory of products and assistance at every stage. Our Portland flooring store carries high-quality kitchen materials, including counters, cabinets, custom area rugs, and even window treatments.
Our experts can handle installation when you buy from us, and we're always available to assist with custom orders. Whether you need help with your color scheme or want professional guidance on implementing this year's kitchen flooring style trends, our in-house design consultants are at your service.
Contact Floor Factors today, or stop by our huge showroom in Northwest Portland's Pearl District to see product samples in person.