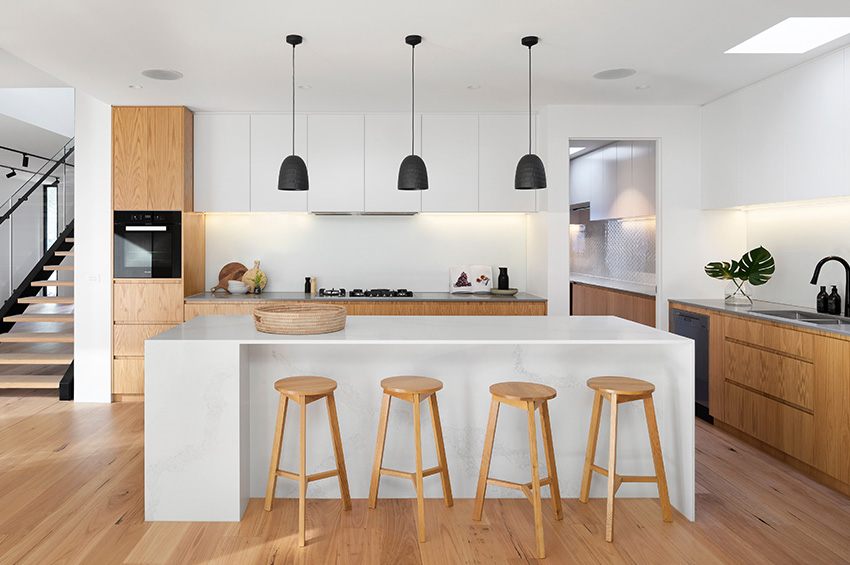 4 Affordable Kitchen Flooring Materials Trending in 2021
What is the best flooring for a kitchen? It depends on a few things, including your taste, vision, and budget. On top of that, water resistance is crucial, as you want something that'll hold up for decades under inevitable spills, splashes, splatters, and leaks. If you're looking for a contemporary, wallet-friendly option, our Portland flooring company has you covered.
Inexpensive Kitchen Flooring Ideas
The best affordable kitchen flooring materials for home remodels include luxury vinyl, laminate, linoleum, and cork. Here's why.
Luxury Vinyl Tile
Luxury vinyl tile (LVT) and luxury vinyl planks (LVP) aren't just one of the most budget-friendly options for kitchens. They're also considered one of the best choices overall.
Luxury vinyl flooring is:
Waterproof

Pet-friendly

Scratch- and scuff-resistant

Low-maintenance

Easy to install

Long lasting
The incredibly durable material can be manufactured to mimic the appearance and texture of real hardwoods and natural stone floors. Plus, since the planks and tiles click into place, installation is a breeze.
Laminate Plank Flooring
Unlike sheet flooring from the 70s and 80s, modern laminate comes in planks that look just like their authentic wood counterparts. It's easy to see why the economical material is a top choice for kitchens.
Laminate flooring is:
Water-resistant

Pet-friendly

Scratch- and scuff-resistant

Low maintenance

Easy to install

A synthetic alternative to natural flooring

Often more durable than real hardwoods
Some laminate on the market today is waterproof, making it ideal for kitchens and other splash-prone zones. If you're interested in a waterproof material, Floor Factors can walk you through your options.
Linoleum
Made from a mixture of rosins, wood flour, and linseed oil, linoleum is a natural flooring material with an agreeable price tag.
Linoleum is:
Eco-friendly

Water-resistant

Versatile

Low maintenance

Durable

Quiet underfoot
Linoleum has a protective topcoat that repels scuffs, dirt, and moisture damage. However, when installed in kitchens and other potentially wet areas, it needs to be resealed periodically to ensure liquids don't seep into the material.
Cork Flooring
If you're like a lot of homeowners, you might be surprised to hear cork is an excellent flooring choice for kitchens. In fact, you may have seen it in other spaces and assumed it was another material.
The sustainable flooring option is naturally resistant not only to water but also to mold and mildew. What's more, cork is insulating, sound absorbent, comfortable underfoot. When properly maintained, it lasts for decades.
Consider Flooring Remnants for Your Kitchen Remodel
If you're looking for inexpensive kitchen flooring ideas, you should definitely consider remnants. Typically left over from large commercial renovations, you can find a wide range of high-quality materials for a fraction of the market rate, including vinyl, linoleum, laminate, and more. Quantities and materials vary, so we invite you to contact us to learn more about what we have on hand.
Choose Floor Factors in Portland for the Best Kitchen Flooring
Whether you're looking for budget-friendly materials for a DIY project or want personalized design ideas for your kitchen floors, you've come to the right place. Our locally owned Portland flooring store is a one-stop-shop destination for all your remodeling and fixer-upper needs.
You can count on affordable flooring products and remnants from standout manufacturers, plus trusted services, including design consulting, demolition, and installation.
Ready to get started? Stop by our huge flooring showroom in Northwest Portland to see what we have to offer.