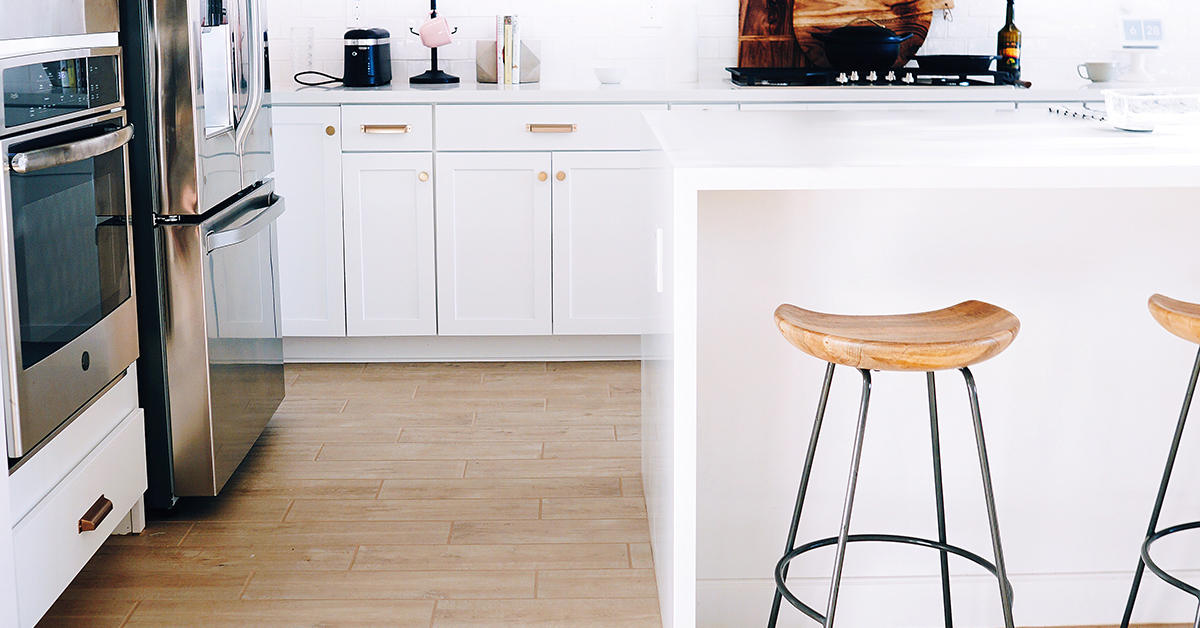 5 Reasons to Use Luxury Vinyl Tile in Your Kitchen
Vinyl flooring has come a long way from its mid-century days. Many people associate vinyl with sheets or peel-and-stick tiles in retro patterns and colors. Believe it or not, modern versions of the synthetic flooring material are nothing like old-school vinyl.
Luxury vinyl tile (commonly known as LVT) is an exceptionally durable, high-quality floor covering material with a stunning appearance. Due to a broad range of benefits, it's a go-to for both residential and commercial spaces.
Is luxury vinyl tile good for kitchens? As a matter of fact, it is! In recent years, LVT has become one of the most popular kitchen flooring options on the market. Get all the details here.
Why Luxury Vinyl Tile is the Best Flooring for Kitchens
LVT is a 100% plastic product consisting of a fiberglass or felt layer, a printed design, a clear protective vinyl coat, and a UV-cured urethane finish. Here are the top five reasons to consider LVT kitchen flooring.
1. LVT Mimics the Look of Natural Flooring
Unlike laminate and sheet vinyl of decades past, LVT is virtually indistinguishable from natural flooring products. With sophisticated photo-imaging technology and realistic textures, it can be made to mimic the look and feel of real hardwoods, natural stone, porcelain, ceramic, and marble. Not only that, but luxury vinyl is more affordable than natural materials, making it a great alternative to the real thing.
2. LVT Is Exceptionally Durable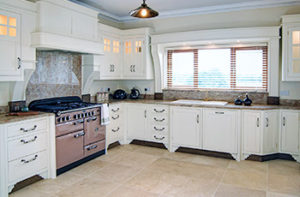 Luxury vinyl may be the most durable floor covering product available today. It's resistant to denting, scratching, and cracking and the material is fade resistant. It's an ideal option for households with pets, kids, or just a lot of foot traffic. In many instances, LVT can last up to 50 years.
3. LVT Is a Low-Maintenance Material
Kitchen floors tend to need more frequent cleaning than any other room of a home. For this reason, a low-maintenance material is essential. LVT is extremely easy to clean and maintain. It never needs to be refinished — regular sweeping or vacuuming and occasional mopping are enough to keep luxury vinyl looking fresh.
4. LVT Is Easy to Install
Luxury vinyl is notably easy to install compared to other materials, and it can be installed directly over existing floors. The tiles or planks are glued down or clicked together on a special underlayment. Floating LVT flooring is a great solution for covering your current kitchen floors because you won't need to remove the existing material.
5. LVT Is Moisture-Proof
Water-resistant floors are crucial for kitchens, bathrooms, and other areas susceptible to splashing, spills, leaks, and humidity. LVT is a moisture-resistant material — even more so than laminate. In many cases, it's also moisture-proof.
This is one of the most critical benefits of luxury vinyl tile, as it makes the material highly versatile. Some floor materials don't hold up in moist environments. As a result, many homeowners opt for different materials throughout each room. With that said, if you're looking to achieve a cohesive look, LVT is the way to go. You can install luxury vinyl in every room of your home.
Visit Our Flooring Store in Portland to Get Started with Your Kitchen Remodel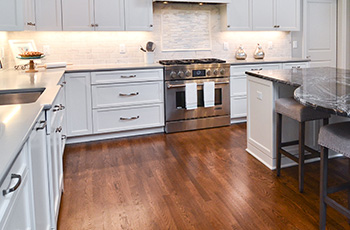 When it comes to finding the best kitchen flooring and remodeling materials in Portland, Floor Factors has everything you need. In addition to LVT, we carry other kitchen flooring options, including laminate, linoleum, porcelain, ceramic, natural stone, and hardwood. As a one-stop home renovation resource, Floor Factors also has high-quality window coverings, cabinets, and countertops at affordable prices.
Allow us to assist you with your next kitchen or bathroom remodel. In addition to renovation materials, Floor Factors offers in-house design consulting and demolition and installation. We welcome you to stop by our showroom in Portland's Pearl District to see and feel our products for yourself.
Contact us or request a quote on LVT kitchen flooring to get started.