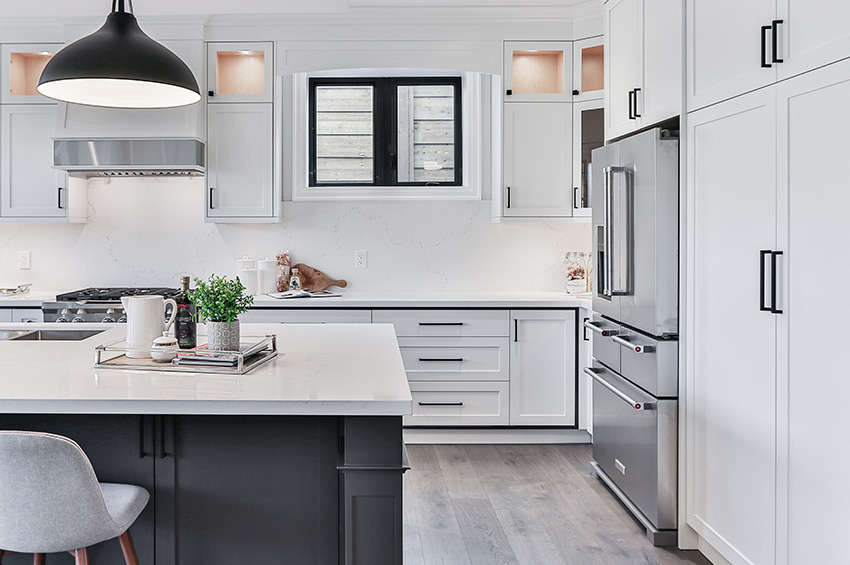 What Is Luxury Vinyl Plank Flooring?
It was almost a century ago when vinyl flooring. was first produced for commercial and residential use. By the 1940s, the material was the most popular floor-covering option on the market.
It wasn't until the 70s, however, that luxury vinyl flooring made a name for itself in the upscale home improvement market. Until recently, many associated the material with sheet flooring, but the impressive material actually comes in both tiles and planks.
Do you have questions about vinyl? Our seasoned Portland flooring pros have answers. Keep reading for a rundown on planks, tiles, pros, cons, and everything else you need to know.
What's the Difference Between Vinyl Plank and Vinyl Tile?
As we mentioned, luxury vinyl is available in two varieties. There's luxury vinyl tile (LVT) flooring, which typically comes in square pieces to mimic the appearance of real stone or tile flooring. Then there's luxury vinyl plank (LVP) flooring, which comes in long, rectangular pieces to mimic the look of authentic hardwoods.
As far as composition and quality go, LVP and LVT flooring are quite similar. Both are 100% synthetic products with a UV-cured urethane top layer featuring photo-imaging and realistic textures of natural flooring materials. They're notably durable, most often waterproof, and look very convincingly like the real thing.
EVP Flooring
You may have also heard of EVP (or engineered vinyl plank) flooring, which is a type of luxury vinyl. EVP is generally heavier than most other LVP planks. At around 8 mm thick, it's similar to engineered hardwood. With a resilient, high-density fiberboard core and an attached underlayment, many consider EVP floors to be the strongest and most realistic wood-alternative you can get.
The Look and Feel of Real Wood
Are you partial to the deep, warm tones of real mahogany or the rich espresso hues of Hevea hardwood and Brazilian cherry? Perhaps you're leaning toward trendy matte gray or white-washed planks in oak or birch. Or maybe you like the versatile medium hues of knotted fir or maple planks.
In any case, luxury vinyl planks effectively mimic both the look and feel of authentic wood. Even when looking closely and running their fingers across the texture, most people can't tell the difference.
Vinyl Plank Flooring Pros and Cons
While real hardwoods still hold the number-one spot, it's easy to see why luxury vinyl has become a close second flooring choice among homeowners. Still not sure if it's the right material for your home? Check out the pros and cons below.
Pros:
Bears an almost uncanny resemblance to solid hardwoods

More affordable than prefinished and unfinished wood

Easy to clean and maintain

Resistant to scratches, scuffs, and dents

Sound-absorbent

Available in various real wood finishes and plank sizes

Lasts for

up to 50 years

Usually 100% waterproof
Since LVP floors are waterproof, they can be installed in every room of your home. So, if you love the look of real wood and want it in your bathrooms, kitchen, laundry room, and entryway, this is an excellent solution. Unlike solid hardwoods, the planks won't expand, warp, shrink, or crack in moisture-prone environments.
Cons:
Not "the real thing"

Slightly harder than real wood underfoot

Can fade over time with direct sunlight exposure
Many manufacturers, including those we partner with at Floor Factors, make fade-resistant luxury vinyl flooring. Be sure to check with the manufacturer or consult with us before purchasing a product if you're unsure about the specific features covered under a warranty.
Floor Factors in Portland Offers Luxury Vinyl Flooring Near You!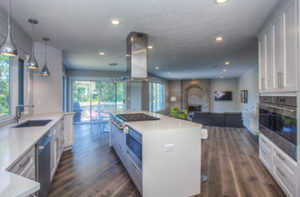 Are you convinced of the nearly unbeatable versatility and durability of modern vinyl flooring? Floor Factors is your one-stop resource for floor-covering products in Portland. We carry LVT and LVP materials from top-rated manufacturers. If you don't see the colors, finish, size, or wood grain you're looking for, we can help you with a custom order to meet your exact specifications.
Floor Factors is celebrating its 40th anniversary! We appreciate our dedicated customers and love helping new clients see what's possible for their homes. Aside from flooring products, we supply countertop materials, cabinets, and window treatments. Not only that, but you can count on us for honest and accurate estimates, personalized design consulting, efficient demolition, and expert installation.
Contact us for a free estimate.