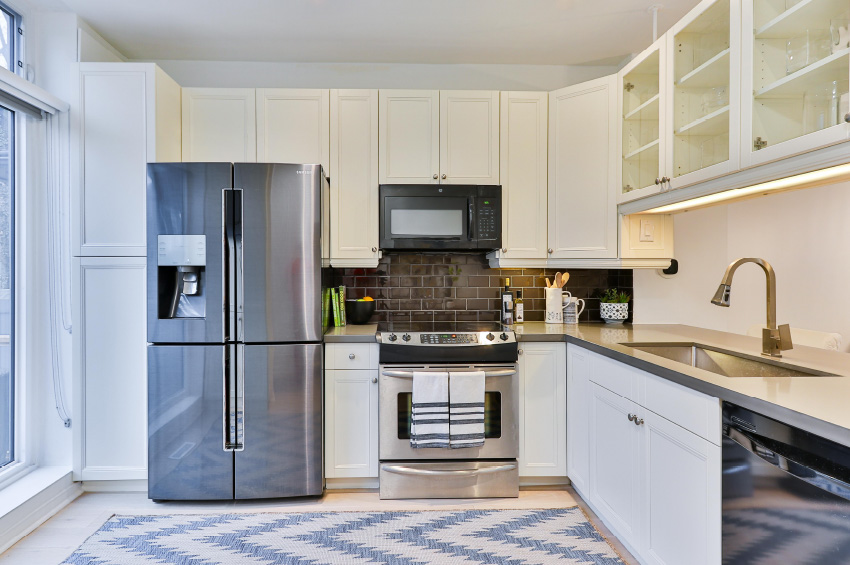 The Best Area Rugs for Kitchens
The role of area rugs in the interior design of any room is a big one! They can harmonize a living space, stand out as a statement piece, create visual pathways, add warmth and character, and much more.
Like many others, you might be wondering, Is it OK to have an area rug in the kitchen? While it may not be the first place you think to place an area rug, you'd be surprised how much it can enhance the overall design.
Not just any rug, though—some are better suited for cooking areas than others. Floor Factors is committed to helping our clients find the right floor-covering options for their homes. We also love to help our clients design custom area rugs to fit their unique design style!
Ready to get your creative juices flowing? Get expert insight into choosing a kitchen rug.
What Type of Rug Is Best in a Kitchen?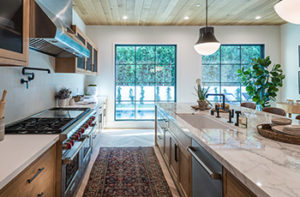 Area rugs provide insulation, softness underfoot, and a stylish touch while protecting your floors from scratches and spills. This is especially crucial in high-traffic areas like kitchens.
Having said that, you'll want to steer clear of high-pile designs and materials prone to stains. So, what type of area rug should you get for your kitchen? Read on to find out.
How to Choose the Best Area Rug for Your Kitchen
As with other floor-covering materials, there's no one-size-fits-all option. When choosing an area rug for your kitchen, you'll want to consider the size, shape, material, weave, and design.
Size and Shape
The guidelines for living room and bedroom rugs are pretty straightforward. In kitchens, however, it's not so cut and dry.
Kitchen rugs are typically on the smaller side and often narrower than traditional area rugs. Runners are a popular option because they fit well in galleys. Some people opt for mats or otherwise smaller rugs and place them in front of the sink or stove area.
If you're starting your kitchen design from scratch, Floor Factors has all the renovation materials you need. We're talking flooring, cabinets, countertops, and even window treatments with custom options available.
Material and Weave
Synthetic materials, such as nylon, polyester, polypropylene, and vinyl, tend to be more stain-resistant than wool. However, eco-friendly jute and sisal rugs are generally easy to clean and suitable for kitchens. They also have that "perfectly imperfect" appearance, so you don't have to worry as much about loose fibers or minor discoloration.
As we mentioned, high-pile weaves aren't ideal for kitchens, as they're difficult to vacuum and prone to matting. Instead, opt for a flat weave, like braided, kilim, twill, or tweed. Some people place outdoor rugs in kitchens because they're usually flatter, not absorbent, and resistant to stains.
Design
Area rugs walk the line between decorative and functional with finesse. With that said, there are many routes you can take with the design of your kitchen rug. If the space is somewhat plain, consider making a statement with a bold color or intricate pattern.
On the other hand, undyed jute and sisal runners are also excellent choices. These materials add texture and interest without creating an overly busy look. With the exception of these naturally light fibers, solid-colored rugs in pale hues may not be the best option, as they're more likely to show stains.
For more guidance on selecting a material, weave, color, and pattern, see our Complete Guide to Choosing Your Area Rug.
Where to Buy Prefabricated & Custom Area Rugs in Portland, Oregon
As one of the best flooring stores in Portland, Floor Factors is proud to offer prefabricated rugs, custom area rugs, and even non-slip pads for underneath. We partner with top manufacturers in the industry, including Kaleen, Loloi Rugs, and Oriental Weavers, and have a showroom full of samples.
If you're interested in creating your own custom kitchen rug, our in-house design consultants are always on hand to assist. For a more budget-friendly option, consider using discounted high-end carpet remnants. Floor Factors always has leftover flooring materials from large projects, which you can buy for a fraction of the original cost.
Contact us with questions or visit our showroom in Portland's Pearl District today!