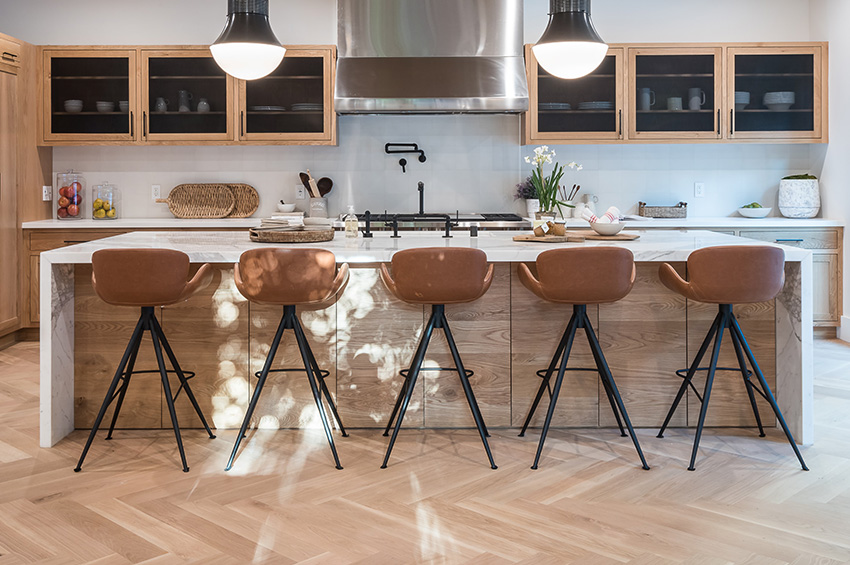 6 Popular Laminate Flooring Trends We Love in 2021
Header image courtesy of Watermark Designs
Laminate isn't what it used to be. While it was previously known strictly as a type of sheet flooring, the synthetic material is now available in planks and tiles that look nearly identical to hardwood, stone, and other natural floor-covering products. Since laminate is one of the most affordable flooring options, this opens up the doors to a plethora of design opportunities for many homeowners.
With endless possibilities within your budget, you might be wondering about the latest laminate flooring trends. To help get your wheels turning, the expert design consultants at Floor Factors rounded up the most popular styles you can expect to see in 2021.
"Reclaimed Wood" Planks
Authentic reclaimed wood flooring means the planks are sourced from old materials, like decks, barns, or fences. "Reclaimed wood" laminate planks have the look of real reclaimed hardwood. Additionally, laminate is often made out of recycled content, plus it has the appearance and durability you want. Laminate planks will have a weathered, slightly mismatched appearance. This look is ideal for anyone leaning toward a rustic interior design scheme.
Whitewashed or Gray-Washed "Wood" Planks
Cool-toned wood flooring is one of the most popular options today, and the look can be easily achieved with laminate. Whitewashed and gray-washed "hardwood" planks are versatile, contemporary, and neutral enough to stand the test of time. Whether your decor is beachy and laid-back, modern and sophisticated, pared-back minimalist, or farmhouse-chic with a rustic flair, cool-toned flooring is an excellent choice.
"Stone" Tiles
Many people opt for planks that mimic hardwoods, but your choices don't end there. Laminate "stone" tiles can look an awful lot like the real thing for a fraction of the price. Maybe you've always dreamt of marble kitchen floors or a sandstone-tiled bathroom. Or perhaps you're inspired by the elegant look of square slate tiles. In any case, laminate tiles can be an excellent alternative to natural stone.
Diagonal Planks
If you like the look and versatility of traditional "wood" planks but want to mix it up a little, you might consider installing them diagonally. Diagonal laminate floors have a chic, upscale appearance that's not too over the top. You can do this throughout your home or just as an accent in your bedroom, living room, or kitchen.
Herringbone Planks
If you want something a bit more eye-catching, another option is to install your planks in a herringbone pattern. The V-shaped design is supposed to resemble the bones of a herring, but don't let the idea of a fish skeleton scare you. Herringbone floors present a distinctly fancy, curated vibe. This trend works with both large and small planks.
Laminate Shiplap Walls
Believe it or not, laminate planks aren't just for flooring. Shiplap refers to easy-to-install panels with an overlapping fit. Shiplap can be used in a variety of design themes, like East-Coast nautical, modern farmhouse, or rustic-chic. It's a perfect choice for accent walls, bathrooms, mudrooms, laundry rooms, and above fireplace mantles. Many don't consider wood alternatives for shiplap, but synthetics like laminate and vinyl work great.
Portland's Choice for Laminate Flooring Since 1980
2020 marks 40 years of business for Floor Factors. We attribute much of our success to the unbeatable customer service and high-quality products we offer, and we're committed to upholding these standards in the decades to come.
Floor Factors is proud to carry top-tier floor-covering materials, including options from the best laminate flooring manufacturers in Portland and across the U.S. Our locally owned business is a one-stop destination for all the products and services you need to replace your floors. In addition to design consulting, Floor Factors can help you order custom materials. We also provide demolition and installation services.
Contact us for an estimate on laminate flooring for your home remodeling project.