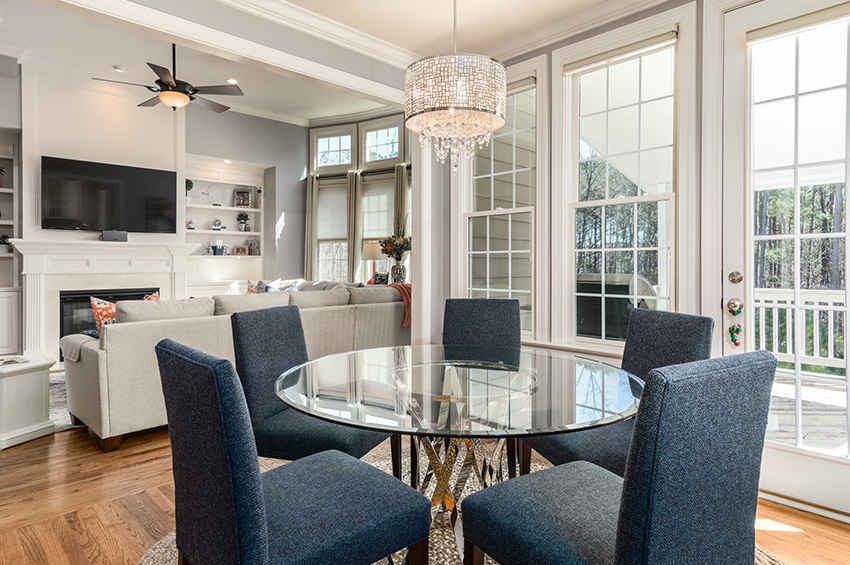 4 Best DIY Flooring Materials for Home Remodels
DIY home renovations have become more and more popular for a variety of reasons. Whether it's to save money or increase home value, homeowners are embracing doing it themselves. If you're thinking about getting new floors for your home and want to take the do-it-yourself route, you might be looking for some easy DIY flooring options. Our Portland flooring pros are here to give you a rundown of our top picks.
What Type of Floor is Easiest to Install?
If you're a novice, your best bet is luxury vinyl, laminate, engineered hardwood, or carpet tiles. Read on for a breakdown of each DIY-friendly flooring material.
1) Luxury Vinyl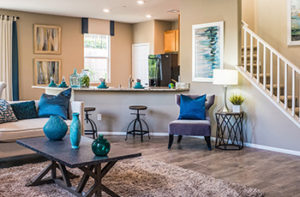 Luxury vinyl flooring can be installed directly over existing floors. Unlike traditional sheet vinyl, it comes in "floating" planks or tiles (LVT), which click into place. It's also available in peel-and-stick tiles that have adhesive backing. With either option, you don't need any glue or nails, and the project will require minimal elbow grease.
As an affordable alternative to real hardwoods, luxury vinyl floors are having a moment. The synthetic product is almost indistinguishable from natural materials in both appearance and texture. Not only that, but LVT is sound absorbent, easy to clean, scratch-resistant, water-resistant, and it can last for up to 50 years.
2) Laminate
Laminate flooring is similar to luxury vinyl in terms of installation. The synthetic tiles or planks lock into place, and they can be installed right over your existing floors. Laminate is a moisture-resistant material that's easy to clean and maintain. In many cases, it can last as long as 30 years.
Planks are available in several wood-grain finishes. You can also get tiles resembling stone, ceramic, or porcelain in virtually any color or pattern. Classic black and white checks? Yes. Mosaic prints? You got it. Chic marble? That too.
3) Prefinished Hardwood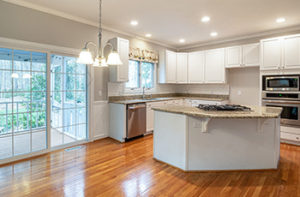 If you prefer real wood, prefinished hardwood flooring is the way to go. The natural composite material comes in sanded, factory-finished planks. Unlike unfinished hardwood, the uniformly coated planks don't need to be finished onsite.
While some engineered wood floors are installed using a traditional glue-down method, many can be clicked into place without an adhesive. Overall, the process is quick and hassle-free compared to many other materials.
4) Carpet Tiles
If you want a soft, insulating, sound-absorbent flooring option, carpet is an excellent choice. Large rolls can be tricky to install because they need to be stretched and tacked down to prevent ripples. However, carpet tiles are another story.
Most carpet tiles have peel-and-stick backing, which makes them super easy to install. If you need to adjust the size to fit the perimeter of a room, you can cut the material with heavy-duty scissors or a utility knife. Like regular carpet, tiles come in tons of varieties, including wool, nylon, plush, and loop-pile.
Floor Factors, Portland's Flooring Material Resource Since 1980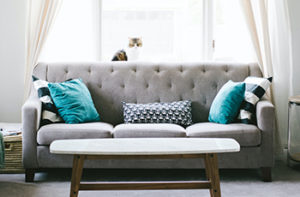 Whichever floor-covering material you decide on, Floor Factors can assist with a custom order. We partner with the top flooring manufacturers and can provide tips and guidance for selecting the right product. As your one-stop solution for home renovations, we also carry installation supplies and maintenance products. Check out our kitchen and bath gallery to see how our renovation materials have enhanced people's homes.
Our locally owned flooring company has helped homeowners make their visions a reality for 40 years, and we look forward to serving the Portland area for decades to come.
Contact us today for a free estimate.