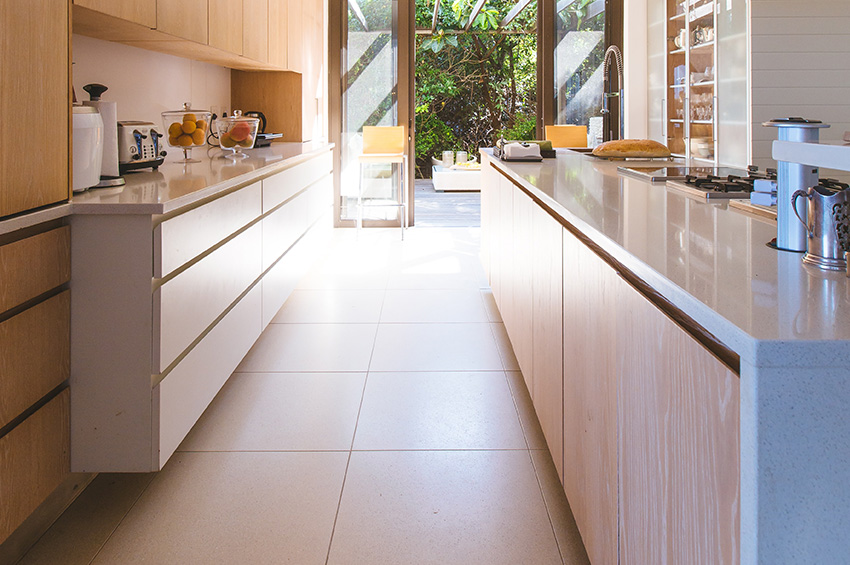 4 Flooring Ideas to Brighten Up Your Kitchen
In many homes, the kitchen is the focal point. It's where you cook, gather, eat, and interact with your loved ones. At Floor Factors, we understand the importance of having a kitchen you like spending time in. That's why we think a remodel is never a bad idea.
Kitchen Flooring Ideas for Spring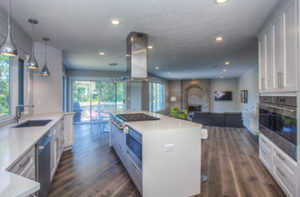 So, what's the best flooring for a kitchen? If you want to spruce up your kitchen this spring but aren't quite sure which direction to take, we have you covered. Check out these four flooring ideas to liven up your space.
1. Go Big with Tiles or Planks
If the square footage in your kitchen is on the lower end, one way to make the space appear bigger is to opt for large flooring tiles. Extra-large individual tiles trick the eye into thinking a room is longer and wider than it actually is.
For square floor tiles, we recommend going for 18 by 18 inches or larger. The larger the squares, the more effective the optical illusion will be. Floor Factors offers custom floor-covering solutions, and we can certainly assist with an order of extra-large tiles.
2. Opt for Diagonal Installation
One of our favorite interior design flooring tips this year is to install planks diagonally. Whether you choose unfinished hardwoods, prefinished wood, bamboo, laminate, or luxury vinyl, a diagonal layout will provide a lengthened, visually pleasing effect.
We love the look of hardwood planks with angled installation. The finished appearance is unexpected yet still classic.
3. Choose a Light Wood or Whitewashed Finish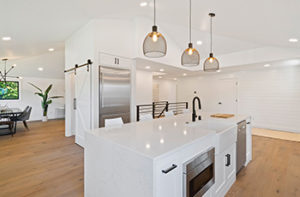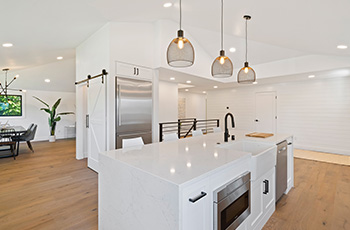 This spring, light-colored hardwoods and whitewashed planks are a top choice for kitchen floors. Birch, bamboo, oak, and other blonde woods are excellent options for brightening up a room.
Whitewashed natural wood and synthetic wood-inspired planks with a matte finish are also on-trend. Light grays and other cool-toned finishes are other neutral yet refreshing choices for kitchen flooring.
4. Install Consistent Flooring Throughout Your Home
Newer homes with open floor plans will often have the same flooring material throughout the entire house — or at least, throughout one floor of the home. This creates a seamless, cohesive ambiance that blurs the lines of where each room starts and ends. Believe it or not, you don't have to have an open floor plan to achieve a similar effect.
If you're planning to replace your kitchen floors, why not install the same flooring in the other rooms of your home, too? One thing to keep in mind with this flooring idea is that your kitchen and bathroom floors need to be water-resistant, if not entirely waterproof. Your best bet for end-to-end flooring is luxury vinyl tile (LVT). The waterproof floor-covering material comes in many styles and can mimic the look of stone and hardwood. Plus, it's suitable for every room of a home.
What's the most popular kitchen flooring in 2020?
Speaking of LVT, this exceptionally durable, synthetic flooring material is officially the most popular choice for kitchens in 2020. It's also a top choice if you want to increase your home's value. Natural hardwood floors held the number-one spot for many decades. However, the scratch-resistant, waterproof alternative looks like real wood and is available at a lower price.
As a locally owned, full-service flooring store in Portland, Floor Factors has all the materials and expertise needed to renovate your kitchen, bathroom, or an entire home. In addition to residential services, we're also the go-to choice for commercial projects. From in-house design consulting and custom orders to demolition and installation, Floor Factors can assist you at every stage of your renovation.
Request a free quote on materials, or visit our massive showroom in Portland's Pearl District.