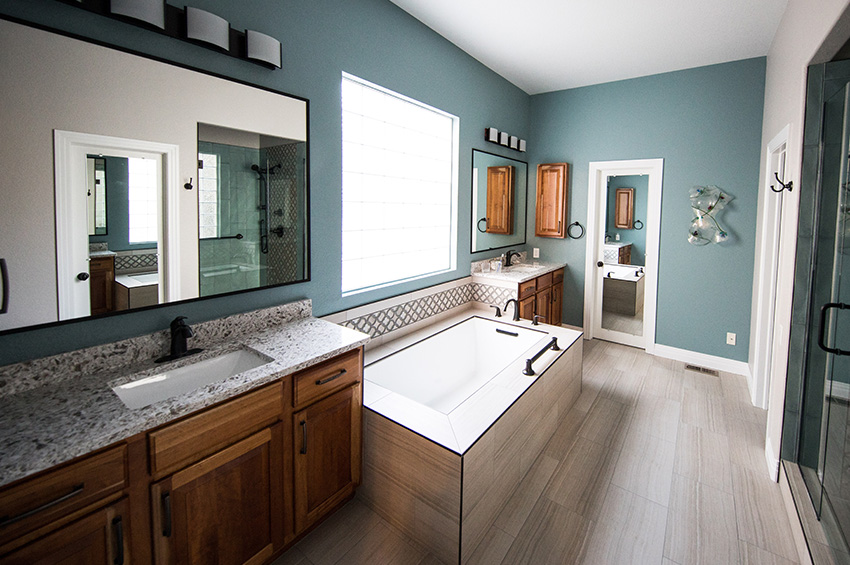 4 Best Bathroom Flooring Options
Since bathrooms are subject to humidity, water leaks, and daily splish-splashing, selecting the right flooring can be tricky. To avoid moisture damage and mold, you'll want to choose something that's at least water-resistant, if not completely waterproof.
If you're wondering how to choose the best flooring for your bathroom, Floor Factors has you covered. Find tips, guidance, and expert recommendations below.
Which Type of Flooring Is Best for Bathrooms?
The best floor-covering options for bathrooms are vinyl, natural stone, porcelain, and laminate. Each has its own list of benefits and maintenance requirements. Here's what you should know.
Vinyl
Vinyl is a synthetic product that comes in sheets, planks, and tiles (also known as luxury vinyl tile or LVT). It can mimic both the look and feel of real hardwoods, with photo-imaging of natural wood grain and realistic textures on each plank. LVT can be installed over existing floors. With proper maintenance, it can last up to 50 years.
Today's vinyl flooring materials are both water- and scratch-resistant. Since real wood is prone to moisture damage, this product is ideal for anyone who wants to install the same flooring material throughout their entire home. It can also be a convincing alternative to natural stone.
Natural Stone
Stone tile tends to be one of the more pricey flooring options, but since bathrooms take up less square footage, it might be worth working it into your budget. You can get granite, sandstone, slate, marble, limestone, or travertine for your floors, countertop, tub, and even your shower walls.
Natural stone provides a high-end, luxurious appeal. We love the look of lagoon-like green marble floors, sleek slate shower walls, and sophisticated floor-to-ceiling limestone tile. Just keep in mind it requires a little more upkeep than other materials, including regular resealing.
Porcelain
Porcelain flooring is another tile option for bathrooms. It typically comes in smaller pieces than natural stone—whether it's traditional squares, hexagons, circles, diamonds, arabesques, pinwheels, or rectangular subway tiles. The design possibilities are endless, and you can usually count on a little more resale value for your home.
Since porcelain is water-resistant, it's much less prone to damage than other materials. Plus, it's exceedingly durable and can last for several decades. One thing to bear in mind is glazed tiles can be slippery. Smaller tiles can provide some traction, but you may want to consider an unglazed option.
Laminate
Laminate is similar to vinyl, except it doesn't usually last as long and isn't quite as realistic-looking. Yet as technology improves, modern planks and tiles are looking more and more like the real thing.
As a moisture-resistant material, laminate can be a great choice for bathrooms, but it's a little less resilient than the three mentioned above. That said, it's easy to maintain and has a lifespan of up to 30 years. Since the material can mimic the look of real wood, it can be perfect for achieving a seamless room-to-room flooring look in your home.
Flooring Materials for Powder Rooms & Half Baths
With full baths, water-resistant flooring is critical, as it can help you avoid replacement costs in the event of a major plumbing issue. Plus, with multiple family members taking daily baths or showers, your floors are bound to come into contact with at least a little water. Having said that, a half bath (also known as a powder room) is less of a water hazard.
If you have prefinished hardwood, cork, or bamboo flooring in your kitchen, living room, and hallway leading to your half bath, you can most likely use the same material in the bathroom. When in doubt, check with the manufacturer or get in touch with the experts at Floor Factors.
Shop Our Bathroom Flooring Options in Portland
Floor Factors has been Portland's go-to flooring company for 40 years, and we look forward to 40 more! We're a trusted locally-owned resource with one-stop-shop solutions for homeowners in Portland and the surrounding areas.
We partner with the top flooring manufacturers and are here to assist with every step of the process. Whether you land on luxury vinyl, natural stone, porcelain tile, or laminate for your bathroom, we can help you order materials in any size, shape, color, or finish. Aside from custom ordering and design assistance, Floor Factors can handle demolition and installation.
Contact us today.