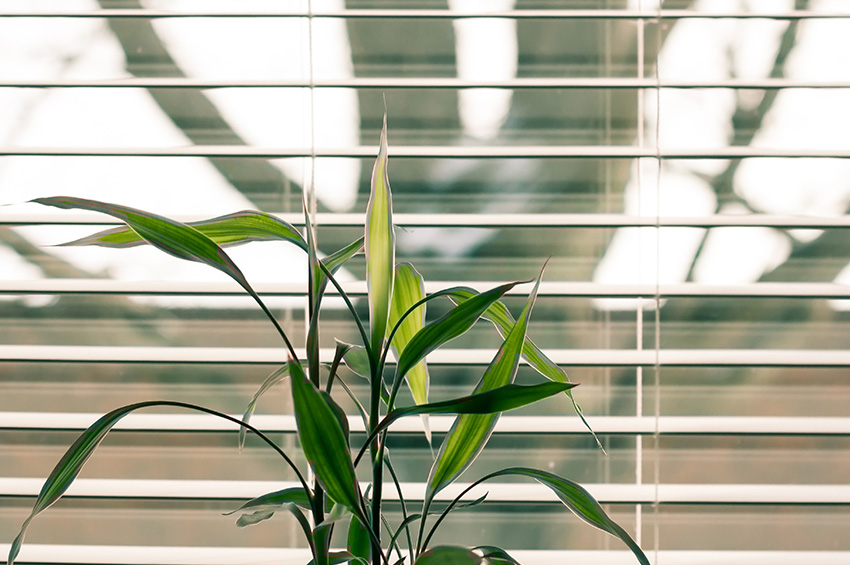 Top 10 Window Blind & Treatment Trends in 2022
In the world of interior design, a new year means fresh looks, avant-garde color palettes, and the latest innovations. If you're sprucing up your living space, you won't want to overlook this year's top trends in window treatments!
What Are the Current Trends in Window Treatments?
Floor Factors offers custom blinds, shades, shutters, and drapes exclusively from Hunter Douglas. The industry-leading manufacturer creates all types of window treatments, including impressively innovative designs and the most sought-after styles.
Find a rundown of our favorites below.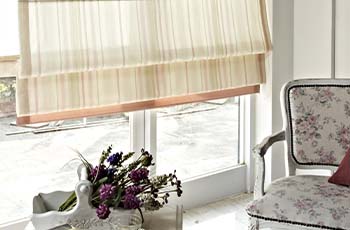 Multifunctional Systems
Multifunctional window treatments are having a moment in 2022. For instance, Hunter Douglas's Duolite rollers combine room-darkening textiles and light-filtering materials into a single, dual-action shade.
Then you've got top-down/bottom-up systems. Unlike traditional shades that only lift from below, this option allows you to open it from the bottom, top, or both at once.
Automated Window Treatments
As smart home tech makes its way into the mainstream, more and more homeowners are choosing automated window treatments. With Hunter Douglas's PowerView Automation system, you can create a schedule and control your shades or blinds from your mobile device, via voice activation, or with a remote.
Woven Wood
In terms of materials, we expect to see a lot more woven wood treatments in 2022. Loomed with intricate weaving techniques, the options from Hunter Douglas are crafted from natural lumber, bamboo, reeds, and grasses. The result? A soft yet durable fabric-like material with an organic appeal.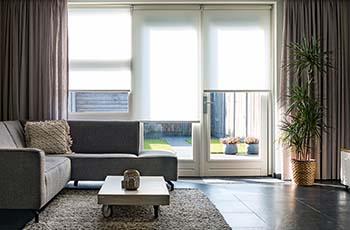 Layered Curtains
Hanging curtains over shades or blinds is a great way to showcase your decorating style. Also, you'll have additional light-filtering and privacy options, plus more insulation and sound absorption, while enhancing the rest of your decor.
Whether you're in the market for breezy sheers, regal velvet, traditional jacquard, boho embroidery, laid-back linen, or sophisticated silk, you'll find just the thing when you browse the Design Studio collection. The line includes a range of side panels, draperies, and custom rods, each designed to coordinate with other window coverings from Hunter Douglas.
Are Custom Window Treatments Worth the Money? Read our blog to find out.
Eco-Friendly Materials
With over 70% of Americans viewing climate change and pollution as a serious concern, it's no surprise eco-friendly window coverings are gaining popularity. Hunter Douglas offers shades made of GreenScreen Sea-Tex fabric, which is engineered from recovered coastal and marine plastic.
Another option is bamboo. As one of the fastest-growing crops in the world, the renewable resource is a go-to for sustainable shades.
Energy-Efficient and Insulating Window Treatments
On a similar note, our customers are prioritizing energy efficiency when buying window coverings. The insulating honeycomb shades and cellular rollers from Hunter Douglas are designed to keep your home warmer in the winter and cooler in the summer. By minimizing your energy usage, you can cut down on your power bill and reduce your carbon footprint.
Faux Wood Blinds
What type of window blinds are in style? Instead of the white horizontal slats that dominated the last two decades, you can expect to see more natural wood finishes in the coming year. EverWood Alternative Wood Blinds from Hunter Douglas come in a range of hues, including options mimicking white oak, rich mahogany, and cool-toned birch.
Window Shadings
Like sheers, window shadings offer soft light filtration, except with horizontal vanes instead of fabric panels. Hunter Douglas's take on this trend is adjustable, sleek, and undeniably modern. Providing plenty of natural illumination without sacrificing privacy, this is an excellent choice for living and dining rooms.
Pared-Down Designs
Though window treatments hold a lot of weight in terms of the overall aesthetic of your space, minimalist designs are typically a wise choice. We recommend solid, neutral colors and subtle textures, like the Solera Soft Shades or Designer Banded Shades from Hunter Douglas.
Check out these 6 Custom Window Covering Ideas for inspiration on the less-is-more trend.
Classic Shutters
Seeing as shutters have been around for centuries, they're certainly not a new style. However, we're witnessing a resurgence of this timeless treatment in 2022. Crafted from hardwood or a convincing composite alternative, shutters are great for living rooms, home offices, dining areas, and kitchens.
Portland's Choice for the Best Custom Window Blinds, Shades & More
Feeling inspired by these trends? As the premier resource for Portland window treatments, Floor Factors can assist with a custom order to align with your unique vision, lifestyle, and budget. If you order from us, we can also take care of installation.
Request a free quote online, contact us about design consulting, or stop by our Pearl District showroom to see and feel the materials for yourself.