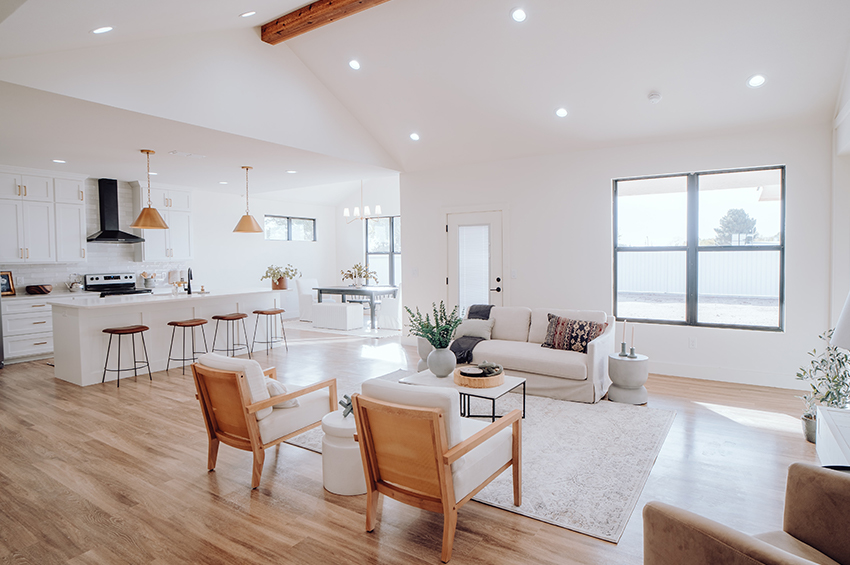 5 Types of Resilient Flooring
Boasting impressive strength and unmatched versatility, resilient flooring is a go-to for active households and commercial buildings. The firm yet not uncomfortably hard material is made from plastic and resin polymers, which is where it gets its durability.
Our Portland flooring store breaks down the different types and benefits of this floor-covering product below.
What's the Difference Between Vinyl and Resilient Flooring?
Resilient flooring is an umbrella term for materials that aren't as hard as natural stone and hardwood, but also not soft like carpet. Though people often use the terms interchangeably, vinyl is a type of resilient flooring, as it falls somewhere in the middle. Other types include composite, linoleum, and cork, the latter of which is on the softer side for a resilient product.
You'll love the benefits of this material!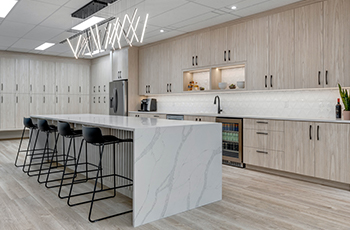 Resilient floors are:
Affordable compared to hardwood and natural tile

Available in a wide range of colors and styles

Exceptionally easy to maintain

Moisture-resistant, if not 100% waterproof

Notably durable and suitable for high-traffic areas

Softer and warmer than tile

Sound-absorbent and quiet underfoot
Since resilient materials are often waterproof, they can be installed in moisture-prone areas whe
re hardwoods aren't recommended. This includes kitchens, bathrooms, basements, laundry rooms, and mudrooms. If you're renovating any of these spaces, you can order custom cabinets, counters, and even window treatments from Floor Factors along with your flooring.
What Are Examples of Resilient Flooring?
Our manufacturing partner Congoleum offers a few types of vinyl-based resilient flooring, including luxury tiles, planks, sheets, and composite tiles. As mentioned, linoleum and cork also fall under the resilient umbrella. Here's what to know.
LVT and LVP
Congoleum's AirStep Advantage line includes a broad range of luxury vinyl tiles (LVT) that mimic the appearance of natural stone and ceramic, as well as wood-look luxury vinyl planks (LVP). The flexible, easy-to-install pieces are sealed with a layer of urethane Scotchgard to repel spills and stains.
Discover the 8 Best Vinyl Plank Flooring Brands in our blog.
Sheet Vinyl
The AirStep collection also includes resilient sheets, each featuring a layer of high-quality felt for added flexibility without sacrificing durability. You can get pieces as wide as 16 feet that mimic the look of individual planks or tiles.
Want more insight? Here are 5 Things to Know Before Buying Vinyl Sheet Flooring.
Composite Tile
Congoleum also offers vinyl composition tile (VCT), which is made by mixing plastic polymers with limestone. The incredibly strong, versatile material is dyed with pigments, then heated, pressurized, and cut into squares or rectangles. This floor-covering product is ideal for high-traffic commercial spaces on account of its durability, longevity, and relative affordability.
Check out our blog to see which Stone-Look Vinyl Flooring Trends Are Here to Stay.
Linoleum
Our partners at Forbo make naturally sourced, eco-friendly linoleum flooring. The manufacturer's Marmoleum line boasts a carbon-neutral production process and endless design possibilities for its resilient products.
Cork
Then there's cork, a natural and renewable floor-covering material offering almost unbeatable sound absorption and insulation. Featuring high-resistance technology (HRT), Amorim Wise flooring is soft yet durable, waterproof, and available in nearly any style, including faux-wood planks and stone-like tiles.
Learn more in our article, New Cork Flooring Has All the Benefits of Luxury Vinyl Tile.
Visit Portland's Best Flooring Store
As Portland's premier flooring company, Floor Factors has all the materials you need for your next project. Our locally owned store carries floor-covering products from top-rated manufacturers, plus a wide variety of other home remodeling products, such as countertops and window coverings.
We also offer in-house design consulting if you need assistance choosing colors, materials, and styles, as well as demolition for those who order from us.
Request a free estimate to get started!