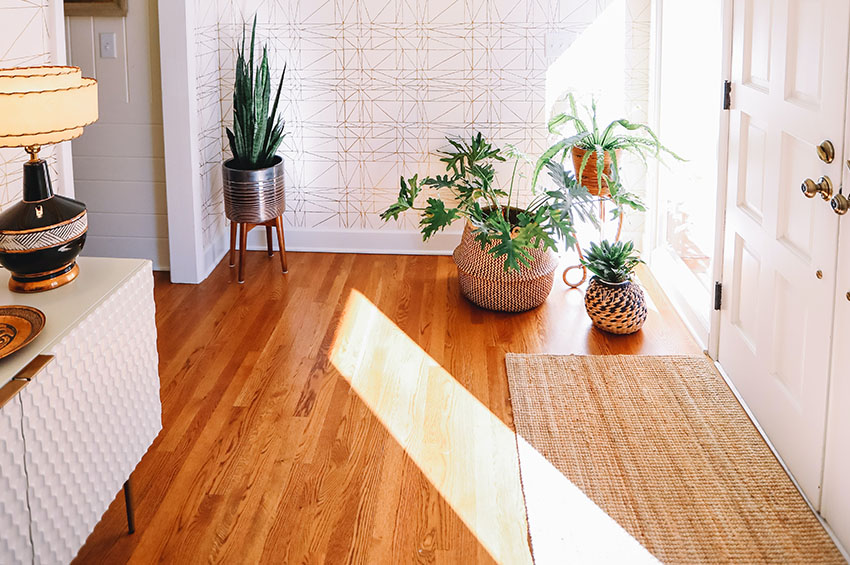 What Window Treatments Prevent Sun Damage to Hardwood Floors?
With proper care and upkeep, hardwood flooring can last a lifetime. Preventing cracks, dents, and moisture damage is part of the equation, but what many homeowners don't realize until it's too late is that outdoor light can cause fading.
What can you do to protect your hardwoods from sun damage? Read on to find out.
Window Treatments That Protect Your Hardwood Floors From the Sun
Minor color changes give wood planks a hint of character. The rustic look is so popular, in fact, that many hardwood flooring manufacturers offer new materials with a faux time-worn aesthetic.
However, UV (ultraviolet) rays can create uneven discoloration—think lighter planks in only half the room—and since flooring is a substantial budget item, you want to protect your investment.
The solution? Ultraviolet-blocking window treatments from our partners at Hunter Douglas. Below we share a rundown of the best types of shades, blinds, and more to prevent faded floors.
Window Sheers and Shadings with UV Protection
Semi-transparent sheers and shadings help diffuse the natural light that passes through your windows without darkening the room. You can adjust the vanes to add privacy and control glare without sacrificing UV protection.
Fade-Prevention Honeycomb Shades
Offering supreme versatility and functionality, cellular honeycomb shades are suitable for every room in your home. Not only do they preserve the color of your hardwoods, but they're also energy-efficient, helping your space stay climate-controlled year-round.
Blackout Roller and Solar Shades
Blackout rollers are perfect for bedrooms, as they block all outdoor illumination day or night. Solar shades are best for spaces used during waking hours, like living rooms and studies, as they filter natural sunlight but don't darken the room. Both types of window treatments offer energy efficiency and UV protection.
Woven Wood Window Treatments
A visually pleasing alternative to solar shades that filters light instead of blocking it completely, woven wood window treatments are ideal for living rooms, home offices, kitchens, and dining rooms. In addition to your floors, the material can help prevent your wood and upholstered furniture from fading.
Light-Blocking Shutters
Hunter Douglas also makes light-blocking shutters with a classic appearance and a high-tech design. The Palm Beach Polysatin line promises not to fade, crack, chip, or peel in the face of bright sunlight or high humidity while also preserving the colors of your flooring and furniture.
UV-Blocking Roman Shades
Flaunting energy efficiency, flexible light filtration, room-darkening abilities, and a decorative touch, roman shades are a popular choice for any room. Depending on the color and material, you can expect this window treatment to block between 75% and 99% of the sun's damaging rays.
On the fence between materials and styles? Check out our guide on How to Choose the Best Window Treatments for Your Home.
Tips to Protect Your Hardwood Flooring from Sun Damage
Beyond installing UV-blocking window coverings, what can you do to keep your hardwood flooring and furniture in tip-top shape?
Close your shades, blinds, or curtains every day when the sun shines brightest into your home.

Protect your floors and wood furniture with a UV-resistant sealant.

Since dark hues are more likely to show visible fading, consider lighter-colored hardwoods, such as oak, birch, or ash.

Rotate your rugs and rearrange your furniture periodically to prevent uneven discoloration.
Ready to find a solution to fit your home's needs? We invite you to learn about custom window treatments from Hunter Douglas.
Where to Buy Custom Window Treatments in Portland, Oregon
In addition to custom window treatments from Hunter Douglas, Floor Factors offers products for your entire home remodel. We even carry top cleaning and maintenance products for hardwood floors. Our team can help you find the right solution for your needs.
Our in-house design consultants are also available to assist with materials selection, color coordinating, and custom orders.
Stop by our massive showroom in Northwest Portland's Pearl District to see and feel product samples, or request a free estimate online.