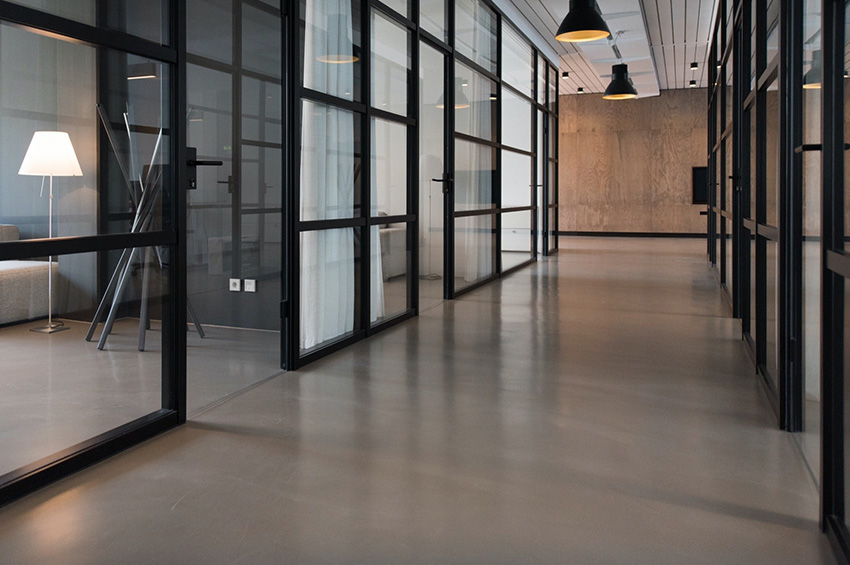 Is it Worth Investing in Polished Concrete Floors for Your Commercial Building?
Planning a commercial renovation is an exciting time for any business owner, signaling growth and a refreshing new chapter.
One of the first things you'll need to decide on is flooring. When browsing options, you might have come across polished concrete, an incredibly versatile material created with a multi-step process involving grinding, hardening, refining, and sealing.
Is it worth investing in polished concrete floors? You bet! Our Portland commercial flooring experts break down the advantages of polished concrete below.
7 Benefits of Polished Concrete Flooring for Businesses
Polished concrete floors are perfect for commercial buildings. Exuding an industrial-modern aesthetic, the material works well in everything from studios and storefronts to factories and restaurants.
Beyond its visually pleasing versatility, this type of flooring is notably durable, low-maintenance, water-resistant, hypoallergenic, customizable, affordable, and even sustainable. Here's what you should know.
1) Durable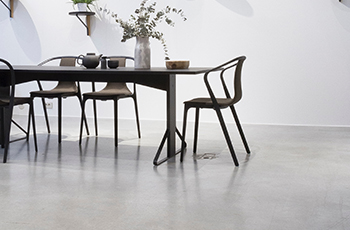 Polished concrete floors are exceedingly tough and long-lasting. The material stands up to heavy foot traffic, extreme temperatures, and ongoing and wear and tear. It's often guaranteed for 20 to 30 years but can likely last for nearly a century with proper maintenance.
2) Low-Maintenance
Caring for polished concrete is remarkably easy too. Thanks to the chemical hardening process, the surface is virtually dust-proof. Regular vacuuming or sweeping and light weekly mopping is all you really need to do.
3) Water-Resistant
Unlike its unpolished counterpart, polished concrete is water-resistant and sometimes even waterproof. Curing the material makes it resistant to cracking, warping, deterioration, and other forms of moisture damage.
Water resistance is crucial for commercial buildings in the Pacific Northwest. Take a look at these additional Top 3 Flooring Materials Perfect for Portland's Wet Weather.
4) Hypoallergenic
Polished concrete isn't entirely non-porous. However, the densifying and sealing process tightens the ground material until it's dense enough to repel dust, pollen, and other allergens. Since liquids can't penetrate the surface, it prevents mold and bacteria growth as well.
Interested in other antimicrobial remodeling materials? Consider getting non-porous quartz or acrylic counters from Floor Factors, and check out these Solid Surface Countertop Basics Before You Buy.
5) Customizable
Polished concrete can be stained in nearly any color to align with your brand's aesthetic. Like wall paint, it comes in various sheens, including reflective high-gloss, matte, satin, and eggshell. You can also customize your floors to look like marble, granite, quartz, and other natural stone materials.
6) Affordable
Polished concrete is among the more budget-friendly flooring options. Of course, it depends on the size of your space, the existing flooring, and any potential customizations, but generally speaking, it's an affordable solution.
7) Sustainable
Many business owners are pleasantly surprised to learn polished concrete is LEED-compliant, meaning it meets certification standards set by the U.S. Green Building Council. Not only is the material affordable, but Oregon businesses can get a tax credit of up to 35% of their construction costs if they meet the LEED Silver rating.
The Long-Term Value of Polished Concrete Commercial Flooring
As with any major expenditure, your commercial flooring should be viewed as an investment. Considering the minimal maintenance requirements, impressive durability, tax incentives, and unlikelihood of repairs, there's no denying the long-term value of polished concrete.
Polished Concrete Floor Contractors Portland, Oregon
If you're leaning toward polished concrete for your commercial space, Floor Factors would love to hear from you. The expert installers at our locally owned Portland flooring company handle everything from grinding and hardening to refining and sealing.
As a one-stop-shop commercial renovation resource, clients can count on us for all the materials and services they need. We're talking floor-covering products, window treatments, countertops, and cabinets, plus design consulting and assistance with custom orders.
Contact us to chat with a team member about commercial flooring sales and services, or stop by our massive showroom in Northwest Portland.