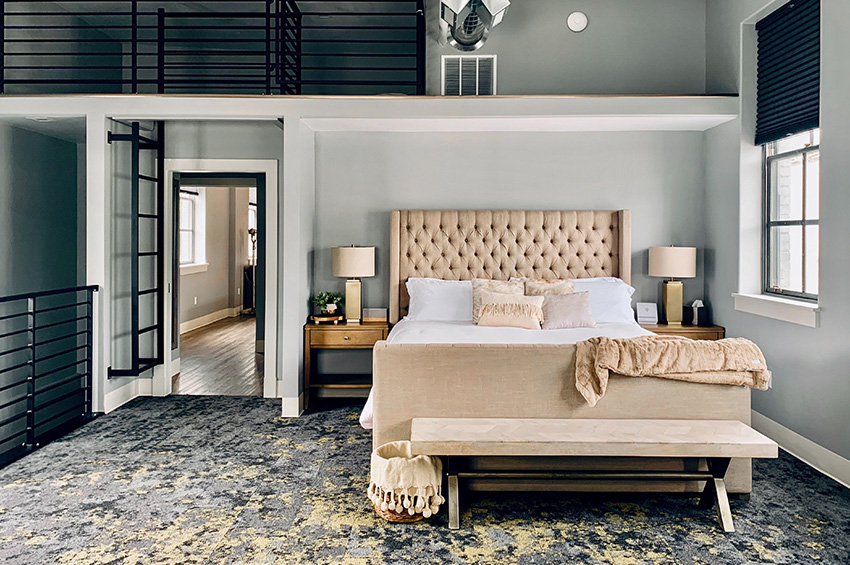 6 Stunning Carpet Design Ideas for Any Bedroom
It's easy to see why carpeted floors are an ideal choice for bedrooms. You really can't beat the warm, soft comfort of the cushioned material.
Carpet has been around for a long time, but thanks to new innovations and styles, it's become a contemporary favorite among homeowners. The floor-covering product is also generally one of the most affordable options.
It doesn't last as long as other materials, but this can be viewed as a plus. How so? Since carpet has a lifespan of five to 15 years, you have the opportunity to switch up the look of your bedroom floors more often. In other words, you've got more freedom to embrace current trends.
What Carpet Is in Style for Bedrooms?
Modern carpet trends aren't only about aesthetics. Eye-catching hues, pared-down patterns, and fierce prints are at the forefront, but eco-friendly materials and DIY tiles are also having a moment.
As a premier Portland carpet store, Floor Factors has its finger on the pulse of interior design and flooring innovations. Here's a rundown of today's bedroom carpet trends.
Bold Colors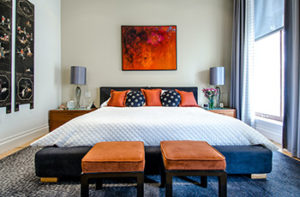 Don't expect minimalism to fade out any time soon, but keep your eye on a shift toward maximalism. The eclectic design style is all about bright, bold colors that make a grand, lavish statement.
Though maximalism embraces a multitude of elements and saturated hues, it's still curated and cohesive. Carpeting is traditionally more of a background component, but don't be afraid of rich pops of color. You don't have to go full maximalist—the carpet can act as the statement piece of your bedroom.
Neutral-Contemporary
If bold colors aren't your thing, don't worry. Neutral carpets are also in for bedrooms, and the newest iterations are anything but bland. Think clean lines, contemporary weaves, and earth tones. You can even find patterned carpeting with muted, versatile designs.
Geometric Patterns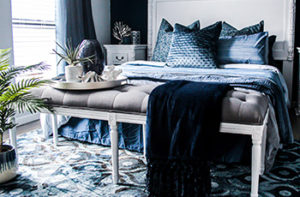 We're also loving carpets with geometric prints, which come in both bold and neutral designs. Hexagon patterns, lattice, overlapping color blocks, trellis, and abstract shapes are all in for bedrooms, and you can custom order any color.
Animal Print
If you're drawn to animal print, follow your instincts. Leopard, zebra, cheetah, and giraffe are having a comeback in the world of interior design, and you can bet this includes bedroom carpets. You can go bold with distinct prints or opt for a more subtle effect with animal patterns woven into an otherwise neutral carpet.
Green Materials
Eco-friendly materials aren't new to the flooring industry. Renewable bamboo, sisal, and jute have been used to make floor planks and rugs for quite a while. But did you know you can also go green with your bedroom carpet?
When browsing materials, look for a Green Label Plus certification. This means the carpet emits low or potentially zero VOCs (volatile organic compounds), which is better for your indoor air quality and the environment.
Carpet Tiles and Planks
Carpet tiles are affordable and easy to install since you're working with modular pieces instead of a heavy roll. Plus, you can always switch out one or two if they become damaged instead of replacing your entire carpet.
You can also get carpet planks, which are the same thing, except rectangular instead of square. Design-wise, there's a lot you can do with carpet tiles in a bedroom. You can get two colors and create a checkered pattern. Another option is to get carpet tiles with a brushed effect and place them in alternating directions.
What Carpet Is Best for Bedrooms?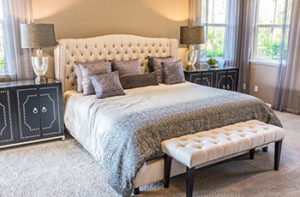 Cut pile carpet is a popular choice for bedrooms, as it tends to be the softest and most comfortable. If you want something really luxurious, opt for plush pile carpeting, which is more densely packed and cut in a smooth, even layer.
Another option is Berber (or loop-pile). Instead of cut across the top, the fibers are looped into the weave. Whichever style you choose, carpet padding can make a big difference in terms of comfort. Select a thicker pad for better insulation and a more plush feel underfoot.
Wool is most the warm and comfy material for bedroom carpets, though it typically costs more. Nylon and other synthetic blends are excellent choices, too, and they tend to be more affordable.
Portland's Choice for Quality Carpets & Flooring Materials
Floor Factors is a locally owned one-stop-shop destination for all your flooring needs. Our carpet store is favored among Portland homeowners who appreciate our expansive product offerings and personalized services.
We stock tons of carpet options from top manufacturers and can assist with custom orders. Floor Factors also carries high-quality carpet remnants at discounted rates, often enough to cover one or more bedrooms. We can take care of demolition and installation as well.
Contact our Portland flooring store today!