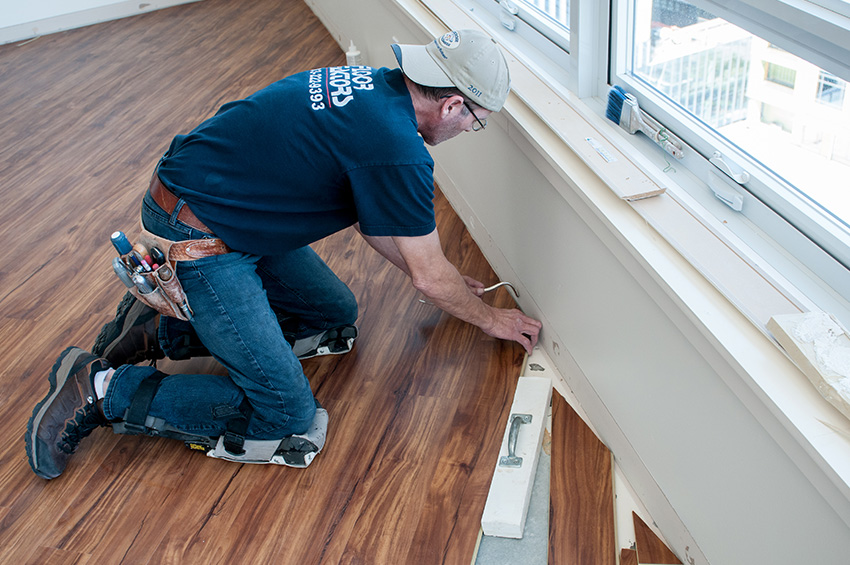 7 Questions to Ask Your Hardwood Flooring Installer
Hardwood is a truly timeless flooring option that lasts for several decades, complements any interior design scheme, and increases the value of a house. What's not to love? If you're planning on getting new hardwoods for your home, partnering with an expert installer is a key component of ensuring your vision comes to fruition.
So, how can you have confidence in an installer if you've never worked with them before? It's all about asking the right questions. These seven questions to ask your hardwood flooring installer will give you an idea of their experience, skillset, and what to expect from the installation process.
1. Can I see a portfolio of your previous work?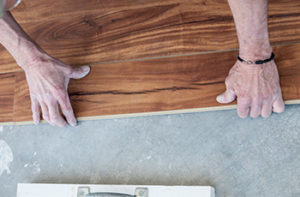 To start, we recommend asking to see examples of the installer's previous work. A portfolio can tell you a lot about a contractor, including their experience with residential versus commercial projects, what types of flooring materials they've worked with, and what to expect from the finished appearance.
The installation team at Floor Factors has decades of experience in both homes and commercial spaces. We're seasoned in installing hardwoods in traditional houses, condos, townhomes, studios, lofts, and sprawling estates. Check out our residential gallery for samples of our previous work.
2. Do you have professional training?
Before signing on the dotted line, be sure to also ask if the contractor has had any professional training or relevant education specifically in regards to hardwood flooring installation. This will give you an idea of their technical skillset as it relates to the job at hand.
Floor Factors is committed to upholding the highest standards and only employs thoroughly trained installers. We participate in a union apprenticeship program, which ensures our team meets or exceeds the required on-the-job and classroom training hours. We also offer ongoing safety courses and continuing education for our installers.
3. Will you need to visit my home before getting started?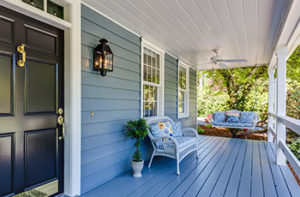 Even if you select top-of-the-line hardwood floors for your home, they won't look as good or last as long without proper installation. For this reason, working with a reputable installation company is vital.
When you ask if they'll need to visit your home before getting started, a knowledgeable and experienced installer should answer yes. Prior to ordering the materials and beginning installation, a crucial first step is to see your space in person, take measurements, and check your subfloor.
4. Is my current subfloor suitable for installation?
When the installer visits your home, they should take a look at your current subfloor. Most often, subfloors are made of plywood, particleboard, or concrete. If you're planning to get prefinished hardwoods, you should be able to install them over any of these subfloor materials because they'll be clicked or glued into place.
On the other hand, if you're considering unfinished hardwoods, concrete probably won't work, as the planks have to be nailed down into the subfloor. Your flooring installer should also check your subfloor for damage. If necessary, they'll recommend repairs before starting.
5. Do you handle demolition?
Aside from checking your subfloor and making any necessary repairs, your hardwood flooring project might require some demolition. In many instances, demo is an essential part of flooring installation. It involves prepping the space for new floors and safely removing any hazardous materials.
Whether your hardwoods are replacing old carpet, sheet vinyl, linoleum, or tile, Floor Factors can handle the demolition for you. We're familiar with substrate demo and surface prep, and we'll check for water damage and potential leveling issues that could affect the project. If needed, our team can repair damage and level your floors.
6. What is the best kind of hardwood flooring for my home?
You might already have your sights set on a particular type of wood, finish, or plank style. Still, some rooms may be more suitable for certain kinds of hardwood flooring than others. As we mentioned, subfloors are often a determining factor in terms of whether you can install prefinished or unfinished planks.
On top of that, some hardwoods are softer than others, making them more prone to scratches and dents. Since natural wood floors can expand and shrink when they come into contact with moisture, they may not be the best option for kitchens, bathrooms, mudrooms, or laundry rooms. If you're not sure which type of hardwood floors to get, ask your installer. They'll provide an expert opinion based on the unique characteristics of your home and recommend an alternative for rooms in which hardwoods might be less suitable.
7. Can you order my hardwood floors for me?
To simplify the process, you may want to go with an installer who can order your hardwood flooring materials for you. In many cases, installation companies have working relationships with top manufacturers, which is convenient and often cost-effective for customers.
At Floor Factors, we partner with the leading local and national flooring manufacturers. This means we can help you with a custom order and make sure you get the best possible price on materials.
Hardwood Flooring From Floor Factors in Portland
Asking these hardwood flooring installation questions will give you peace of mind on your next project. For superior, trusted service at every stage, look no further than Floor Factors.
As a one-stop-shop renovation resource, we're proud to offer our customers:
Free estimates

Custom ordering

Demolition

Subfloor prep

Installation
We specialize in bathrooms and kitchens, but we guarantee top-tier service for any room in your home. Apart from flooring, we carry countertops, window treatments, and more. We're locally owned and operated with a massive flooring showroom in the heart of Portland's Pearl District.
Do you need help selecting the best hardwood flooring for your home? Contact us today.