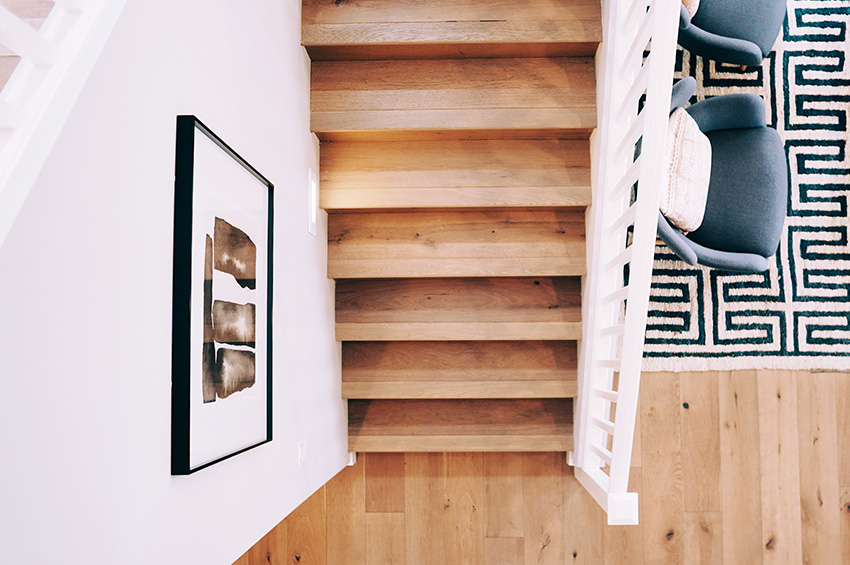 5 Questions to Ask Before Buying Hardwood Flooring
Hardwood is a timeless flooring material. While LVT (luxury vinyl tile) climbed the ranks and is now the number-one residential flooring choice, many homeowners still prefer natural wood. And who can blame them? It's versatile, long-lasting, and will give you the most bang for your buck if you end up selling your home.
That being said, flooring is a substantial investment — especially hardwoods — and there are many varieties to choose from.
What Type of Hardwood Flooring Should You Get?
If you're settled on getting wood floors for your home, you might still be wondering, What type of hardwood floor should I get? To help you determine which style is best for your home, determine the answers to these questions.
1. What are the main design elements of my home?
Hardwoods are one of the most versatile flooring choices. The material is elegant yet neutral and always in style. At the same time, you should consider the existing interior design elements of your home. That way, you'll select a material that complements the rest of your space.
For example, if you already have wood cabinets, trim, doors, or ceiling beams, be sure to take the color and finish into account. The woods don't have to match exactly, but you'll want to avoid clashing. Additionally, an abundance of dark wood can make a room appear small and dim. If you already have some dark wood, you may want to go for a lighter shade to balance things out.
2. Where will my hardwood floors be installed?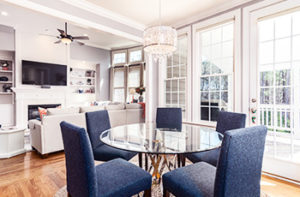 Do you plan to install new floors in your living room, bedrooms, stairs, basement, or your entire house? Answering this question will help you figure out how much flooring material you'll need, how much the project will cost, and what to expect for the installation process.
Also, real wood floors aren't ideal for bathrooms, laundry rooms, kitchens, and other spaces that are prone to moisture because the planks can become damaged. For this reason, many homeowners opt for waterproof LVT floors in those rooms.
3. What is my subfloor made of?
The next step is to figure out what your subfloor material is — most are made of plywood, particleboard, or concrete. This will help you determine which type of hardwoods are a suitable floor-covering option for the space.
If your subfloors are concrete, you'll probably need to get prefinished engineered wood planks. This is because they can be glued or clicked into place, whereas unfinished hardwoods need to be nailed down, which won't work with concrete.
4. Should I choose engineered, prefinished, or unfinished hardwood flooring?
Before choosing your flooring, it's important to know the differences between engineered hardwood, prefinished hardwood, and unfinished hardwood flooring.
Engineered wood floor planks have inner layers of material, such as plywood or fiberboard. These core layers make the material very stable. The outermost layer is composed of a hardwood veneer.
Benefits include:
Difficult to tell apart from solid wood flooring

Great sound resistance (perfect for apartments and condos)

Its multiple layers block moisture and less susceptible to warping

The material is low maintenance and less expensive than hardwood flooring
Prefinished hardwood flooring eliminates the need for onsite finishing. The floors are sanded and prefinished in the factory and available in solid or engineered planks.
Benefits include:
The factory-applied finishes are nearly perfect

You don't have to worry about dust marring the finish like you would with unfinished hardwood flooring

Installation takes less time, as sanding, sealing, staining, etc. is already completed
Unfinished hardwood flooring is finished on-site and is sanded to a smooth, even finish.
Benefits include:
It's customizable, as raw wood offers endless options

The natural look of the wood is showcased

You have the ability to match existing floors in your home
Have additional questions about hardwood flooring? Take a look at our materials guide for answers.
5. What kinds of surface finishes are available?
One thing to consider is the finish of your existing wood cabinetry and furniture. While you don't need to get the same type of wood, coordinating the finishes will tie everything together.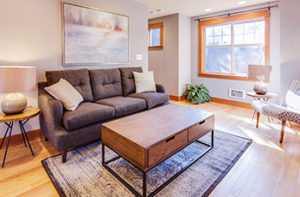 Finish types are dependent upon the material you choose. For example, engineered hardwood floors are typically finished in the factory with a water-based polyurethane. Whereas oil-based polyurethane is most often the choice if you're finishing the hardwood floors yourself.
Has a clear finish

Creates a traditional hardwood look and feel

Is available in high-gloss, satin, semi-gloss, and matte
Lasts longer than water-based finishes

Has more depth in color and shine

Costs less than water-based polyurethane
In sum, you can use either option on unfinished hardwood flooring. However, you should never apply other coats of stain to engineered hardwood flooring.
Looking for inspiration? Flat and matte finishes are on-trend in 2020, and they tend to show fewer scratches. On the other hand, a glossy finish is never a bad choice for hardwoods.
Floor Factors Is Your Resource for Hardwood Flooring in Portland
Selecting the best hardwood flooring for your home is a process that shouldn't be taken lightly. As a locally owned, full-service flooring store in Portland, Floor Factors is here to help with every step of your project.
We specialize in kitchen and bathroom renovations, offer in-house design consulting, free estimates, custom orders, and a variety of other services. When you browse our extensive flooring inventory, you'll find a wide variety of prefinished and unfinished wood, as well as dozens of other floor-covering products. Floor Factors also offers countertops, cabinets, and window-covering materials.
If you have any questions about hardwood floors or any other materials, contact us today, or stop by our showroom in the Pearl District.