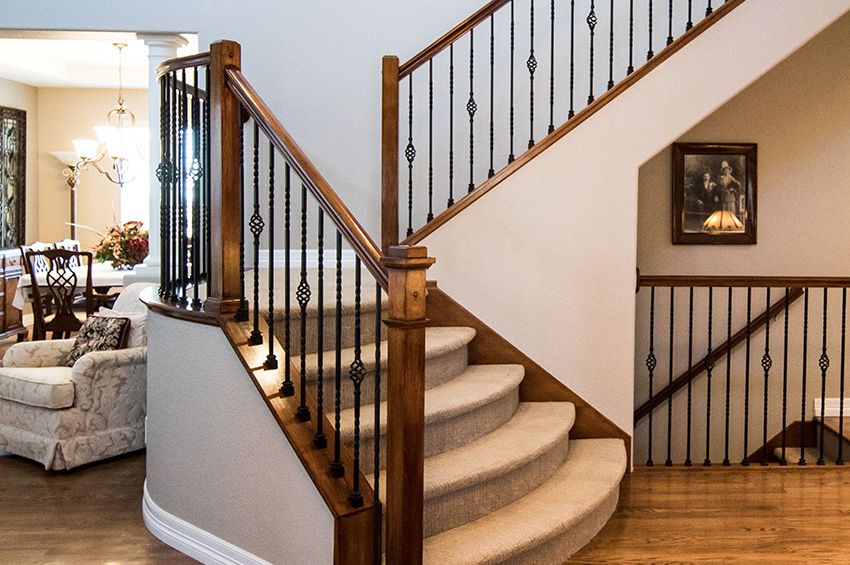 Should You Put Carpet on Stairs or Not?
The question of whether or not to carpet stairs is a common one. Homeowners need to consider a variety of factors prior to making a choice. For example, what about cleaning and wear and tear? If you've got kids and/or pets, this is something to think about.
Carpet is a popular option for stairs, but is it the best choice? Our locally owned Portland flooring company is here to break down the pros and cons and go over other materials you can use.
Should Stairs Be Carpeted?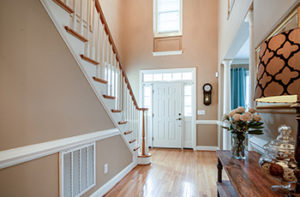 Stairs are subject to constant wear-and-tear. If you have kids, pets, or an otherwise busy household, your steps might support 30 or more up-and-down treks a day. As one of the most high-traffic areas of a house, a floor-covering material should be chosen carefully.
Pros of carpeting stairs:
Soft material

Insulating

Quiet underfoot

Budget-friendly

Easier to replace than other materials
Cons of carpeting stairs:
Accumulates dirt

Shows stains

Flattens with foot traffic

Not as durable as other materials
Carpet is an affordable option that's relatively quick to install over stairs. While it's not as durable or stain-resistant as other materials, it's much easier to replace than other types of flooring materials, such as hardwood.
What Is the Best Carpet for Stairs?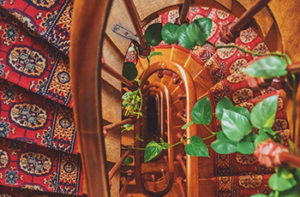 Generally speaking, low-pile carpets work best for stairs. A pile height of 0.75 inches or less will provide the most stability and resilience against heavy foot traffic. You can get a plush cut-pile option in wool or a synthetic material like nylon.
Density has to do with how tightly woven the strands are, as well as the thickness of the individual fibers. If you're looking for the most comfort, softness, and sound absorption, the denser the better. Beyond that, the carpet pad underneath adds to the overall plushness, and you can choose from various thicknesses.
You might want to opt for a deeper shade or a medium multi-tone option, which will help conceal stains and traffic marks. Additionally, stain-resistant carpets tend to maintain their original appearance longer than untreated materials.
How to Install Carpet on Stairs
If you go with carpet for your stairs, a professional installer can get the job done quickly, or you can DIY. Once the padding is in place and the material is cut to the proper size, you can use either the waterfall technique or the cap-and-band method to lay your carpeting.
The Waterfall Technique
The waterfall technique is typically the fastest option because you'll use one long strip instead of cutting your carpet into pieces. Starting at the bottom of your stairs and working your way up, stretch the material over each section and staple it into place under the nosing.
The Cap-and-Band Technique
With the cap-and-band method, you'll have to cut two separate pieces for each step. One piece will go on the tread, and the other will cover the riser.
Starting with the tread piece, secure it to the surface of the step and then wrap it down under the nosing. Next, attach the riser piece, and repeat the process for every stair.
Other Flooring Materials to Consider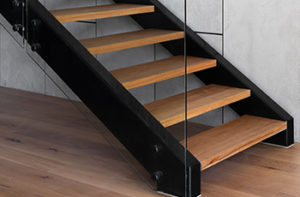 Not totally sold on carpeted stairs? Other popular choices include luxury vinyl tile (LVT), laminate, and hardwood. LVT and laminate are synthetic materials that can mimic the appearance and texture of real wood and stone for a fraction of the price. They're also usually water-resistant (if not entirely waterproof) and can last for up to five decades.
Of course, hardwood is hard to beat. It's beautiful, long-lasting, and can be refinished over the years. While solid unfinished and engineered wood floors are usually more expensive than synthetic flooring, they can increase a home's resale value.
Where to Buy Carpet in Portland, Oregon
As one of the best flooring stores in Portland, Oregon, Floor Factors is your one-stop-shop resource for all your stair-covering needs. We carry carpets from dozens of the top manufacturers, including nylon and wool low-pile styles, plus carpet pads for stairs, and many more materials to choose from. In addition to flooring products, we also offer cabinets, countertops, and window treatments.
Floor Factors partners with the top residential flooring and carpet manufacturers in the industry to offer high-quality materials for every budget. Not only that, but we typically have discounted carpet remnants in stock. You can use remnants to cover your entire staircase or create your own runner.
Ready to get started with your next project? Contact us today or stop by our expansive showroom in Portland's Pearl District.