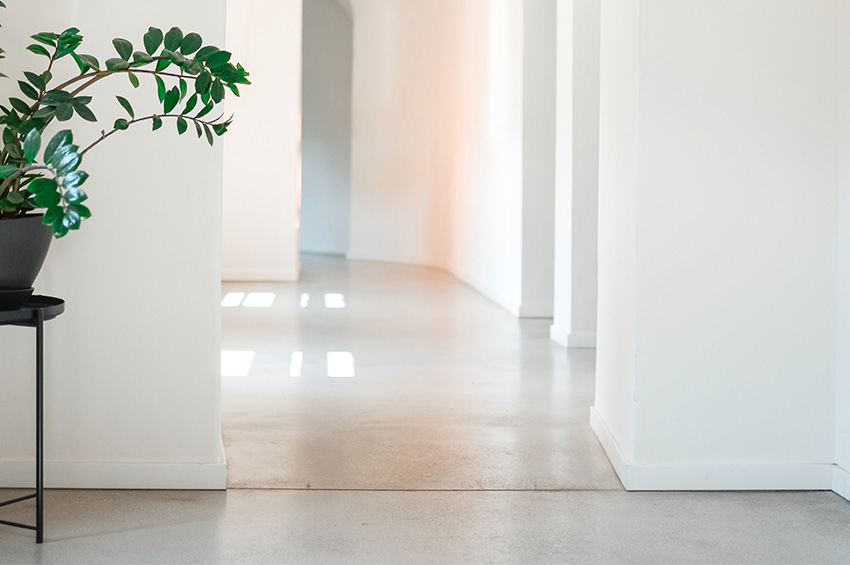 8 Common Questions About Commercial Concrete Floors
Polished concrete is considered one of the best commercial flooring options. What makes it a great choice for businesses, and how is it made? Read on for answers to these questions, along with insights into the benefits and maintenance requirements from our Portland flooring pros.
Polished Concrete Floors: Your Questions Answered
Whether you're renovating an older commercial structure or building a new one from the ground up, one of the first things you'll need to choose is a floor-covering product.
Polished concrete is a popular choice, and for good reason. To help you figure out if it's right for your space, we answered eight frequently asked questions about the material below.
1. Are Polished Concrete Floors Good for Commercial Buildings?
Polished concrete is an excellent choice for commercial buildings. The material is reasonably priced, durable, low-maintenance, and even hypoallergenic. It works well in warehouses, factories, bars, restaurants, studios, storefronts, and venues—to name just a few.
2. How Are Polished Concrete Floors Made?
The process of creating polished concrete flooring involves multiple steps. First, chemical hardeners are added to porous concrete, then the mixture is ground up until it reaches a smooth consistency.
Next, it's poured onto the subfloor to create a level slab. Once it cures, the material is ground down further with diamond polishing pads to eliminate pits and buff out blemishes. Progressively finer grinding tools are used until the desired shine, smoothness, and grit level are achieved.
3. Is Polished Concrete Durable Enough for High-Traffic Areas?
Definitely. Polished concrete is one of the toughest, sturdiest flooring materials available today, thanks to its inherent density, water resistance, and ability to withstand extreme temperatures.
The material is often guaranteed to last between 20 to 30 years. However, with proper maintenance, it can hold up for nearly a century in high-traffic areas.
4. Are Polished Concrete Floors Easy to Maintain?
Yes, one of the main draws of polished concrete is that it's notably low-maintenance. The hardening and polishing techniques create a nonporous surface that's not only hypoallergenic but also virtually dust-proof. Regular sweeping or vacuuming and weekly mopping are really all you need to keep the material clean.
5. Is Polished Concrete Waterproof?
While its unfinished counterpart is porous and thus susceptible to moisture damage, polished concrete floors are water-resistant—and in many cases, completely waterproof. The hardening, curing, and sealing processes create a smooth, shiny surface that often can't be penetrated with liquid.
Moisture resistance is vital for commercial buildings in the rainy Pacific Northwest. Check out these other 3 Flooring Materials Perfect for Portland's Wet Weather.
6. Can You Customize Polished Concrete Floors?
Yes! Polished concrete flooring can be dyed or stained to nearly any shade. Similar to wall paint, it's available in a broad range of sheens, too, like eggshell, satin, high-gloss, and matte. You can also customize it to look like marble, quartz, granite, and other natural stone materials.
7. Is Polished Concrete Eco-Friendly?
You might be pleasantly surprised to find out concrete is a LEED-compliant material. This means it meets the environmental safety standards set by the U.S. Green Building Council (USGBC). What's more, Oregon businesses with a LEED Silver rating can receive a tax credit for up to 35% of their construction costs.
8. Is Polished Concrete Worth the Investment?
You'll have to crunch the numbers to determine whether it's the right choice. But considering its impressive durability, the unlikelihood of repairs, and potential tax incentives, polished concrete is well worth the investment for many companies.
For a deeper dive into the benefits, see our article, Is It Worth Investing in Polished Concrete Floors for Your Commercial Building?
Other Commercial Flooring Options
The right flooring for your building depends on a few things, like the size of the space, the nature of your business, and the amount of daily foot traffic you get. Aside from concrete, some of the best options include waterproof laminate, luxury vinyl, linoleum, and commercial carpet.
Learn more in our guide to the Best Commercial Flooring Solutions for Portland Businesses.
If you're designing a bar, cafe, coffee shop, restaurant, lobby, or another space that calls for cabinets, countertops, or window treatments, you can order them from Floor Factors. As Portland's one-stop-shop resource for commercial renovations, we have all the necessary materials at competitive prices.
Polished Concrete Floor Contractors in Portland, Oregon
Thinking about getting polished concrete for your commercial space? Our locally owned flooring company would love to hear from you. The experts at Floor Factors will handle every step of the process, from hardening to grinding to refining to sealing.
Fill out our form to request a free estimate today!