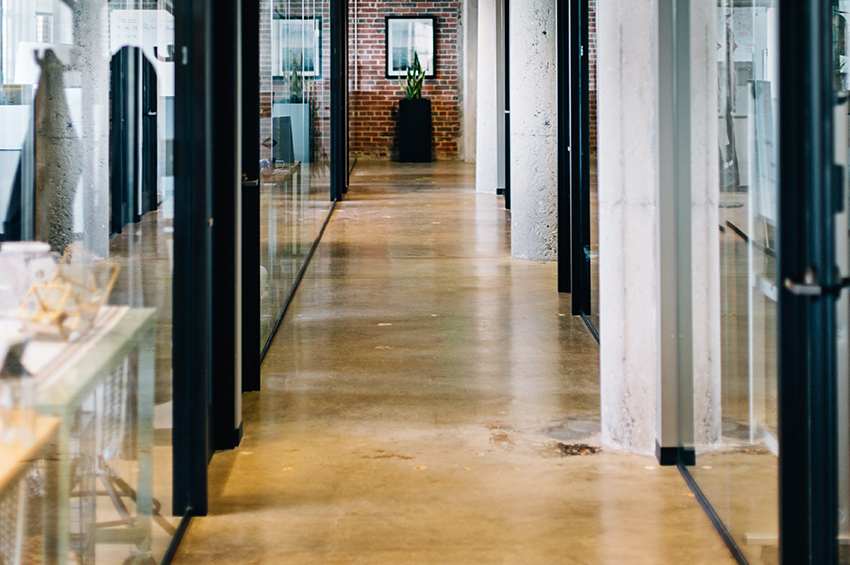 Top Commercial Flooring Options for High-Traffic Areas
As Portland's premier flooring resource for businesses, Floor Factors has completed a wide variety of commercial projects over the past few decades. Our robust portfolio includes properties on the South Waterfront, in the Pearl District, across the Eastside, and throughout the Rose City's greater metro area.
No matter what type of structure you operate out of, durability and easy cleaning requirements are crucial. So, what type of flooring material is best for your business? Consider this your guide to high-traffic commercial flooring.
What Are the Most Durable Commercial Flooring Options for High-Traffic Areas?
With over 40 years of experience serving businesses in the area, it's safe to say our Portland commercial flooring experts know what works in busy spaces.
The best commercial flooring options include:
Polished concrete

Luxury vinyl

Waterproof laminate
Bear in mind the right material for your company depends on the nature of your business, the size of your space, and the level of daily foot traffic it sees. Here's what to know.
Suitable for: Factories, warehouses, bars, entertainment venues, storefronts, lobbies, offices, retail shops
Polished concrete is a remarkably versatile floor-covering material. It's created by grinding cement and aggregates, mixing the solution with water, hardening it, then refining and sealing it.
Benefits of polished concrete floors for commercial buildings:
Durable

Water-resistant

Low-maintenance

Hypoallergenic

Affordable
If you're interested in exploring this option, our polished concrete floor contractors can help you create a custom look for your space. Request a design consultation to get started.
Learn more about this material in our blog, Is It Worth Investing in Polished Concrete Floors for Your Commercial Building?
Suitable for: Restaurants, bars, ​​cafés, hotels, lobbies, fitness studios, offices, corporate meeting spaces, medical clinics, retail shops
Available in tiles (LVT) and planks (LVP), luxury vinyl is a synthetic material that can be manufactured to mimic the appearance and texture of real stone and hardwood flooring.
Benefits of luxury vinyl for high-traffic spaces:
100% waterproof

Low-maintenance

Durable

Easy to install

Affordable
Here at Floor Factors, we partner with many top-tier LVP and LVT manufacturers, including Shaw Floors and Stanton.
Learn more about this incredible floor-covering product in our blog, What Is Luxury Vinyl Plank Flooring?
Suitable for: Hotels, lobbies, storefronts, studios, gyms, medical clinics, restaurants, cafés, bars, lobbies, offices, corporate meeting spaces
Similar to luxury vinyl, laminate is a synthetic material that often mimics authentic wood planks and stone tiles. Thanks to our manufacturing partner Quick-Step, it's now available in 100% waterproof pieces.
Benefits of laminate flooring for businesses:
Water-resistant (if not waterproof)

Low-maintenance

Easy to install

Versatile

Affordable
If you're planning on installing floors in a commercial kitchen, restaurant, café, or bar, you can order custom countertops and cabinetry from Floor Factors as well.
Suitable for: Casinos, hotels, arcades, department stores, movie theaters, offices, corporate meeting spaces, children's play centers, recording studios
High-performance commercial carpet and carpet tiles are typically made of synthetic fibers, making the material resistant to wear and tear. One additional benefit of using carpet tiles is that, in the event of stains and other damage, you can replace single tiles.
Benefits of commercial carpet:
Durable (compared to residential carpet)

Sound-absorbent

Insulating

Easy to replace

Affordable
Floor Factors partners with several top-rated commercial carpet manufacturers, including Bentley Mills, Stanton, and Interface.
Flooring Materials to Avoid in Commercial Spaces
Though high-performance carpet is ideal for many businesses, pile carpet traditionally used in homes isn't recommended. Additionally, while engineered wood works in some sports facilities, solid unfinished hardwood floors may not be the best choice. The material is on the pricier end, prone to water damage, and requires on-site finishing.
Get more insight into the installation requirements for various materials in our blog, What You Should Know About Your Subfloor Before Choosing New Flooring.
Best Commercial Flooring Options in Portland
Feeling inspired by these high-traffic-approved commercial flooring ideas? You can order all the materials mentioned above (and then some) from our Portland flooring company.
The experienced and knowledgeable team at Floor Factors can help with everything from design consulting and custom-ordering to installation and demolition.
To get started, fill out our online form and we'll get back to you with a free estimate.