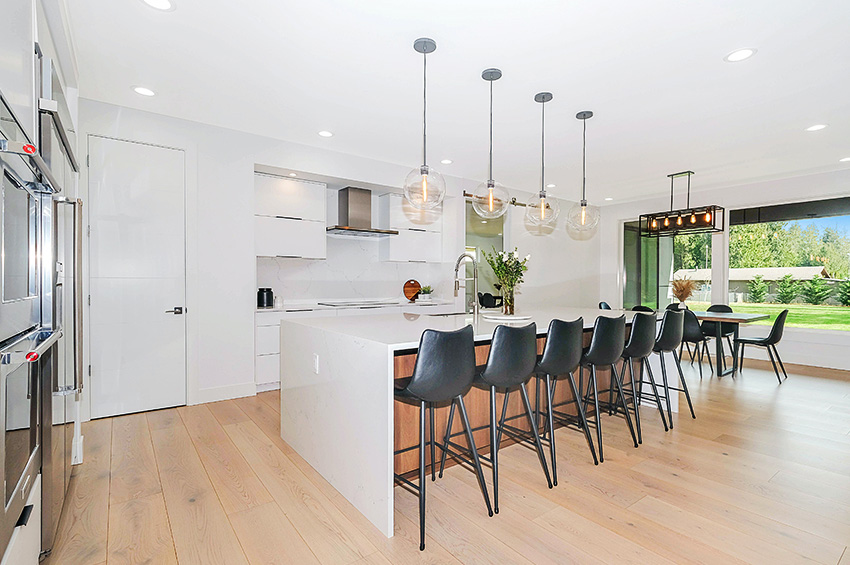 What is the Most Popular Flooring for New Homes?
Whether you're working with a builder to design a new home or are planning a full renovation of your current house, don't wait to choose your flooring materials. While there are tons of crucial decisions to make regarding how your space looks and functions, the choice of floors is of particular importance.
With that said, reviewing the most popular flooring products can offer insight into which material might be best for your home. Find a breakdown of the top trends in flooring design below.
5 Top Flooring Design Trends for New Homes in Portland
Thanks to recent advancements in the flooring industry, many flooring materials can last upwards of two decades—and sometimes close to half a century. When considering flooring for your new home, keep this in mind. You'll want to pick something versatile enough to transcend various decor schemes and design trends for years to come.
The great news is that today's most popular floor-covering products boast a timeless, adaptable aesthetic.
Our Portland flooring company has its finger on the pulse of the interior design industry. Read on for expert insight and ideas for the floors of your new home.
1) Room-to-Room Laminate or Vinyl
Instead of separating the living room, kitchen, and dining room, new builds often feature a great room. This large living space eliminates several of the walls typically seen in the main level, presenting an opportunity for wall-to-wall flooring.
Builders and home buyers are opting for faux wood laminate or luxury vinyl planks (LVP) throughout the kitchen, dining area, sitting area, entryway, hallway, and even on the stairs for a seamless look.
2) Engineered Hardwood in the Living Room
Engineered hardwood is another popular choice for new homes. The prefinished variety is generally more affordable and easier to install than unfinished hardwood (though a little pricier than vinyl and laminate).
A decade or two ago, carpet was the standard for living rooms. However, modern homes are more inclined to use engineered wood instead. It lasts longer, offers an upscale look, and is more resistant to potential damage from kids and pets. As with the synthetic materials mentioned above, lots of folks are opting to extend prefinished hardwoods into their kitchens, downstairs half-baths, hallways, and stairways.
3) Carpeted Bedrooms
Carpet may not be the top choice for living rooms anymore, but it still has a place in many new homes. The soft, insulating material remains a popular option for bedrooms, where it's not subject to as much foot traffic or wear-and-tear.
Polypropylene (nylon) reigns as the number one carpet material. The synthetic fiber is surprisingly durable and resistant to stains and moisture damage. What's more, with the right pad underneath, it can be just as plush as wool.
4) Tiled Bathrooms
Thanks to waterproof vinyl and laminate flooring materials, natural stone, ceramic, and porcelain are no longer must-haves for moisture-prone spaces. However, these earth-sourced flooring materials are still top choices for bathrooms, especially primary baths.
Stone and ceramic aren't just used for floors, either. The naturally derived, long-lasting tiles are installed in bathtubs, showers, and backsplashes too. Best of all, the design options are endless! Stone and ceramic tiles are available in virtually any size, shape, and shade.
5) Classic Hardwood Flooring
Traditional hardwood continues to be the most sought-after residential flooring material. While it's a plus in the eyes of prospective home buyers, solid wood planks aren't typically the first choice of builders due to the high price and relatively complex installation process.
That said, hardwoods are often seen in newer custom houses and luxury condos. It's also considered the best flooring for resale value, offering an ROI (return on investment) of up to 80%.
Where to Buy the Best Flooring for Your Portland Home
Floor Factors has been serving homeowners in Portland, Oregon, and the surrounding areas for over 40 years. Our locally owned flooring store carries a robust selection of products from top manufacturers, including luxury vinyl, laminate, carpet, natural tile, and engineered and solid hardwood. We always have remnants in stock, too, for those interested in discounted flooring.
As a one-stop-shop destination for renovations and interior buildouts, we also have countertops, cabinetry, and window treatments. If you want expert guidance on choosing flooring options for your new home, our in-house design consultants are at your service.
Contact us for a free quote or stop by our massive flooring store in Portland's Pearl District.