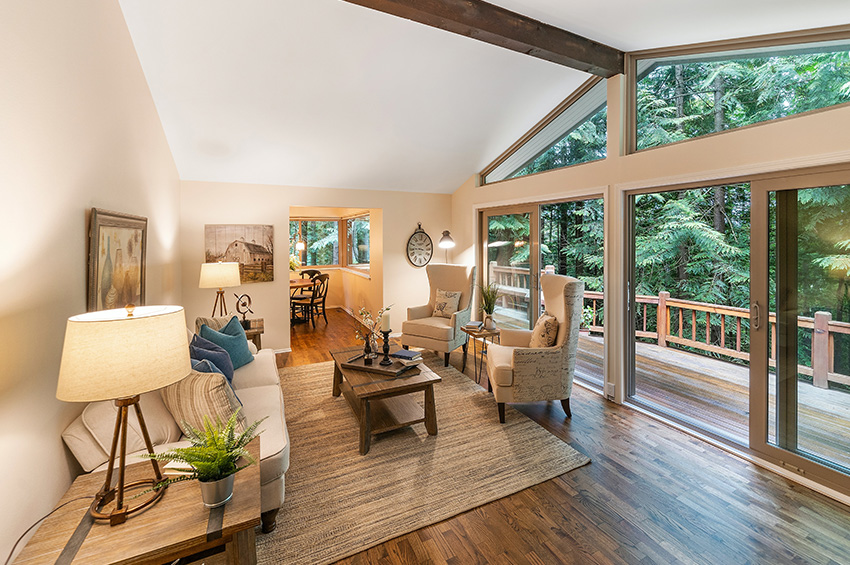 What's the Difference Between Unfinished & Engineered Hardwood Flooring?
Up until around the 1950s, all wood flooring came in the form of unfinished solid planks. However, midcentury innovations opened up a world of possibility, with engineered hardwood floors changing the game forever.
Over the last several decades, engineered wood has become notably popular, giving its solid counterpart a run for its money. If a renovation is in the cards for you, it's good to have a thorough understanding of all your options. To help with your decision, our Portland flooring pros are here to break down the difference between solid unfinished and engineered hardwood flooring.
Unfinished vs. Prefinished Floors
Unfinished hardwoods are sourced from solid lumber, and each plank is a single piece of wood. This type of flooring calls for traditional staple/nail-down or glue-down installation, and it's finished on-site. Irregularities in the planks are sanded down to create a smooth, flush surface. Then the material will be stained (if applicable) and finished with a protective coating. The coatings are either oil, wax, or polyurethane, which is the most commonly used protective coating.
Engineered hardwoods have a plywood or particleboard core with a thin bonded layer of solid wood on top. This type of flooring is usually prefinished in the factory, meaning you don't have to sand or finish it on-site. Also, it can be installed using a staple/nail-down or glue-down method. Another option is the "floating floor" method of installation.
Solid Unfinished Hardwoods Pros and Cons
Unfinished hardwood floors are a timeless option with an authentic appeal. It's easy to see why many homeowners continue to choose this material, even as new flooring products come to market.
Pros of solid unfinished hardwood:
Natural, solid material

Lasts 75 years or more

Available in many wood species

Visually pleasing and versatile

Smooth, flat surface

Can be re-sanded and refinished as needed
Can you leave hardwood floors unfinished? After installing the planks and sanding them down, some people prefer to skip the topcoat. While you don't have to use a lacquer or protective polyurethane coating, leaving the wood raw makes it more vulnerable to damage and staining. If you like the unfinished look but want to protect your floors, you might consider applying a matte finish.
Cons of solid unfinished hardwood:
Not all wood species are available; domestic species are more accessible

Costs more than other materials

Takes longer to install

Requires on-site sanding

Not available in wide planks
With unfinished wood, the installation process is a bit more involved than with glue-down or floating planks. Aside from nailing it down, sanding it flush, and applying a finish, you'll have to wait for the topcoat to dry before placing your furniture on it. Pro tip: The topcoat usually requires two to three coats, so consider this when you calculate drying time.
Engineered Hardwood Flooring Pros and Cons
Though it's not a solid material, engineered hardwood is technically real wood. Thanks to its long list of benefits, lots of homeowners appreciate this alternative to unfinished wood flooring.
Pros of prefinished engineered hardwood:
Factory finishes are always better than finishes on-site as they are uniformly coated

No on-site sanding or finishing needed

Natural material

Simplified glue-down or floating installation

No on-site sanding or finishing needed

No downtime waiting for a topcoat to dry

No lacquer odor or fumes

Easy to maintain

More affordable than solid wood

Wider planks are available

More stable

Lasts 30+ years
Some people prefer the look of traditional beveled edges between planks, which leaves more of a V-shaped crevice. Others like the micro-beveled edges of prefinished hardwoods, as they're more flush and easier to maintain.
Cons of prefinished engineered hardwood:
Planks aren't solid slabs of wood

Depending on the thickness of the wear layer, it may or may not be continuously re-sanded or refinished

Depending on wear layer, doesn't last as long as solid hardwood
Engineered wood is relatively easy to install and low-maintenance. However, depending upon the material's thickness, sometimes it can't be continuously sanded down and refinished like solid wood, which can limit its lifespan. When you choose a high-quality engineered hardwood flooring, many of the issues can be avoided.
Which Is Better: Solid Hardwood or Engineered Hardwood?
Before choosing any home flooring, be sure to know what kind of subfloor you are dealing with and its current condition. Once you have that information, you can make a more informed decision.
Both materials are excellent choices with many advantages. To make a decision, review the pros and cons, consider your budget and timeline, and take into account your lifestyle and personal preferences.
Also, while a topcoat offers some moisture-resistance, keep in mind hardwood isn't ideal flooring for kitchens and bathrooms, as water can damage the material. For moisture-prone areas, you may want to look into luxury vinyl planks (LVP) or waterproof laminate, which can mimic the appearance of real wood. If you're still stuck, the experts at Floor Factors are always here to help.
Your One-Stop Resource for Flooring in Portland
For 40 years, our family-owned flooring company has been a one-stop destination for Portland homeowners. Floor Factors offers top-tier floor-covering products from the best manufacturers, but that's not all. We're also proud to carry window coverings, cabinets, countertops, and area rugs, which you can customize exactly to your liking.
The experienced and dedicated team at Floor Factors consists of estimators, warehouse managers, schedulers, installers, and design consultants. If you need guidance on which materials, colors, or finishes to choose, our design experts are ready to assist.
Contact us today.