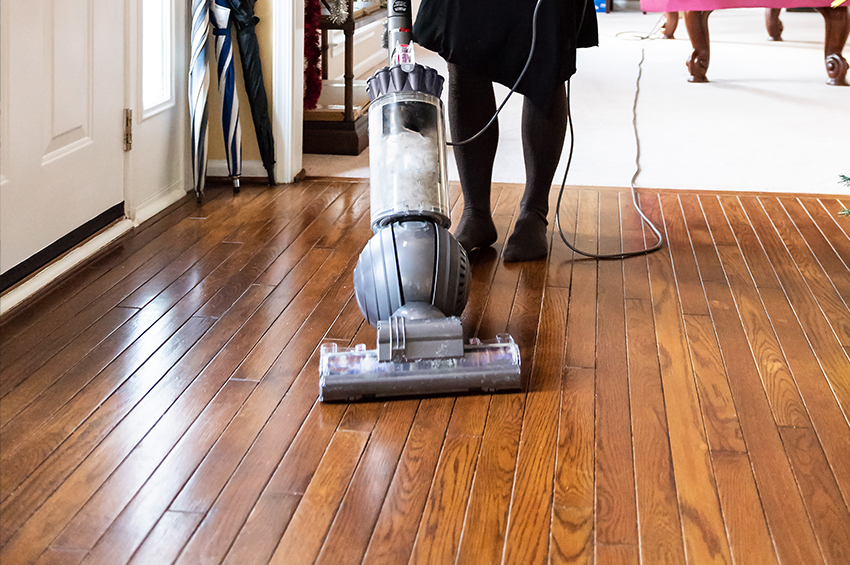 How to Clean Hardwood Floors Without Damaging Them
Hardwoods can last a lifetime, but with this flooring material, you get out what you put in. Though maintenance is relatively easy, there are a few things to keep in mind to prevent damage.
Keep reading to learn how to clean hardwood floors, including best practices, product recommendations, and expert tips from our Portland flooring company.
How Do You Clean Wood Floors?
Cleaning solid and engineered wood isn't rocket science. Beyond regular vacuuming or sweeping, follow these guidelines to keep your floors looking their best.
Dry-mop at least twice a week using a microfiber head, focusing on corners.

Avoid using water to clean your hardwoods, and never wet-mop, as the moisture can damage the material.

To avoid staining and cracking, blot up spills immediately with a dry, clean cloth. In the event of a leak or major spill, use a towel to absorb the liquid and thoroughly dry your floor.

For stubborn stains and residue buildup, always use a

hardwood-specific floor cleaner

to prevent damaging the material or stripping the finish.
Is There Wood Flooring That's Waterproof? Read our blog to find out.
What's the Best Product to Use to Clean Wood Floors?
The best cleaners for hardwoods are typically wax-free solutions. We recommend Bona Hardwood Floor Cleaner, an eco-friendly formula that gently removes dirt and grime. It also dries quickly without any streaks, leaving a stunning sheen in its wake.
Though oil-based cleaners aren't recommended for prefinished wood floors, they can be used to occasionally clean and shine unfinished hardwoods. When in doubt, check the manufacturer's guidelines and see if the brand makes its own cleaning solution. In any case, you can't go wrong with the lightweight yet sturdy Bona Premium Spray Mop.
Wood Floor Care: What to Avoid
When cleaning hardwoods, avoid:
Paste wax

Acrylic polish

Concentrated solutions that mix with water

High amounts of oil

Oversaturating your mop

Getting water between the planks

Letting moisture sit for long periods
Generally speaking, you shouldn't need to use any heavy equipment, either, like an industrial floor polisher or a steam cleaner.
Which Hardwood Floors Are the Most Durable? Read our article to find out.
Sanding, Refinishing, and Repairing Wood Floors
Proper cleaning techniques are vital, but sanding, refinishing, and repairing your hardwoods as needed are also critical pieces of the puzzle. Most prefinished and engineered planks can be sanded and refinished up to five times. Solid wood can be sanded down about ten times—sometimes more, depending on the thickness.
You may also need to tend to scratches, dents, cracks, or creaky boards from time to time. Floor Factors is always here to provide expert services, but here are 5 Hardwood Floor Repairs You Can Do Yourself.
Hardwood Flooring and Supplies in Portland, Oregon
Whether you recently installed hardwoods, are considering replacing your current floors, or moved into a home with existing wood flooring, you've come to the right place. As Portland's one-stop-shop renovation resource, Floor Factors is your complete source for products related to flooring care and installation, as well as countertops, window treatments, and more. We also offer in-house design consulting whether you're building a new house or renovating your current home.
If you have questions about installation, subfloor requirements, moisture resistance, general maintenance, or warranty information, our friendly, knowledgeable team is here to assist. Contact us today, or request a free quote on materials.