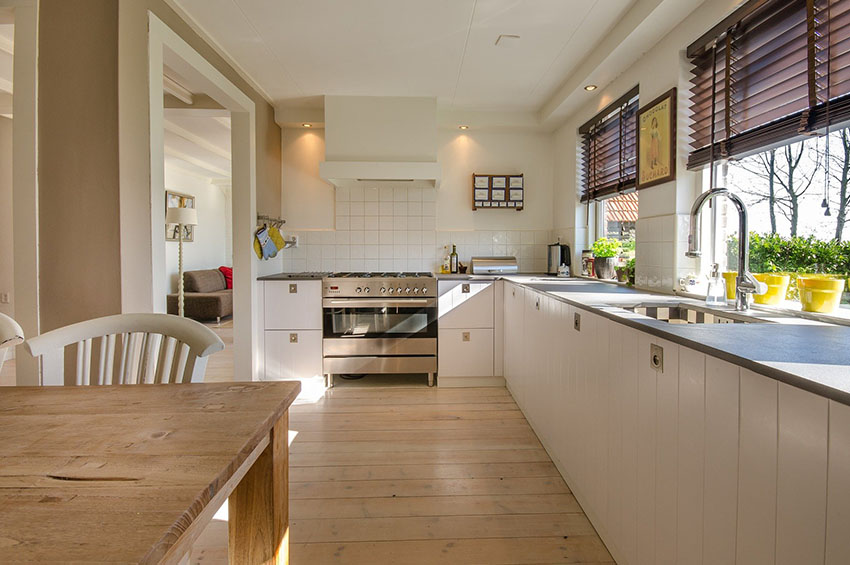 How to Match Wood Floors & Window Treatments
Hardwood flooring is beautiful, long-lasting, and available in a wide variety of species, grains, and colors. If you're a homeowner who's invested in hardwood flooring, you well know the time it takes to pick the perfect style to match a design vision.
Having said that, it's also worth taking the time to pair your flooring choice with window treatments that truly create a wow factor.
When our customers visit our showroom and speak with our in-house design consultants, common questions arise. For example, many wonder if their blinds should match their hardwood flooring or if shutters, shades, or curtains are a better choice.
We're here to help! Read on for tips and insights from our Portland flooring store.
Types of Window Treatments That Complement Hardwood Floors
There's no one-size-fits-all way to design a room, but our Portland flooring experts know a thing or two about making homes look cohesive. Here's what we recommend.
Neutral With Pops of Color
If you've chosen a neutral-colored flooring material, such as classic light oak or white-washed ash planks, you can explore custom window coverings that really pop. Hunter Douglas, our window covering partner, offers an amazing suite of products from featured artists.
Alternatively, many homeowners select neutral designs for both their flooring and windows, which leaves room for bold furniture and brightly colored decor.
Complementing, Not Matching
You could get wood shutters of the same species and finish as your hardwood floors. However, our in-house designers suggest choosing complementing materials that enhance one another. For instance, ivory roller shades can bring out the multi-dimensional tones of natural bamboo planks.
Add a Kick With Contrasting Colors
In a living room with light wood flooring and cream-colored blinds, have fun with a Moroccan-inspired area rug or choose a darker wall paint, like forest green or navy blue. In a bedroom with lighter colored floors, you could choose blackout drapes in a bold hue or flowy white sheers with a contrasting matte black rod.
The Freedom of Monochrome
Homeowners often think too many monochrome finishes will leave their space devoid of personality. However, it can actually provide more freedom with furnishing and decorating.
For example, a classic white kitchen with wood floors, marble counters, white cabinets, white subway tile backsplash, and white shutters might seem dull. But when accented with plants, flowers, wall art, and kids' crafts on the refrigerator, there's plenty of color to entertain the eye.
As Portland's one-stop renovation destination, Floor Factors has all the materials you need for your next project. Check out our guide on How to Coordinate Kitchen Flooring, Cabinets, and Countertops for more tips.
Consider Different Window Treatments for Different Rooms
You don't have to use the same window treatment in every room of your home. In fact, since each space calls for a different level of light filtration and privacy, you're wise to mix it up a bit. Here are a few combinations our designers love.
Wood Floors with Sheer Fabric Shadings
Sheer fabric shadings pair beautifully with nearly any species of hardwood. This type of window treatment offers some privacy and light filtration but doesn't block out all outdoor illumination, so it's ideal for living rooms, offices, and dining rooms.
Wood Floors with Shutters
Shutters are timeless, sophisticated, and available in many finishes that complement hardwood flooring. These are a great option for kitchens, dining rooms, living rooms, and home offices.
Wood Floors and Cellular Shades
Cellular honeycomb shades offer insulation and energy efficiency, helping your home stay warm in the winter and cool in the summer. Available in varying levels of opaqueness, they're suitable for nearly any room—and you can always add curtains to enhance the decor, add privacy, or block all outdoor light.
Take a peek at six more Custom Window Covering Ideas for Any Portland Home.
Portland's Choice for Hardwood Flooring, Custom Window Treatments & More
Though it's not always a top priority for a remodel or new home build, window coverings are a critical design feature that shouldn't be overlooked.
Floor Factors partners exclusively with Hunter Douglas for sheers, shades, blinds, and drapes. Our in-house design consultants can help you find the combination of flooring and window treatments that best suits your needs and design style.
If you're interested in custom treatments or want to compare flooring prices, fill out our online form for a free estimate.