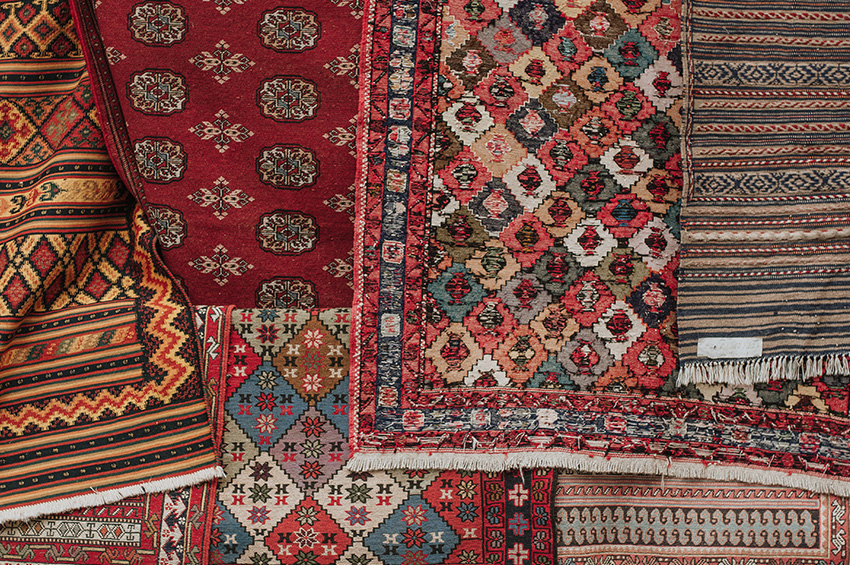 Your Guide to 10 Types of Area Rugs & Rug Materials
Providing insulation, absorption, and softness underfoot, plus a welcoming appeal and visual framing for your furniture, area rugs are flooring essentials that shouldn't be overlooked.
We recommend familiarizing yourself with the myriad fibers, weaves, and styles before purchasing an area rug for your home. Not sure where to start? Consider this your guide to the different rug types and materials.
What Are the Different Types of Area Rugs?
As one of the best carpet and rug stores in Portland, Floor Factors offers a plethora of prefabricated options and custom designs. It's safe to say we know a thing or two about the various materials. Find a breakdown of the different types of rugs by weave and fiber below.
1) Wool Area Rug
Wool is a natural textile with an authentic appeal. Since the fleeces regrow quickly after shearing, it's considered a sustainable product.
The material is among the most sought-after for rugs. However, due to the intricate weaving process and long-lasting quality, it's usually one of the pricier options.
2) Polypropylene Area Rug
Polypropylene (nylon) is a type of thermoplastic used to manufacture a range of home goods. The exceedingly durable and versatile material can be fabricated into woven fabrics and ropes, making it a top choice for area rugs.
This synthetic textile can mimic the appearance and potentially the softness of natural wool, but it's typically thinner. While polypropylene rugs aren't considered eco-friendly, they're one of the most affordable options.
3) Microfiber Area Rug
Microfiber is a soft textile machine-woven from ultra-fine polyester fibers (hence the name microfiber). The synthetic textile is often used to make area rugs on par with the look and feel of genuine wool.
4) Jute Area Rug
Jute is a long, semi-shiny fiber sourced from flowering plants. Since the flora matures in under six months, it's considered a renewable material. Jute can be dried and spun into strong, coarse threads and then braided into area rugs.
If you're partial to natural products but want something budget-friendly, this is an excellent choice. The straw-colored fibers are usually left undyed, offering an organic, textured appearance and a down-to-earth vibe.
5) Silk Area Rug
Then there's silk, which is typically woven from the protein fibers produced by mulberry silkworms. The natural material can be loomed into rugs either on its own or blended with other textiles.
Real silk offers a gorgeous unique sheen and a luxurious appeal, but some synthetic fibers do a good job of mimicking it. Bear in mind, though, this type of area rug is notably delicate and difficult to clean.
6) Knotted Area Rug
Knotted area rugs are created by tying the fibers together and then cutting them at the ends. The traditionally Persian style can be loomed by hand or fabricated with machinery.
7) Flat-Woven Area Rug
Similar to a knotted weave but without cut ends, the fibers of flat-woven area rugs are continuously tied into knots. The result is a low-profile weave with sturdy construction.
8) Shag Area Rug
Shag rugs are arguably the softest, plushest option—and they're more contemporary looking than their shag-carpet counterparts. The high-pile weave can be created from nearly any material, including wool, cotton, polyester, and polypropylene.
9) Tufted Area Rug
Tufted area rugs are created by looping fibers through a structured backing. The result is a slightly shaggy, textured finish that can be constituent across the surface or woven into patterns.
10) Braided Area Rug
Braided area rugs are made by braiding long natural fibers or prefabricated pieces of cloth and then sewing the braids together. As mentioned above, this is a popular style for rectangular jute rugs, as well as round and oval designs.
Where to Buy Custom Area Rugs in Portland
Though these are the most popular types of area rugs, there are near-endless options! If you need help figuring out which rug weave is right for you or are interested in creating a custom design, our in-house design consultants are here to assist.
Floor Factors is proud to offer products from a broad range of industry-leading manufacturers, including carpets, area rugs, rug pads, and discounted flooring remnants. As a one-stop-shop resource for residential remodels, we carry window coverings, custom cabinets, and countertop materials as well.
Contact our Portland flooring company for a quote on a custom order or stop by our showroom in the Pearl District.