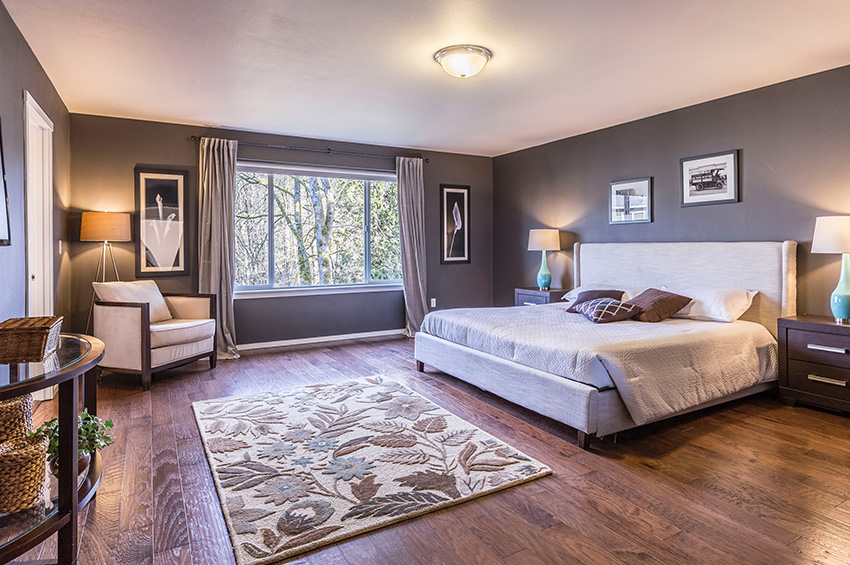 Should You Use Laminate Flooring or Carpet in a Bedroom?
The bedroom is the place where you unwind, recharge, and prep for the day ahead and its aesthetic shouldn't be overlooked. Like every room of your home, the design of your sleeping quarters starts with the floors.
While laminate and carpet are both popular options, they're vastly different. So, which type of flooring is better for your bedroom? Our Portland flooring experts are here to help you make the best choice for your needs, budget, and taste.
Laminate vs. Carpet in Bedrooms
What is the best flooring for bedrooms? There's no one-size-fits-all answer to this question, but the following insights can help you figure out which route to take.
Carpet in Bedrooms
Carpet is among the top floor-covering options for bedrooms, and for good reason. The material offers plushness, insulation, and sound absorption. Not only that, but it's comfier to sit on than hard flooring, making it a great choice for kids' rooms.
Advantages of carpet:
Affordable

Soft underfoot

Insulating

Sound-absorbing
Potential drawbacks of carpet:
Tricky to keep clean

Prone to stains and discoloration

Can harbor dust and other allergens

Needs to be replaced more often than other materials
It can be tough to protect carpets from spills and stains. However, they tend to hold up better in bedrooms than in living rooms, where there's typically more foot traffic.
Laminate in Bedrooms
Laminate is also one of the most affordable flooring options. Though it's usually priced slightly higher than carpet, it can last up to 25 years. Unlike the first iterations from decades ago, today's laminate comes in planks that mimic the appearance and texture of authentic hardwoods.
Advantages of laminate:
Affordable

Easy to install

Low-maintenance

Water-resistant and sometimes waterproof

Quiet underfoot with an underlayment
Potential drawbacks of laminate:
Not as soft and cozy as carpet

Priced slightly higher than carpet
Since laminate planks essentially lock into place, DIY installation is relatively easy. Also, if you opt for a waterproof material, you can extend it into your attached bathroom for a cohesive, seamless effect.
While this floor-covering product isn't plush like carpet, you can always add softness and insulation with an area rug. In fact, area rugs are recommended in most rooms with hard flooring.
Carpet vs. Laminate in Bedrooms for Resale
Your design taste and personal preferences are one thing, but in the context of resale, should you use laminate or carpet in a bedroom? This is the million-dollar question for homeowners planning to list their property down the road.
While genuine hardwood flooring is the number one preference for homebuyers, synthetic alternatives like laminate and vinyl can provide a considerable return on investment. Every situation is unique, but when prospective buyers tour a home, they tend to view carpet as something that will eventually need to be replaced. On the other hand, wood-like laminate offers more of a turnkey appeal.
What Is the Best Flooring for Bedrooms?
Carpet and laminate planks are both excellent options, though there are many factors to think about when choosing a flooring material for your bedroom. Before making a decision, be sure to consider the price, installation process, maintenance, potential resale value, feel, and overall aesthetic.
The Best Bedroom Flooring in Portland is at Floor Factors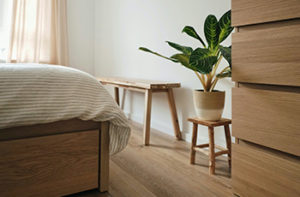 Still on the fence about which material to choose for your space? The seasoned design consultants at our Portland flooring company are at your service! They can help with brainstorming, planning, and custom ordering with personalized guidance every step of the way.
In addition to high-quality materials and prefabricated products from top-rated manufacturers, Floor Factors offers custom area rugs and discounted flooring remnants. As your one-stop-shop renovation resource, we carry window coverings, cabinets, and countertops too.
Contact us for a quote, or visit our locally owned flooring store in Portland's Pearl District to see the vast selection for yourself. We look forward to seeing you!