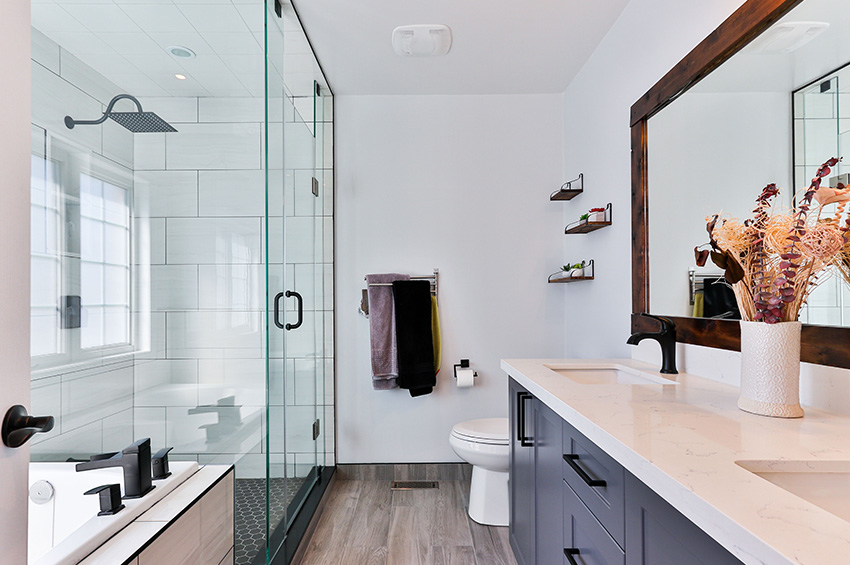 What's the Best Flooring for a Bathroom?
Ready to upgrade your bathroom and want an affordable long-lasting flooring material? We've got you covered! Here we share the best options for your remodel and why they're perfect for the space. There are also materials you'll definitely want to avoid – and we cover those as well.
Is It OK to Use Vinyl Flooring in a Bathroom?
When it comes to bathroom renovations, new floors can make a world of difference. If you're like many other homeowners, you might be wondering if vinyl is a good choice.
It's not only OK but actually what our Portland flooring company recommends most often. Here's what you should know about vinyl for bathrooms, as well as other suitable materials and what floor-covering products should be avoided.
How LVT Flooring Stands Out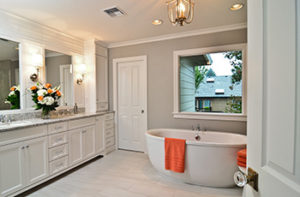 Vinyl isn't what it used to be. Unlike the sheets of decades past, the synthetic material now comes in individual pieces that mimic the look and feel of natural, high-end flooring products.
You can choose from luxury vinyl tiles (LVT) or planks (LVP) and find amazing styles. Options include vinyl that looks like real hardwood, stone-like squares, porcelain-inspired hexagons, and more. Thanks to photo imaging and hyper-realistic textures, most people can't tell it apart from the real deal.
Beyond a gorgeous, versatile appearance that can simulate earth-sourced flooring materials, there's a lot to love about LVT.
Benefits of luxury vinyl floors:
More affordable than natural materials

Low-maintenance

Resists dents, scratching, and fading

Doesn't harbor allergens

Most often waterproof

Lasts up to 50 years
Since today's vinyl is typically waterproof, it can be installed in moisture-prone zones, like bathrooms, kitchens, mudrooms, laundry rooms, and basements. If you like the room-to-room flooring look and don't want to choose a different material for these areas, LVT is an excellent choice.
What Do You Put Under Vinyl Flooring in a Bathroom?
Depending on the manufacturer, you may or may not need to use an underlay when installing vinyl flooring in a bathroom. LVT comes in peel and stick and click into place options, so unless there's water damage, your existing floors might suffice as a subfloor. The experts at Floor Factors can help you figure out whether a subfloor is necessary.
3 Additional Bathroom Flooring Materials We Love
Of course, luxury vinyl isn't the only material that's great for a bathroom. Other flooring options include laminate, natural stone, and porcelain tile.
1) Laminate
Like vinyl flooring, laminate is a synthetic material that can be fabricated to look almost exactly like authentic wood planks or natural tiles. It's water-resistant (sometimes waterproof) and lasts for up to 25 years with proper maintenance.
Is Vinyl or Laminate Better for a Bathroom?
Luxury vinyl is often considered the superior floor covering product, as it lasts longer and is typically completely waterproof. Having said that, modern laminate is giving LVT a run for its money, and both are viewed as budget-friendly alternatives to real wood and tile. When it comes to bathrooms, the most important thing is that the material can stand up to water and humidity.
2) Natural Stone Tile
Natural stone is a notably heavy, long-lasting product suitable for bathroom floors, showers, countertops, and backsplashes. It's one of the priciest options and is available in various earth-sourced materials, including limestone, quartz, onyx, and marble.
3) Porcelain Tile
Porcelain tile is an exceedingly durable and water-resistant material that lasts for several decades. Larger glazed tiles can be slippery, so you might want to use smaller pieces for maximum traction in the bathroom.
What Is the Best Flooring for a Small Bathroom?
Porcelain tile is arguably one of the best options for small bathrooms. The material stands the test of time, holding up under heavy use and frequent splashing. Plus, it comes in virtually any shape, size, and color you can imagine and can be installed in endless patterns.
While the product is relatively expensive, a smaller area might be within your budget. To cut down on costs, you may want to look for porcelain or natural tile remnants, which come at a fraction of the market rate. Also, affordable LVT can bear an almost uncanny resemblance to real porcelain.
Not-So-Great Flooring Materials for Bathrooms
As we mentioned, choosing a water-resistant (if not waterproof) material is vital. Generally speaking, genuine hardwoods, bamboo, and carpet should not be installed in bathrooms. Engineered wood can work in half-baths and powder rooms, but it's usually not recommended in bathrooms with showers or bathtubs.
Where to Buy the Best Bathroom Flooring in Portland, Oregon
Floor Factors is proud to be a trusted one-stop-shop destination for homeowners throughout the Portland metro area. Our locally owned flooring store carries a wide range of products, including luxury vinyl, laminate, porcelain, and natural stone, plus wallet-friendly remnants left over from bigger projects.
We also carry countertops, cabinets, and window treatments so you can design your bathroom (or any room!) from the floor up. Contact us with questions or stop by our showroom in Portland's Pearl District.