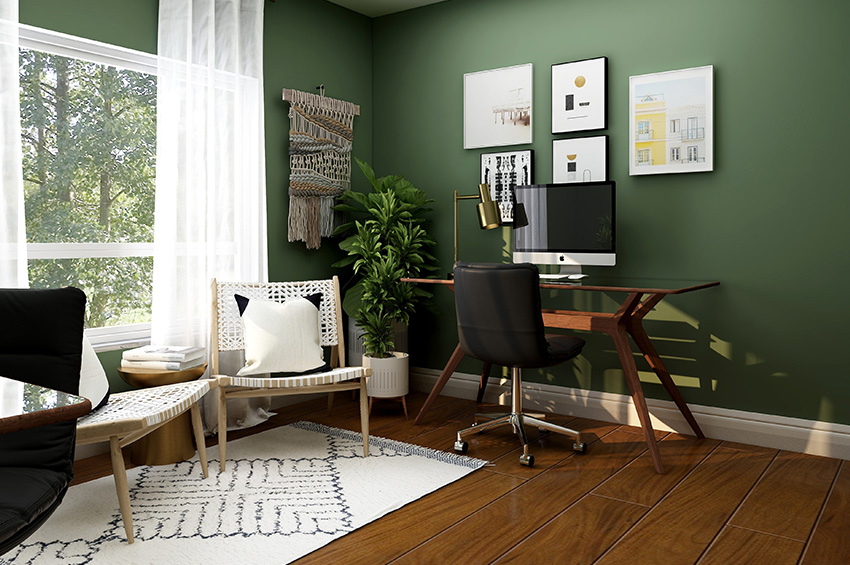 7 Creative Ways to Transform an Unused Space in Your Home
With social distancing and remote work becoming the norm, people are spending more time than ever in their homes. If you're like a lot of Portland homeowners, you might be craving additional square footage.
You could build up or out. However, with a creative mindset and some expert guidance, you might be able to transform your existing unused areas into functional living spaces.
Tips and Flooring Ideas for Unused Space in Your Portland Home
Attics, garages, and basements can certainly come in handy for storage, but could they be converted into something more useful? Similarly, while sunrooms and mudrooms serve a purpose, many families spend very little time in them.
If you're lucky enough to have unused (or seldom used) space in your home, our Portland flooring pros are here to help you make the most of it. Check out these seven inventive ideas for creating a more functional home.
1. High-End Home Office
If you've been telecommuting from your living room couch or dining room table, a home office probably tops your priorities list. A computer station doesn't need to take up a whole lot of room, which means it can fit in almost any unused area—or part of an area.
For instance, you can section off half of your garage or basement into an office. A small backyard shed can also work. On the other hand, if you prefer more space, you can finish your entire attic or convert your sunroom.
Are you expecting to work from home indefinitely? If so, you might consider creating a luxury workspace. We're talking large windows, built-in shelving, a nice desk, fancy lighting, and high-end flooring. Solid wood planks can increase your resale value and really lend to an upscale aesthetic. Floor Factors carries both unfinished and prefinished hardwood flooring in Portland, and we can help you choose the best type for your office.
2. Attic At-Home Learning Space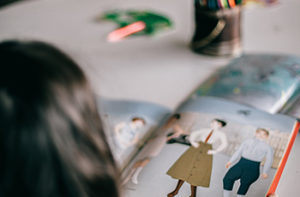 Another idea is to create an at-home learning space. Whether your kids are enrolled in remote schooling or need a designated homework area, an unused attic is a great option. Even with a sloped ceiling there's usually plenty of room for a desk, bookshelves, craft supplies, and even a play area.
For kids' rooms, we recommend carpeting, which offers insulation and sound-absorption, plus it's soft and comfortable for sitting. Floor Factors is one of the best Portland carpet stores, and we can make personalized recommendations for attic conversions.
We also carry luxury vinyl tile (LVT), which is a great flooring option for children as well. It's resistant to stains, scratches, and water damage. Whether it's crayon marks, spilled juice, or soccer cleat scuffs, you can have peace of mind knowing it'll clean up easily.
3. Beautiful Basement Upgrade
Unfinished basements are begging to be converted into usable living spaces. From family rooms, playrooms, and dens to offices, bedrooms, and full guest suites with bathrooms and kitchenettes, the possibilities are endless. As we mentioned, you can even build out different rooms to get the most use out of your below-ground square footage.
As for flooring, the main thing to keep in mind is water damage. If your basement has been completely waterproofed, you can choose pretty much any material, including hardwood and carpet. However, if you're concerned about leaks and humidity, your best bet is a waterproof material, like luxury vinyl tile, or a moisture-resistance product like sheet vinyl or laminate.
4. Gorgeous Garage Overhaul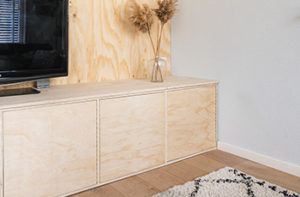 Throughout Portland proper, most garages are used for something other than parking a car. Like unfinished basements, the additional square footage has tons of potential. For example, you can turn yours into a heated TV room, air-conditioned workout space, or even a formal dining area.
Carpet tiles and cork flooring are excellent options for TV rooms and home gyms (rubber flooring is a great choice for gyms as well). For dining rooms, we suggest a hard material, like prefinished hardwood, LVT, or laminate planks. In any case, you may need to pour a new concrete subfloor or install an underlayment first. Not sure what you need? Floor Factors can assist with every step of the installation process.
5. Mudroom Makeover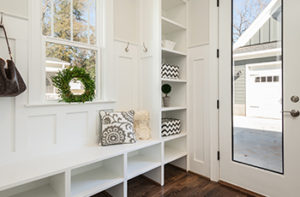 If you've got a sizable, mostly unused mudroom, it might be better off as a home office, homework area, breakfast nook, or playroom. Since mudrooms typically open up to the outside, you'll want to keep this in mind when choosing your flooring. We recommend a water-resistant product, like cork, ceramic tile, LVT, laminate, or linoleum.
6. Sunroom Shakeup
The same goes for sunrooms, though they're usually a little larger than mudrooms. We love the idea of converting a sunroom into a formal dining area, art studio, office, home gym, or children's play area.
Again, moisture-resistance is key for spaces with their own entrance. If you like the appearance of real wood, we suggest luxury vinyl planks (LVT). The modern material has an almost uncanny resemblance to solid hardwood, plus it's more affordable and typically waterproof.
7. Workspace By Day, Bedroom By Night
Smaller homes can benefit from multi-use spaces. One of the most popular ideas is to create an office or studio that's also a guest room. To really maximize space, you can get a Murphy bed, which folds up into the wall, or a daybed, which doubles as a couch.
Multi-use spaces need functional floors, so your best options will be versatile, durable, insulating, and easy to clean. You might consider luxury vinyl, laminate, cork, carpet, or prefinished hardwood.
Floor Factors: The Premier Portland Flooring Company
Floor Factors is your one-stop-shop solution for carpet, area rugs, hardwood, bamboo, cork, laminate, linoleum, and luxury vinyl tile flooring in Portland. Beyond that, we carry window coverings, countertops, cabinets, and discounted flooring remnants from premium manufacturers.
Are you feeling inspired to undertake a DIY transformation? We've got all the products and supplies you need. If you want some assistance with your project, we can help with everything from design and materials selection to demolition and installation.
Contact our Portland flooring company today!