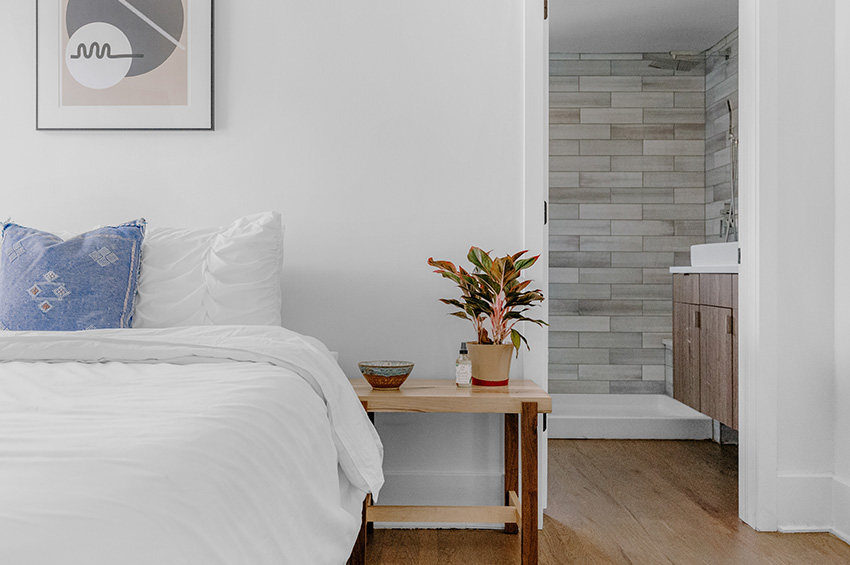 What's the Best Flooring for a Portland Basement?
Basements allow homeowners to add substantially more usable square-footage to their houses. They can be turned into playrooms, dens, additional bedrooms, game rooms, home gyms, guest suites — you name it. With a plumbing hookup, you can add a bathroom, laundry room, or even a wet bar.
Whether you're planning to finish your basement or are renovating one that's already usable, you might be wondering what your options are for flooring. Our team has the answers!
7 Flooring Materials to Consider for Your Basement Remodel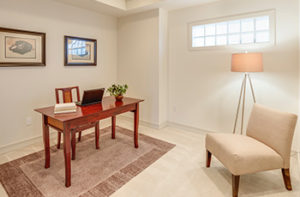 So, what's the best flooring for a Portland basement? Unfinished hardwood and bamboo aren't ideal because they can warp in damp spaces, like below-grade cellars. However, you've got plenty of choices.
1) Sheet Vinyl or Luxury Vinyl Tile (LVT)
Vinyl is a highly durable, low-maintenance, and versatile floor-covering solution. The synthetic material has a UV-cured urethane upper layer, making it resistant to scratches, stains, and moisture damage. Both sheet vinyl and luxury vinyl tile (LVT) are waterproof basement flooring options, which is crucial in the wet Pacific Northwest.
Sheet vinyl can be custom-made in virtually any color, pattern, or style. With luxury vinyl basement flooring, you can get tiles or planks that mimic the appearance of hardwoods, stone, and other natural materials. Installation isn't complicated and most vinyl can be installed directly over concrete.
2) Prefinished Hardwood Flooring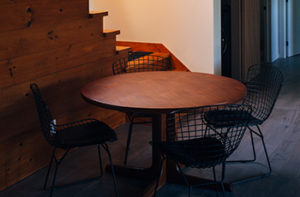 If you want real wood, consider engineered hardwoods, which are sanded and prefinished in the factory. They're easier to install and more budget-friendly than their unfinished counterparts. Plus, you can get almost any type of wood, including oak, maple, fir, hickory, birch, and mahogany.
Engineered hardwood flooring can work in basements. Just be sure to confirm with the manufacturer or your flooring supplier that the material is moisture-resistant and suitable for below-grade applications. That said, prefinished hardwoods should work in basements that have been waterproofed and sealed. Also, since the planks have to be nailed into place, you'll need to install a subfloor over the concrete first.
3) Cork
Cork is often overlooked as a residential flooring option — but the eco-friendly, insulating, and sound-absorbent material is more versatile than you may think. Finished cork can look similar to real hardwoods while offering the softness and comfort of carpet.
What makes this floor-covering material an excellent pick for basements is its resistance to moisture. For completely waterproof cork, check out the Amorim WISE line from Wicanders. The flooring is naturally antimicrobial, meaning it repels mold, mildew, and bacteria. Cork comes in the option of floating planks or direct-glue tiles, so it's easy to install over concrete basement floors.
4) Laminate
Laminate flooring has been around for decades. The eco-friendly floor-covering material comes in tiles or planks that lock into place. Since laminate can be installed directly over concrete, it's an excellent choice for basements. Also, the finished product can mimic real hardwood or be custom-designed in any color or pattern.
Low-maintenance laminate floors never need to be waxed or refinished, and they can last for up to 30 years in homes. Also, laminate is a water-resistant material. Aside from basements, it's a top choice for kitchens, bathrooms, mudrooms, laundry rooms, and other moisture-prone spaces.
5) Ceramic Tile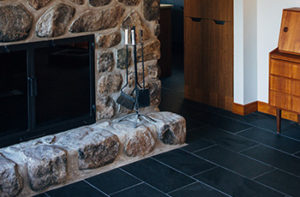 Ceramic tile is essentially porcelain that's finished (or glazed) with a thin ceramic coating. It's typically more vibrant than unglazed porcelain and can be custom-ordered in a wide variety of hues and prints. Ceramic floors are also moisture-resistant and will never rot, so they work well in basements.
In most cases, ceramic tile can be installed directly over concrete without the need for a subfloor. That being said, since it's a naturally cool material, you might consider installing radiant heating underneath.
6) Carpet
Some homeowners opt for carpet in their basements. This can work, as long as the space is waterproofed and sealed to prevent leaks and flooding. Also, you'll probably need to install a subfloor before laying the carpet.
Whether you're looking to get wall-to-wall carpeting or just enough for one section of your basement, you've got lots of options. We're talking wool, nylon, and synthetic blends with high-pile, loop-pile, or cut-pile styles in just about any color or pattern you can imagine.
Pro tip: To save money, consider carpet remnants for smaller basements.
7) Rubber Flooring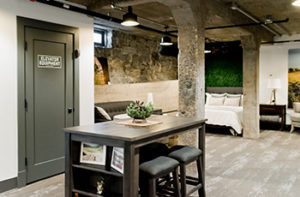 Rubber flooring is another popular pick for basements. The plush, stain-resistant, and waterproof material is often used for playrooms, rec areas, home gyms, and laundry rooms.
You can get rubber sheet flooring or interlocking tiles, both of which are easy to install, and come in a range of colors, textures, and thicknesses. Also, you can usually install rubber basement flooring directly on top of concrete.
The Best Basement Flooring Options for Portland Homes
At Floor Factors, we carry all the best basement flooring options. This includes engineered hardwood, cork, laminate, ceramic tile, carpet, and vinyl flooring. Our locally owned Portland flooring store offers myriad flooring materials for basements, kitchen and bathroom remodels, and more.
Proudly Serving the Portland Area for Over 40 Years
It's our birthday! Our locally-owned business thanks you for making us your flooring and remodeling materials store of choice. We've been proud to be a part of the Portland community and look forward to serving you in the years to come.
We can help you reimagine any space in your house. As a one-stop-shop renovation resource, we offer in-house design consulting, custom ordering, demolition, and installation — we can even install subfloors if needed.
Contact us to get started with your next project.