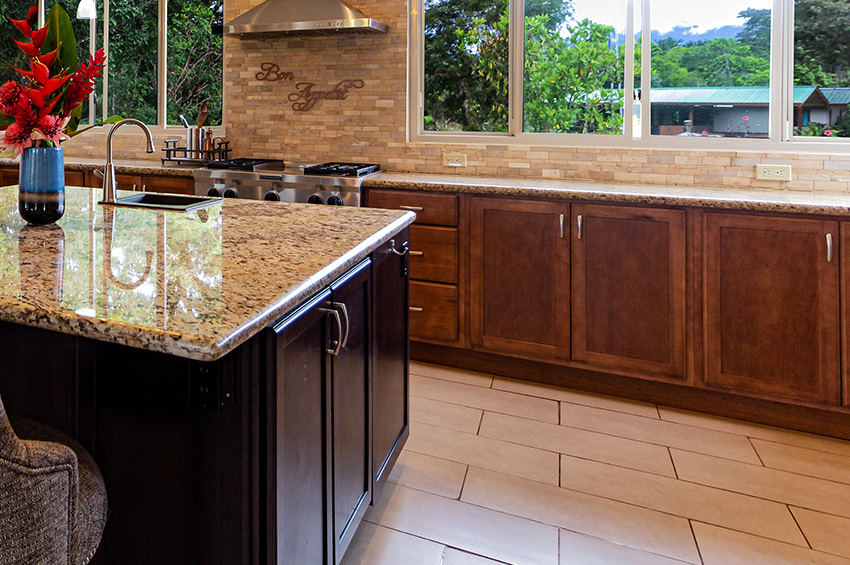 Tile Flooring Ideas for Any Kitchen Design Style
Tile has been a popular flooring choice for centuries. When you consider its durability, heat resistance, antibacterial properties, and seriously stunning appearance, you can understand why.
If you're thinking about tiling your kitchen floors, you've come to the right place. Here at Floor Factors, we're big fans of classic stone, ceramic, and porcelain, and we've got tons of design concepts up our sleeves. Find details about each material below, along with our best kitchen tile floor ideas.
Which Type of Tile Is Best for Kitchens?
Since kitchens are splash zones for water, sauces, soups, and other liquids, the best flooring will offer some level of moisture-resistance. Low-maintenance materials will save you a lot of elbow grease too. Have questions about the care and maintenance of tile? You can find all the answers you're looking for on our website. If you've got questions, please get in touch. We're here to help and have all the products you need.
Stone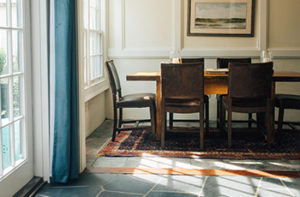 Stone is a sturdy and resilient flooring option with an upscale appearance. While natural stone tends to be a spendier choice for kitchens, it offers an undeniably lavish look. Plus, it stays nice and cool during the summer months. Some of the most popular types are slate, sandstone, granite, marble, onyx, and limestone.
We love the look of rectangular slabs in marble or onyx. Sandstone and slate can be elegant in large squares. You might also consider tiles of varying sizes for a unique look. Bear in mind stone tile flooring in the kitchen will need to be resealed periodically to ensure its resistance to moisture and stains.
Ceramic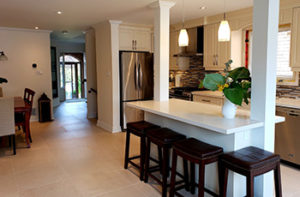 Ceramic tiles are made out of kiln-fired clay. The flooring material is relatively easy to install, but not as durable as stone. It can be manufactured into a broad range of shapes and dyed in almost any color you can imagine.
One of our favorite flooring designs for kitchens is small hexagonal tiles in varying shades of gray or tan. We also like the look of ceramic subway tiles in classic white as a backsplash. Getting a glazed option is recommended, as it'll give you the most moisture-resistance. Glossy materials also make it easier to wipe off inevitable splatters of spaghetti sauce and cake batter. That being said, smaller tiles are best for glazed ceramic, as they'll provide some slip-resistance.
Porcelain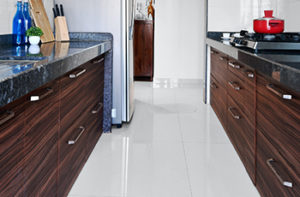 Porcelain is similar to ceramic, but since it's kiln-fired at a higher temperature, the material is less porous and notably dense. It's also water-resistant and repels stains better than most natural stone and ceramic materials.
Timeless clay-colored porcelain tiles are an excellent choice. We also appreciate the look of mosaic prints, half-offset tiles in neutral colors, and parquet floors.
For kitchens, both glazed and unglazed porcelain have their benefits. Unglazed tile is usually more durable, resistant to scratches, and less slippery. On the other hand, glazed porcelain is more resistant to stains and is easier to wipe clean.
Tile Flooring for Kitchens, Baths & More in Portland
Floor Factors is celebrating its 40th anniversary this year, and we're honored to be a premier flooring resource among Portland homeowners. We carry natural stone, ceramic, and porcelain tile and can accommodate custom orders to align with your design vision. If you're interested in an alternative, you might consider luxury vinyl tile (LVT). The 100% waterproof product is ideal for kitchens and bathrooms.
As a one-stop renovation solution, our locally-owned flooring company is proud to offer cabinets, window treatments, and countertops from the best manufacturers in the industry. We also provide design consulting, demolition, and expert installation services in the Portland metro area.
Contact us to get started.