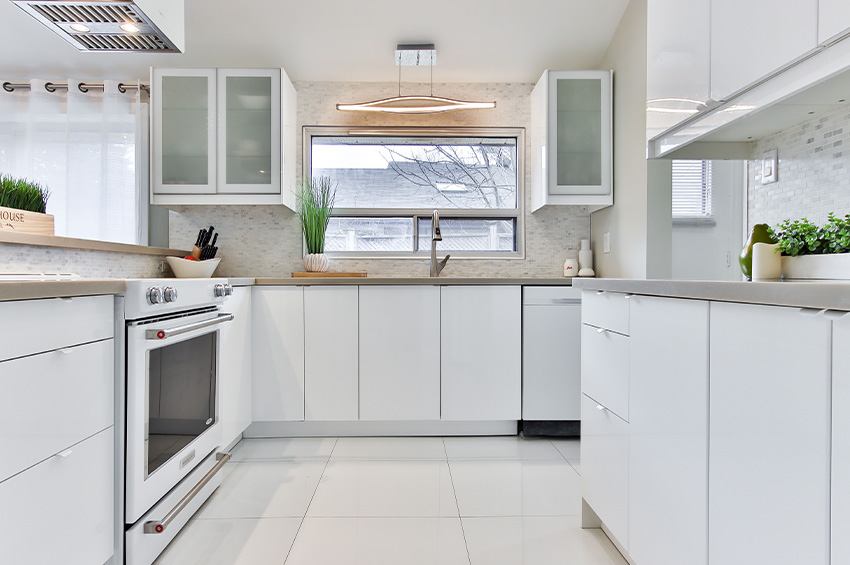 Is Vinyl Flooring the Best Choice for Kitchens?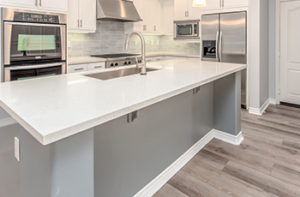 From spaghetti sauce spills and dropped hot pans to muddy footprints and the occasional crash of glassware, kitchen floors endure a lot of abuse. That's why installing durable, water-resistant, and easy-to-clean flooring is essential. Vinyl flooring has been around for almost a century, and it continues to be a top pick among homeowners.
Like many other homeowners about to embark on a kitchen remodel, you might be wondering if vinyl flooring is the go-to material. The short answer is yes. In fact, some view it as the best choice. Unlike real hardwood and other natural flooring products, it has impressive moisture-resistance and is often even waterproof.
Of course, there are a few things to consider before making a final decision on what material you choose for your kitchen floors. As one of the top flooring companies in Portland, Floor Factors is here to help!
Which Vinyl Flooring Is Best for a Kitchen?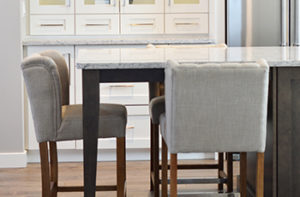 Did you know there are multiple types of vinyl flooring? Beyond that, there are virtually endless colors, designs, and patterns. So, which type is best for your kitchen renovation? It depends on a variety of factors, like your budget, lifestyle, and personal preferences.
Vinyl flooring falls into one of two categories: sheet vinyl and luxury vinyl. These synthetic flooring materials are composed of polyvinyl chloride (PVC plastic) resins with a UV-cured urethane finish. Both are considered to be a more affordable alternative to real hardwoods, but they have distinct differences.
What is Sheet Vinyl?
When most people think of vinyl flooring, they think of sheet vinyl, as it's been around for quite awhile. As the name suggests, it comes in large sheets, which are unrolled and cut to size for installation. You can get sheets in myriad colors, patterns, and styles. For instance, timeless black-and-white checks and prints that mimic mosaic tiles are popular in kitchens.
Apart from being water-resistant, the material is easy to clean and resistant to scuffs, stains, and scratches, making it a great option for busy households with kids or pets. It's generally priced lower than luxury vinyl and lasts for up to 20 years.
How is Luxury Vinyl Flooring Different?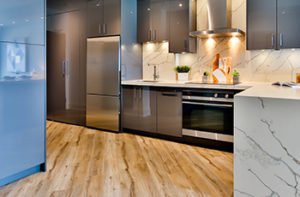 Luxury vinyl flooring comes in either tiles (luxury vinyl tile or LVT) or planks. The material has gained attention because it can be designed to look just like real wood, stone, marble, or ceramic tile. Sheet vinyl can be manufactured to imitate these materials, too, but LVT flooring looks more realistic.
Are vinyl floor tiles a good choice for kitchens? What about planks? Since it can last for up to 50 years and comes at a lower price than hardwoods, luxury vinyl flooring is one of the most popular choices in homes.
In most cases, luxury vinyl is 100% waterproof. It's also sound-absorbent, resistant to scratches and fading, and easy to maintain. Plus, it can be installed throughout your entire home for a seamless look from room to room. What's more? It's a great choice if you ever move. It's one of the top five flooring materials that increase Portland home values.
We're Portland's One-Stop-Shop for Kitchen Remodeling Materials
Floor Factors would love to partner with you on your upcoming project. Our locally owned Portland flooring store has everything you need for your kitchen or bathroom remodel. From countertops to window treatments, we have you covered! Our team can assist with in-house design consulting, ordering custom materials, demolition, and installation.
We're celebrating our 40th anniversary this year and look forward to serving customers throughout the Portland metro area for decades to come. Get in touch with us to learn more about the products and services we offer.