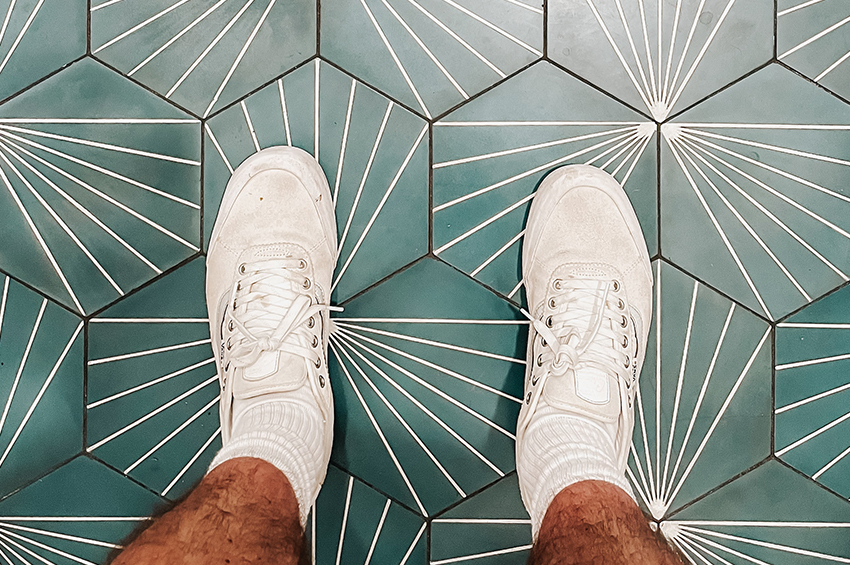 Top Floor Tile Trends, Designs & Styles
Interior design enthusiasts are well aware of the aesthetic power of tile. Available in a plethora of materials, shapes, sizes, and patterns, there are virtually endless routes you can take with this flooring material.
Read on for a rundown of this year's tile trends, along with styling insight from our Portland flooring company.
Tile Flooring Trends for 2022
Maybe you're interested in the latest kitchen floor tile trends or want to explore primary bath designs. Or perhaps you're considering tiling your stairs, entryway, or dining room. In any case, you've come to the right place.
Ahead, tile styles we're loving in 2022.
Oversized Tiles
Oversized stone tile flooring is having a well-deserved moment in the world of home design. You can opt for large slate slabs, classic marble checked squares, or jumbo hexagonal tiles for some geometric flare.
Wood-Look Ceramic Tile
If you're unfamiliar with porcelanite faux-wood ceramic planks, allow us to introduce you to the year's most sophisticated flooring option. Like engineered hardwoods and LVP (luxury vinyl planks), you can choose from nearly any wood species, shade, finish, and style.
Marble-Mimicking Porcelain Tile
On a similar note, marble-mimicking porcelain is front and center for 2022 bathroom floor tile trends. You can opt for oversized pieces with a timeless white and gray colorway or go moody with black marquina-style tiles.
Modernized Terrazzo
Featuring chips of granite, quartz, glass, or marble, terrazzo is a go-to for countertops and home accents. The composite material is also an excellent pick for floors, especially for those who appreciate its inherently laidback, energetic feel.
Throwback Terra Cotta
Terra cotta is a centuries-old flooring material with a timeless appeal—and we're thrilled to report its resurgence in the interior design industry. From traditional reddish clay squares and brick-lay patterns to antiqued hexagons and elegant diamonds, the sky's the limit with this warm-toned tile.
High-Gloss Minimalism
We're also seeing more high-gloss tile floors in pared-down colorways. Large-scale rectangular pieces shine in bathrooms and entryways, and polished white marble or porcelain squares stun in great rooms, kitchens, and dining rooms.
For additional inspiration, check out these Tile Flooring Ideas for Any Kitchen Design Style.
Verdant Statement Tile
Neutrals are always a sound choice for flooring, but if you're considering a bolder color, you can't go wrong with green. It's seasonless and versatile with an inherently organic appeal that works well in kitchens, bathrooms, foyers, basement bars, you name it.
For more design tips, see our guide on How to Choose the Best Stone Tile Flooring for Your Portland Home.
Where Else Can You Place Tile?
The design possibilities of tile go far beyond flooring. You can use natural stone, ceramic, porcelain, and even LVT (luxury vinyl tile) as a kitchen backsplash or fireplace surround. These materials also work for stylized countertops, bathtubs, showers, accent walls, steps, and outdoor dining tables—to name just a few.
As Portland's one-stop-shop remodeling resource, Floor Factors carries much more than flooring products. We've got countertops, cabinetry, window coverings, and area rugs, including prefabricated options and customizable designs.
The Best Tile Flooring Materials, Styles & Designs in Portland
Floor Factors has been a premier resource for contractors, homeowners, DIYers, and commercial builders for over 40 years. Our family-owned Portland flooring company partners with industry-leading manufacturers to bring our clients everything they need for their projects.
If you order renovation materials from Floor Factors, our expert team can assist with demolition and installation. Not sure which style to choose for your space? Our in-house design consultants can provide their expertise.
Stop by our massive showroom in Portland's Pearl District, or fill out our form for a free estimate.