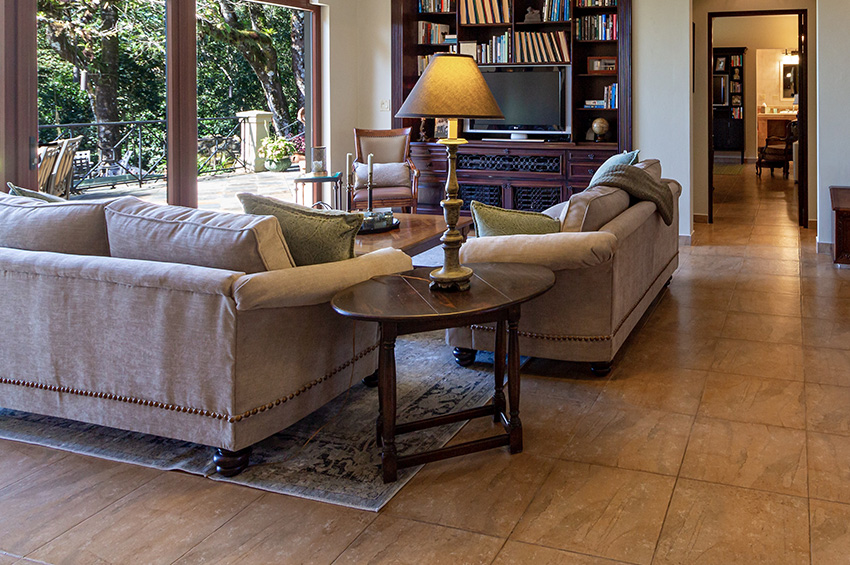 How to Choose the Best Stone Tile Flooring for Your Portland Home
Natural stone is a high-end flooring product with a luxurious appeal. It's also one of the few materials that can increase your home value. If you're leaning toward stone tile but aren't sure which type or style to choose, the pros at our Portland flooring store are here to guide you through the process.
What Are the Different Types of Stone Tile?
To make the best choice for your home, you've got to know your options. There are several varieties of stone tile, including limestone, marble, sandstone, slate, and granite.
Limestone: With natural stone, you can expect some color variance among the tiles—it's part of what makes the material so beautiful. However, if you prefer more consistency, limestone can be a great choice. With a relatively light, cool-toned hue and a smooth finish, this material looks gorgeous in homes.
Marble: Like sandstone, marble is a sleek and smooth material. It comes in an array of colors, ranging from white to black with signature streaks and translucent, slightly cloudy features. Though marble tile is an upscale product, it's more vulnerable to stains and scratches than other types of stone.
Sandstone: Sandstone is similar in color to limestone, but with slightly warmer, almost pinkish undertones. Reminiscent of desert sands, this earth-sourced material can feature multiple tones of gold, brown, tan, white, and even red.
Slate: If you're partial to darker hues, you might consider slate. You'll often see tile flooring in deep gray, though brown, purple, green, and dark taupe are common too. Slate tile is the perfect balance of rustic and sophisticated, and it tends to have more texture than other kinds of stone.
Granite: Granite is a popular choice for both flooring and countertops. It's usually dark with multi-tone flecks or sometimes with streaks similar to marble. Sealed granite is a truly impressive product, as it resists moisture damage, stains, and scratching. Plus, with proper maintenance, it can last a lifetime—literally. We're talking 100 or more years.
What Is the Best Natural Stone for Floors?
The best stone flooring for your home depends on a number of factors, like your budget, lifestyle, and personal preferences. The beauty of marble is almost unbeatable, but it's also usually more expensive than other materials and more prone to scratching and discoloration.
Limestone, sandstone, and slate are mid-range options, and they need to be resealed regularly. Granite is typically the most budget-friendly choice, and it can offer a similar look to marble. It also lasts the longest and doesn't need to be resealed quite as often.
Where Can You Install Stone Floors?
Natural stone tile can be installed in bathrooms, kitchens, laundry rooms, mudrooms, hallways, basements, and outdoor patios. As long as the space can support the weight of the material, it can be used virtually anywhere. Just bear in mind stone tends to be harder and colder to the touch than other flooring materials, so it's not as popular in cozier areas, like bedrooms, living rooms, and family rooms.
Aside from floors, stone tile can be used to accent your home. From hexagonal marble kitchen backsplashes and rustic brick-style fireplaces to fish-scale slate shower walls and shiny granite-tiled bathtubs, the possibilities are endless.
Floor Factors is Where to Buy Natural Stone Tile Flooring in Portland
We're celebrating our 40th anniversary and are proud to serve Portland as a one-stop home remodeling materials resource. We partner with the best manufacturers to bring our customers the highest-quality products to meet their unique needs, visions, and budgets.
We offer personalized services as well, including free estimates, design consulting, custom ordering, demolition, and seamless installation. Floor Factors also carries countertops, cabinets, window treatments, and flooring care and maintenance supplies.
Contact us today to get started with your flooring project.