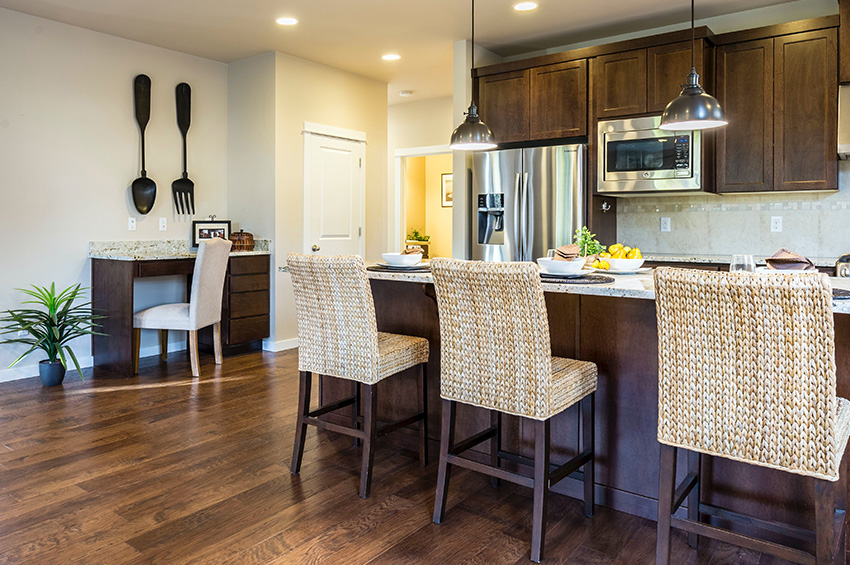 How Much Does it Cost to Install Hardwood Floors?
The simplistic beauty and classic appeal of real hardwoods can't be understated. This floor-covering option can last as long as a century and boost the resale price of your home. Having said that, to determine its actual value, you'll need to take into consideration the price of the material, as well as installation costs.
So, how much does it cost to install hardwood flooring The answer to this question isn't cut and dry, but the expert installers at our Portland flooring company are here to provide some helpful insight.
Hardwood Floor Installation Cost
The cost to install hardwood floors has a lot to do with the price of the actual material, which varies, but there are a few other factors that go into play. Here's what you should know.
Hardwood Flooring Cost Per Square Foot
The average cost per square foot of hardwood flooring is hard to pin down because installation could be included as part of the price. However, if you're talking about materials only, you can usually expect to pay between $3 to $8 per square foot, though some woods are priced higher or lower. Here's a breakdown of the average price for different wood species.
Ash:

$5 to $9 per square foot

Hickory:

$3 to $7 per square foot

Mahogany:

$6 to $8 per square foot

Maple:

$6 to $12 per square foot

Oak:

$3 to $7 per square foot

Pine:

$1 to $4 per square foot

Walnut:

$8 to $12 per square foot
Bear in mind these are merely estimates. Rates partly depend on where you live and can change at any time for various reasons, like an economic shift or fluctuating tariffs.
Average Labor Cost for Installing Hardwood Floors
As we mentioned, if you purchase flooring from the same company that's doing the installation, your total estimate will likely include materials and installation. With that said, the national average for materials and labor is roughly $9.50 per square foot.
So, since hardwood flooring costs between $3 to $8 a square foot, you can expect to pay the difference (give or take) for installation. For example, if you choose oak planks priced at $5 a square foot, you might pay a professional around $4.50 a square foot to install it. Of course, with more exotic or rare species like mahogany and walnut, your total cost per square foot will be a little higher.
While we can't speak for all flooring companies, a quote for hardwood floors will often include removing the existing material, leveling the subfloor if needed, and installing the new planks. (These services should be priced out individually within the estimate.)
Installing Prefinished vs. Unfinished Hardwood
One thing to keep in mind is that installing solid unfinished wood planks is a bit more labor-intensive than prefinished hardwoods. The material typically needs to be nailed into place and then finished on site. Prefinished wood, on the other hand, is finished in the factory and often engineered, meaning it can be glued into place instead of nailed down.
Other Factors That May Impact Price
If your subfloors need to be leveled or are rotting, warped, or otherwise damaged, you can expect to pay a little extra for repairs and prep work. Additionally, if you're getting new floors throughout your entire home or in a notably large area, the project might call for multiple installers, which can add to the price.
Oddly shaped rooms, stairs, and other unique features of your home can also affect the cost. Special installation patterns, like herringbone or diagonal planks, could raise your bill slightly too.
Affordable Hardwood Flooring & Installation Services in Portland, Oregon
As one of the best flooring companies in Portland, Oregon, Floor Factors is committed to providing affordable products and fairly priced services for homeowners throughout the metro area. We champion DIYers who want to tackle projects on their own and even offer maintenance supplies in addition to flooring materials. However, if you need assistance, we're at your service.
Floor Factors can help with demolition, repairs, leveling, and installation. Our experienced team has the knowledge and skillset to take on even the most complex projects. As a one-stop-shop destination for residential renovations, we carry top-notch flooring from local and international manufacturers, plus window coverings, countertops, and cabinets. Get in touch with us for a quote, or stop by our massive flooring showroom in Northwest Portland.