5 Gorgeous Home Design & Flooring Trends that Maximize Space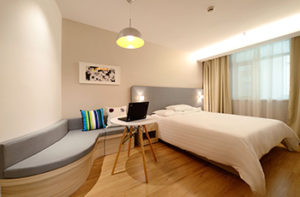 Feeling like you need more usable space in your home? You're not alone. The coronavirus pandemic has led to substantial shifts in the way we live, work, and learn—and it looks like some of these changes may stick around. In fact, more and more folks are sticking around their homes.
By 2025, an estimated 22% of workers will still be fully remote, a nearly 90% increase from the pre-pandemic era. Beyond that, at-home learning options are becoming more accessible for grade school and post-secondary education, and multigenerational living is beginning to appeal to more and more families.
So, thinking about how to maximize your house space doesn't just make sense for right now. There's a good chance it'll cater to your lifestyle down the road too.
How to Maximize Space in Your Home: Design Ideas for 2021
If you cherish the unique character of your house or don't want to say goodbye to your neighborhood, there are many ways to create more space without moving into a bigger home. In 2021, our Portland flooring store is seeing lots of renovations geared toward designated workspaces, additional suites, indoor/outdoor spaces, bathroom build outs, and multifunctional great rooms.
Designated Workspace
An attic, basement, sunroom, shed, or detached garage can be transformed into a workspace. The idea is to make it cohesive but also separate and unique to the rest of your home so it feels like a place If you have carpets throughout your home, consider installing hardwoods in the office. Covering a small space with real wood may be within your budget. Plus, the classic flooring material is durable, natural and long-lasting and can make a space look larger. This is especially true if you use light-colored wood, such as maple and ash.
Additional Suite
Whether you live in a multigenerational household or just want to have a comfortable space for family to stay, you'll always be glad to have an additional suite. You can finish your basement, turn your garage into a studio apartment, or build out a full ADU (accessory dwelling unit).
In any case, we highly recommend luxury vinyl tile floors. The material can be manufactured to look like natural hardwood flooring, and since it's waterproof, it works for room-to-room installation in kitchens, bedrooms, and bathrooms.
Indoor/Outdoor Spaces
Many homeowners are rethinking their outdoor living areas—and in the rainy Pacific Northwest, covered spaces are crucial. An existing mudroom, utility room, or sunroom can be converted into an open-air concept indoor/outdoor space.
Consider drop-down screens to keep bugs out or folding glass doors if you want the option to close it off. Moisture-resistant and pet-friendly laminate flooring is an excellent choice for high-traffic spaces that connect to the outdoors.
Bathroom Buildout
Many homeowners are opting to either expand their existing bathrooms or build additional baths. Even the addition of 25 to 50 more square feet can make a huge difference in how roomy your home feels, as it's where a substantial portion of your getting-ready and winding-down routines take place.
For bathrooms, water-resistant (if not waterproof) flooring is essential. Your best options are luxury vinyl tile (LVP) or planks (LVP) if you want the look of real wood. Laminate, natural stone, and ceramic tile are also excellent picks.
Multi-Functional Great Rooms
Sometimes, combining two or three rooms into one can make you feel like you have a lot more space. We're seeing a lot of kitchen-living room-dining room combos (also known as great rooms) in 2021. These living spaces are the heart of the home, acting as a cookery, food-prep area, bar, breakfast nook, dining area, family room, homework area—you name it.
We suggest going with a single flooring material throughout so it looks cohesive. Kitchen islands with ultra-durable countertops go a long way in great rooms, and you can never have too many cabinets in multifunctional spaces.
Flooring, Countertops, Window Coverings & More in Portland
You dream it, Floor Factors has the materials, supplies, and expertise to get the job done. Our locally owned flooring company in Portland, Oregon is a one-stop renovation center with everything you need for your next project. Whether you want to go the DIY route or recruit our team of design consultants and installers, we've got you covered.
In addition to high-quality floor-covering materials from all the best manufacturers, we've got custom cabinets, countertops, and window coverings. Stop by our massive flooring and carpet store in the Pearl District, or contact us today for a free estimate.