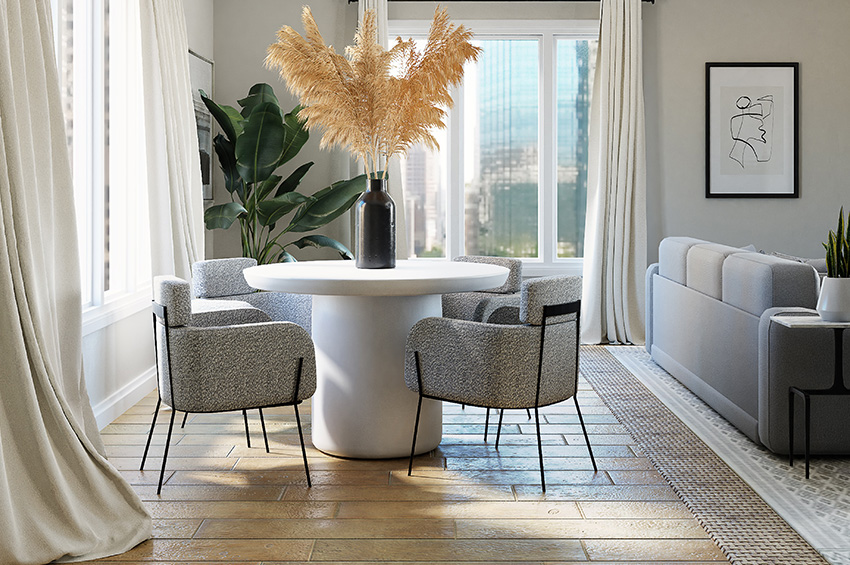 5 Affordable Flooring Options That Look Expensive
Believe it or not, you can achieve an upscale aesthetic in your home without breaking the bank. All you need are the right materials and a bit of inspiration.
Furniture and wall decor can go a long way when it comes to achieving the style you want in your home. However, when it comes to the overall look of your space, your floors really set the tone. Switching out the material can make a world of difference, and you don't have to spend a fortune to pull off a high-end appeal. Our Portland flooring pros are here to walk you through budget-friendly flooring options that can give your home an upscale and lavish look.
What Is the Most Affordable Type of Flooring?
The answer to this question depends on a few things. For one, flooring prices vary across the country, and rates can fluctuate throughout the year. Also, not all materials can be used interchangeably, so where you're installing it matters too.
With all that said, some of the most affordable flooring options that look like they cost more than their wallet-friendly price tags include wood-like laminate, luxury vinyl, cork, plush carpet, and even flooring remnants. Here's what you should know.
Wood-Like Laminate Flooring
If you're partial to the natural, timeless appearance of solid hardwoods, consider getting laminate flooring in wood-like planks. The high-quality synthetic material can be nearly identical to the real thing in terms of look and feel—and it comes at a fraction of the cost. The material is also easy to install, thanks to the "floating" plank style and notably durable and resistant to scratches, dents, and scuffs.
Since laminate resists moisture you can install it in your kitchen, bathrooms, basement, laundry room, or mudroom. There are even some waterproof options, but be sure to check with Floor Factors if you're unsure about a product's water-resistant properties.
Luxury Vinyl Tile Flooring
Luxury vinyl is another synthetic material that comes in either planks or tiles. The latter can be manufactured to resemble authentic ceramic or natural stone, like moody onyx, creamy sandstone, stately slate, chic quartz, or sleek marble.
Known as luxury vinyl tile (or LVT), the click-and-lock pieces are easy to install, plus they're substantially more affordable than their earth-sourced counterparts. Like laminate, LVT is moisture-resistant and often 100% waterproof, so you can install it anywhere in your home.
Cork Planks or Tiles
If you prefer natural products, you might consider cork. The sustainable, environmentally friendly floor-covering material offers insulation, sound absorption, and a comfy feel underfoot. Not only that, but it can mimic the appearance of real stone, ceramic tile, or solid hardwood planks.
Plush Carpet
There's something about a clean plush carpet that gives off a high-end, welcoming appeal. Plus, it's easy to replace and comes at a very agreeable price point compared to many flooring materials.
With that said, sometimes the plushness is more about the padding underneath than the carpet itself. You should definitely consider getting a thick carpet pad, as it'll provide added softness, better insulation, and sound absorption while increasing the lifespan of your carpets.
Flooring Remnants
Have you considered remnants? If you want an authentic flooring product but don't want to pay top dollar, this is a smart solution. At Floor Factors, we carry hardwood, bamboo, porcelain, ceramic, natural stone tile flooring remnants, as well as discounted vinyl and laminate. Our supply is constantly changing, so we encourage you to get in touch to learn about what we've got in stock.
Where to Buy Affordable Flooring in Portland, Oregon
Floor Factors is a one-stop-shop resource for budget-friendly renovation materials and installation supplies. Our locally owned flooring company in Portland, Oregon carries top-notch products from tried-and-true manufacturers, including laminate, luxury vinyl, cork, and carpet, plus flooring remnants left over from large projects.
Want to take your upscale home design up a notch? Floor Factors also offers affordable window treatments, counters, and custom cabinetry. We can assist with design consulting, demolition, and installation as well.
Contact us for a free estimate, or stop by our flooring showroom in Northwest Portland to see our selection in person.