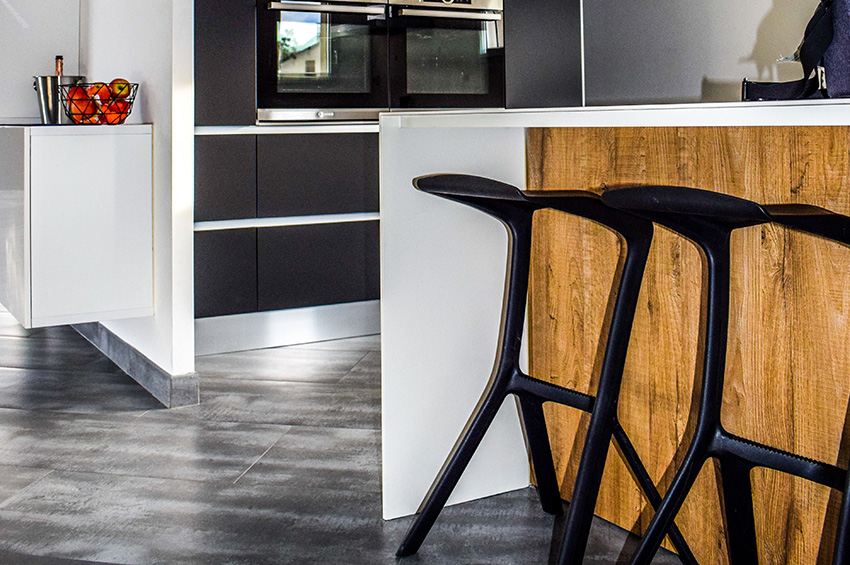 Is There Vinyl Flooring That Looks Like Tile?
The sleek and timeless look of tile can't be overstated. Many covet the rich appearance and durability of ceramic, porcelain, and natural stone tile floors but prefer something a little more budget-friendly and low-maintenance.
Wouldn't it be nice to have the best of both worlds? Enter luxury vinyl tile (LVT), a modern floor-covering product with endless design possibilities. Lots of homeowners come to our Portland flooring store to find that this material suits their unique taste, lifestyle, and budget.
With LVT, you can mimic the look of porcelain mosaic tile, luxury marble, elegant slate, or earth-sourced sandstone for a fraction of the price. Find details below.
Vinyl Tile Flooring That Looks Like Stone
Natural stone tile is a premium flooring material with a high-end appeal. If you like the stone tile look, vinyl flooring is an affordable solution. LVT can be manufactured to look exactly like any type of real stone.
We're talking limestone, granite, marble, sandstone, slate, travertine, terrazzo, and even quartz. In addition to mimicking the appearance, vinyl tile flooring is engineered to simulate the distinct textures of each stone. Also, it comes in square or rectangular tiles in myriad sizes.
Ceramic and Porcelain Tile-Look Vinyl Flooring
If you're partial to ceramic or porcelain, we're pleased to tell you LVT can bear an almost uncanny resemblance. You can get classic squares, subway-style tiles, or a rustic medley of square and rectangular pieces.
Your options don't end there, either. Vinyl tile can imitate the brilliant warmth of terracotta, brick, and other clay flooring options. If you envision circular, hexagon, diamond, basket-weave, pinwheel, arabesque, or mermaid-scale tile in your home, LVT is a great choice.
The Sky's the Limit with LVT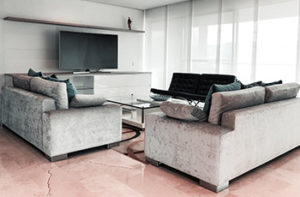 When it comes to flooring design, there's not much that can't be done with LVT. Besides stone, porcelain, and ceramic, the material can be fabricated to look and feel like real hardwood planks (LVP).
Many Portland homeowners go in the opposite direction of the natural-tile look and opt for chic and nostalgic black and white checks. Some go bold with navy blue, emerald green, or blush pink. That being said, there are many reasons to choose LVT beyond the design opportunities.
Luxury vinyl tile is:
More affordable than natural tile and real wood

Softer and more comfortable underfoot than natural tile

Sound-absorbing and insulating

Resistant to scratches, scuffs, and fading

Nonporous and low-maintenance

Moisture resistant (in some cases it is waterproof)
The synthetic material has a remarkable lifespan. In many cases, it can last for up to 50 years with proper maintenance. Also, since it's usually waterproof, you can install it in your bathrooms, kitchen, basement, utility room, laundry room, and other moisture-prone areas.
Where to Get Luxury Vinyl Tile in Portland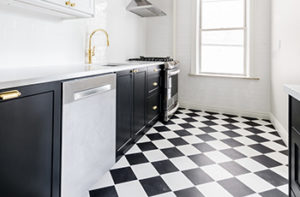 Floor Factors is a locally owned flooring store serving customers in Portland, Beaverton, Tigard, Happy Valley, Vancouver, Milwaukie, and the surrounding areas. We're proud to carry LVT and LVP from top manufacturers.
This includes Shaw Floors, Armstrong Flooring, Mannington, and Kardean, which are known in the industry for their innovative luxury vinyl products. Our manufacturing partners create visually stunning tiles with incredibly realistic textures, giving natural stone, porcelain, and ceramic a run for their money.
You can also count on Floor Factors for countertops, cabinetry, and window treatments, plus assistance with design, demolition, and installation. Request a free estimate today!