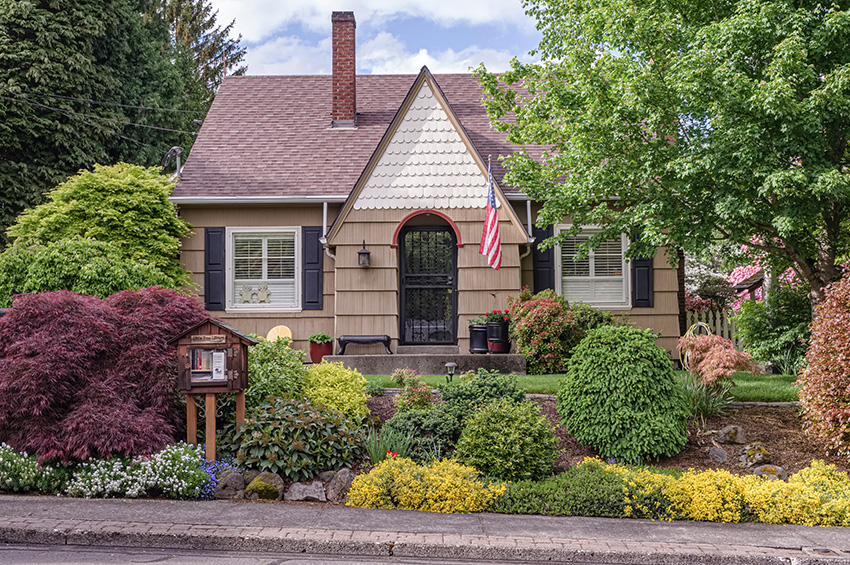 Which Portland Home Style Are You?
Based in the Rose City, Floor Factors has supplied endless home renovation projects with essential materials for over 40 years. Suffice to say, our Portland flooring company has seen the inside of some of the most gorgeous residences in the metro area, and we know what works when designing different types of houses.
Read on for a rundown of prominent home styles in Portland, Oregon, along with insight into which finishes complement them best.
5 Architectural Styles in Portland, Oregon
Common examples of different home styles in Portland include bungalow, craftsman, ranch, split-level, and tudor revival. Here's what to know.
Classic Portland Bungalow
Bungalows are small cottage-style houses built throughout the late 19th and early 20th centuries. They're usually one level with somewhat tall ceilings and sloping roofs.
A classic bungalow in Portland might have its original pine or fir wood floors. While solid hardwood can last a century (or more), it's not the most water-resistant material.
If you want to preserve the look without worrying about moisture damage, you might consider waterproof laminate or luxury vinyl wood-like planks. Skinnier boards in a knotted design or faux-weathered finish will effectively mimic the originals.
Floor Factors offers floor-covering products from the industry's top-rated brands. Here are the 8 Best Vinyl Plank Flooring Brands.
Portland Craftsman
As the name suggests, craftsman-style homes were inspired by the turn-of-the-century Arts and Crafts movement, which celebrated decorative arts throughout Europe. The trend made its way to the United States, and Portland, Oregon, was no exception.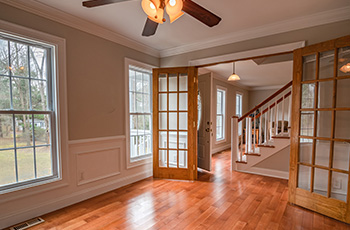 These stately houses have low-pitched roofs with deep overhangs, exposed rafters, front-facing gables, large covered porches, and double-hung windows. Inside, you'll often see woodwork accents and natural stone.
To embrace this traditional home style, you might choose a stone fireplace surround, wood or faux wood flooring, exposed ceiling beams, and built-in shelves for your kitchen and living room.
For the windows, consider slatted wood blinds or shutters and thick curtains for extra insulation and sound absorption. Floor Factors partners with Hunter Douglas to offer energy-efficient window coverings in virtually any material and style.
What Window Treatments Are the Most Energy-Efficient? Read our blog to find out.
Pacific Northwest Ranch-Style Home
Ranch houses are a mid-century style originating in the U.S. This type of home is single story with a relatively low roof, tall windows, and an open, expansive layout. The era was known for brightly-colored shag carpet, patterned linoleum flooring, and dark wood cabinetry.
Want to nod to the style without looking outdated? Consider simple roller shades, neutral carpets, and square tile flooring in a more classic design, such as black and white checks. We also like the idea of a wood or brick accent wall but on a particularly small wall or a partial-wall so the space doesn't feel too dark or dated.
Read our blog to learn How to Choose the Best Tile Flooring for Your Portland Home.
Split-Level Portland Area Home
The split-level house is another mid-century style. Popular in the American suburbs throughout the 50s, 60s, and 70s, it's characterized by two staggered levels connected by two short stairwells. This type of home usually has a low-pitched roof, double-hung windows, an attached garage, and potentially a basement below the first floor.
Split-levels are a perfect balance of mid-century and modern. You can go either way with the design or embrace a little of both. Consider remote-controlled screen shades, an open staircase, and pared-down kitchen and bathroom cabinetry with minimalist knobs and drawer pulls. To tie together both levels, you might opt for waterproof faux-wood flooring throughout.
Read our article to explore Waterproof "Hardwood" Floors from Amorium.
Portland Tudor Revival
Tudor revivals of the early 1900s call back the architectural style of the late 14th and early 15th centuries. They boast traditional English charm with arched doorways, steep roofs, oversized chimneys, and generously-sized floor plans.
You'll see some tudor revivals in Northeast Portland, as well as on larger properties throughout the suburbs and greater metro area. If you like this traditional aesthetic, consider a large fireplace with stone tile surround, exposed ceiling beams, black window frames, floor-to-ceiling curtains, built-in shelving, and hardwood floors in all the main living areas.
Check out our blog for tips on How to Match Wood Floors and Window Treatments.
Locally-Owned Home Renovation Resource in Portland, Oregon
Of course, you don't have to live in a specific type of house to embrace the aesthetic. For instance, if you like traditional or mid-century design, you can incorporate it into a cottage, townhome, or condo. Contact us for design consultation services to help guide you through your interior transformation.
In any case, you'll find all the materials and supplies you need for your project at our locally-owned Portland flooring store. In addition to renovation products, we're proud to offer expert services, including demolition and installation.
Fill out our online form to request a free quote!