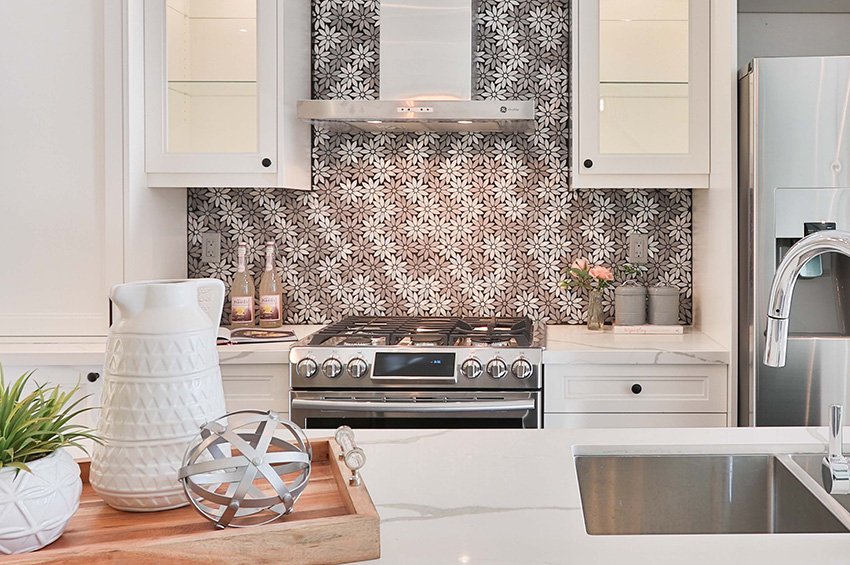 How to Match Countertops and Backsplash
Whether you're designing your kitchen from scratch or replacing just a couple of finishes, countertops and backsplash are two elements that shouldn't be overlooked. The former makes a visual impression while offering a place to prep and serve food, and the latter provides a decorative accent while protecting your walls from cooking splatter.
If you can't decide which colors or styles to choose, you've come to the right place. The experts at our Portland flooring company are here to offer insight, guidance, and tips for selecting kitchen counters and backsplash.
Should Your Countertop and Backsplash Match?
Your countertop and backsplash certainly can match, but that's not your only option. Here's what to know about matching versus complementing versus contrasting finishes.
Matching vs. Complementing vs. Contrasting Kitchen Finishes
Matching means using the same color for both your countertop and backsplash. This can look quite nice without appearing too dull or monochrome, and it's a good fallback option if you'd rather not risk a clash.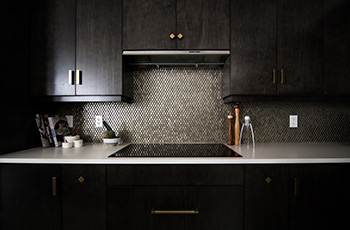 Complementing colors, on the other hand, are hues that please the eye by enhancing each other. For instance, green and gold play well together, as the palette is reminiscent of the forest. You could also do multiple shades of the same color, like charcoal and dove gray.
Then there are contrasting colors, which are essentially opposites. The most prominent example is black and white, a classic, non-clashing color scheme with plenty of dimension and interest.
What to Consider When Choosing Your Countertop and Backsplash
The choice of countertop and backsplash shouldn't be taken lightly. It's an opportunity to make a statement, though you want to ensure the design will hold up aesthetically for many years to come. When browsing options, consider the material, color, sheen, and style, as well as the other finishes and fixtures in the space.
Material
Available in a plethora of styles and colors, glazed porcelain tile backsplash is a top choice among homeowners. The shiny finish is also super easy to wipe down, so you don't have to worry about splattering soups, sauces, and grease. Stone and ceramic tile backsplash can work, too, though you want to be careful about unglazed finishes, as cleanup can be an issue.
As for countertops, solid surface quartz and acrylic are among the most popular. Then there's real stone, granite, laminate, and concrete—to name just a few.
Floor Factors carries a wide range of countertop and backsplash materials, including ceramic, porcelain, stone, acrylic, and quartz. Browse our selections to see for yourself.
How Do You Match Kitchen Flooring with Countertops? Read our blog to find out.
Color and Sheen
You could theoretically get matching stone or porcelain tile counters and backsplash. However, selecting different materials in matching or complementing colors is a more common choice.
When choosing complementary hues, should the countertop be darker than the backsplash? Traditionally, yes, backsplashes are usually lighter than countertops. They're kind of like a partial wall, and walls are more often light-colored.
That said, there are no real rules. We've seen some striking kitchens with dark backsplashes and light countertops, along with many monochrome design schemes.
All-white kitchens are often considered timeless, and with the right finishes and decor, they're not boring whatsoever. For instance, you could do white marbled quartz counters with shiny white subway-tile backsplash, then add a few small plants and contrasting cabinet knobs for a pop of color.
Style
You'll also want to consider the style of the materials. In addition to color and sheen, this means the texture, tile size and shape, and pattern. To add character without going over the top, consider a pared-down countertop with picket-shaped backsplash tile in a statement hue.
Other Finishes and Fixtures
You'll also want to think about the other materials, finishes, and fixtures in your space and how those will tie in. For example, let's say your kitchen has gray natural stone tile flooring, stainless steel appliances, and matte black knobs on dove gray cabinets. Since this is already a lot of grayish tones, you might want to add subtle contrast with white counters and backsplash. Or you could do white counters and off-black backsplash to bring out the cabinet knobs.
Floor Factors is your resource for flooring in Portland. We carry many kitchen-friendly options from top-rated manufacturers, including natural stone, prefinished hardwood, luxury vinyl tile, and waterproof laminate.
Read our blog to learn How to Coordinate Kitchen Flooring, Cabinets, and Countertops.
Design Consult and Free Quote from Our Portland Flooring Store
Can't decide what to get for your kitchen? A design consultant at Floor Factors is here to help. We can assist with matching colors, combining finishes, and ordering custom materials. If you buy from our locally-owned Portland flooring company, we can handle demolition and installation too.
Request a free estimate to get started!