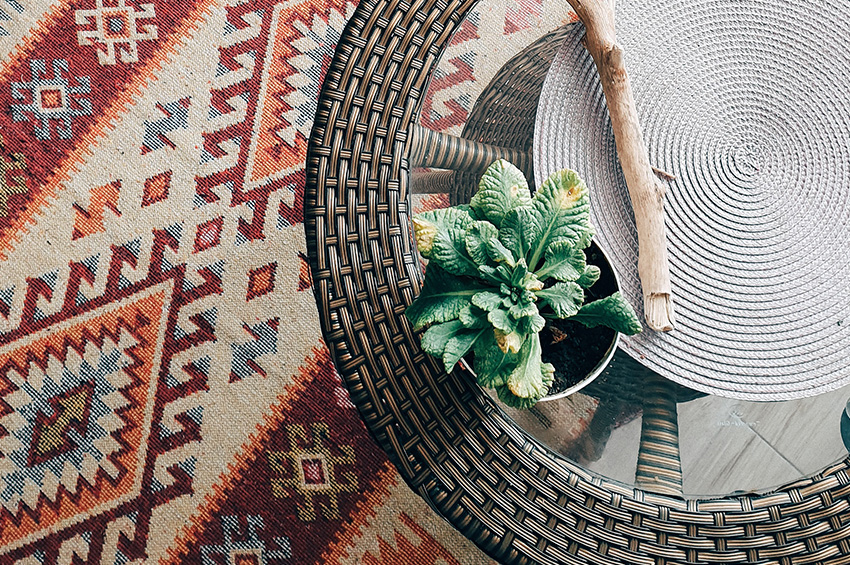 Designers Say These are the Biggest Area Rug Trends of the Year
With trends continuously changing—sometimes quicker than the seasons—it can be hard to keep up with the latest interior design styles. This is why homeowners often choose materials and finishes that'll complement their evolving decor for years or even decades.
Many professional designers will tell you virtually every room in the home could benefit from an area rug. It protects your floors, adds insulation, helps section off different zones, and enhances the overall aesthetic. Plus, rugs are easy to swap out if you want a fresh look.
Ready to roll with a new rug? See our Complete Guide to Choosing Your Area Rug.
What Area Rugs Are in Style?
Area rugs have been popular with homeowners due to their functionality and decorative appeal. So, what area rug styles are currently having a moment? Our Portland flooring experts have compiled the latest trends.
Bold Hues
Interior designers have noted that color selections are getting brighter and bolder. As we mentioned, you can switch out your area rug as often as you'd like, which presents an opportunity to make a statement.
Pantone's Color of the Year for 2022 is Very Peri, a striking lavender hue with periwinkle undertones. Not into purple? Consider emerald green, marigold, or a printed design that incorporates a vivid shade of red.
Vintage-Inspired Rugs
The "worn" look is perfectly acceptable when it comes to all types of flooring, and rugs are no exception. In fact, there's a huge market for vintage-inspired designs.
Whether you're drawn to traditional Persian, Turkish, or Victorian-era rugs, you can find options that feel like new but may have a faded or otherwise distressed appearance.

Natural Fibers
Weaving and braiding rugs from plant fibers isn't a new technique. That said, this style has gained popularity in recent years, partly due to it being an eco-friendly option.
Since they're renewable resources, sisal, jute, and seagrass are considered sustainable materials. They're also notably strong and versatile, especially due to their light golden-brown undyed form.
Read our blog to learn more about these 3 Eco-Friendly Custom Area Rug Materials.
Moroccan-Style Area Rug Trends
Authentic Moroccan rugs are hand-woven by the indigenous tribal people of Morocco. While the style has evolved and modernized by Western rug manufacturers, many don't realize Berber rugs and carpets get their name from North African Berber tribes.
This rug style often features pure sheep wool of varying pile heights and thicknesses, as well as intricate patterns, embroidery, and tassels. Contemporary iterations nod to the artisanal character of traditional rugs, though they can be made of various materials.
Moroccan-style runners are a great choice for kitchens. See our blog, The Best Area Rugs for Kitchens, for more ideas.
Art Deco Area Rug Designs
Art deco was first popularized in the early 20th century. It's an undeniably glamorous style and art deco rugs are hot right now.
Think sleek geometric patterns, bold symmetry, floral motifs, ethereal animals, and metallic accents. If you like this look, we encourage you to lean into it with an area rug.
All about Art Deco? Embrace the look in your home, from the flooring up! Floor Factors carries a range of renovation materials, including marble countertops and waterproof onyx-inspired vinyl tile flooring. Request a free quote for more info!
Layered Pieces
Beyond color and style, layering is one trend we're seeing a lot of this year. If you adore rugs as much as we do, why opt for just one? Strategically overlapping multiple pieces can create a welcoming, cozy atmosphere while adding texture and dimension to your space.
The key is to put a large rug down first (likely rectangular but potentially square), then place a smaller round, textured, or slightly contrasting one on top. The smaller piece should be positioned slightly off-center, at an angle, or partially over the edge of the larger one.
Get Creative with Carpet Remnants
Rugs are certainly more wallet-friendly than new floors. If you want to cut costs and have a creative mindset, consider making your own with discounted carpet remnants from Floor Factors. Our in-house design consultants can help you create a rug in virtually any size, style, color, and weave you have in mind.
Check out these 8 Stylish Ways to Use Carpet Remnants in Your Home for inspiration.
Choose From the Best Area Rugs Styles in Portland
Floor Factors partners with some of the best custom rug makers in the industry, including Kaleen, Loloi, and Oriental Weavers. We also have a substantial selection of prefabricated options, plus rug pads and high-end carpet remnants left over from remodeling projects.
Looking for the perfect rug at a discounted price? We have a variety of options available in stock. To see just some of our many designs, tour our rug shop online.
Fill out our online form to request a free estimate, or come by our Northwest Portland showroom to check out the different materials and weaves in person.